'Babies are being murdered:' Anti-abortion group protests in downtown Wichita
Please note that some images in this gallery could be triggering.
Chants of phrases like "don't murder the baby" surrounded the streets of downtown Wichita, as the anti-abortion group Free the States protested. 
Wielding graphic signs, the group elicited responses from those in the area — many drove down Douglas, honking at or rolling down their windows to insult or praise the group.
A student from Wichita East High School came out to confront the group and their usage of graphic images.
When asked why the group chose to use such graphic signs, James Silberman, Free the States communications director, said that a "culture that's doing this to babies needs to be confronted."
"I think people want to go about their days, just walking around, not thinking about the fact that babies are being murdered all the time," he said.
While being anti-abortion, the Oklahoma-based group does not consider themselves pro-life, instead deeming themselves "abolitionists."
"We're not pro-choice; we're not pro-life," Wesley Russell, author at Free the States, said. "We would have fundamental disagreements with both of those camps. We believe that human life starts at fertilization."
Protesters called for abortion rights to end immediately and said that they believe there should be no exceptions in abortion laws or bills. 
"We're not trying to get a heartbeat bill passed, a 15-week ban," Silberman said. "We're not trying to say who can perform abortions or when they can perform abortions — we're trying to pass a law saying 'abortion is murder' and must be abolished here in Kansas." 
The group referred to the termination of pregnancy as "child sacrifice" and "murder," preferring to avoid the word "abortion." 
"Kansas is a state that loves child sacrifice and has been called to repent this," Silberman said. "That's why we're here, to bring the truth … of the gospel."
Free the States considers itself a "church-driven" group, interlacing Christian notions with its messages about abortion. 
"We're using this as a mission trip," Russell said. "Instead of going into foreign nations … we're doing it here … especially with the history of Bleeding Kansas."
A precursor to the civil war, Bleeding Kansas was a period in the 1850s that was marked by excessive violence between pro-slavery and anti-slavery groups. Free the States deemed their series of events "Bleeding Kansas." The group overlaps terminology often used in reference to the abolitionist movement, the movement to end slavery.
The march is part of a series of events hosted by the group this week. On Friday, the group protested on Wichita State's main campus. 
View Comments (9)
About the Writer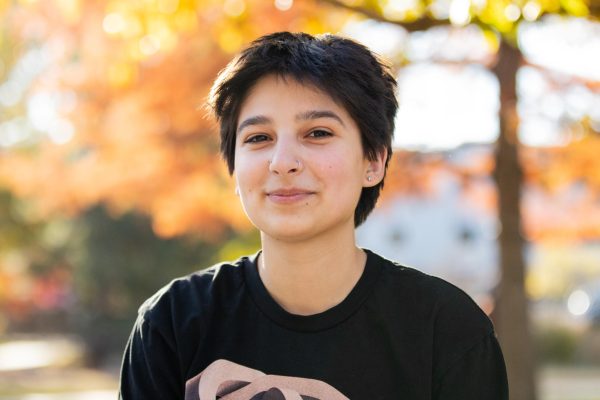 Mia Hennen, Editor in Chief
Mia Hennen is the current editor in chief for The Sunflower. Before becoming editor, Hennen was the news/managing editor. They are a junior at Wichita...