Society of Hispanic Engineers hosts night of science for high school students
Ana Lazarin immigrated to Kansas as a child and attended school in Ulysses, Kansas. She began her journey at WSU with a bachelor's in industrial engineering and found the university needed a program for Hispanic students. In 2008, she founded the Society of Hispanic Professional Engineers (SHPE).
Now, Lazarin is the director of Diversity, Equity and Inclusion for the College of Engineering
On Thursday evening, her work culminated in giving back to the community by hosting "Noche de Ciencias" (a night of science). She spoke of the importance of having more Hispanic people in STEM and that SHPE can be a stepping stone for Hispanic students to get involved.
SHPE, as well as volunteers from WSU and WSU Tech, hosted various activities to help students at North High School explore their STEM side.
"We're hoping to inspire and empower young Hispanic students to consider pursuing STEM careers," Lazarin said. "We want them to see people that look like them and are from similar cultural backgrounds that are either studying engineering or already a professional in Wichita."
Josue Renteria, current SHPE president, hoped the students attending the event would leave knowing how to understand their "STEM identity."
"So many students might think that STEM is not for them," Renteria said. "But dipping their toes into STEM at least once before college is always great. There are a lot of ways to get involved."
Students used robots from VEX Robotics, robots programmed to perform specific tasks, to pick up a ball and place it in a hoop. High schoolers controlled it with a remote similar to a gaming remote.
In another activity, students built a marble roller coaster using parts similar to LEGOs. 
Eliana Burgardt, an eighth grader that will attend North High School next year, said that an event like Noche de Ciencias can "help us get in a better pathway into college."
"It gives people more opportunities that they couldn't get on a regular basis," Burgardt said.
Alan Garcia, a student from Northwest High School, echoed a similar idea to Burgardt.
"I think it's really cool," Garcia said. "It can inspire people to do things they didn't know they wanted to do."
While students participated in various activities, accompanying parents were sent to a different room to discuss financial aid opportunities for their children. 
"I just happened to see it on Facebook," Deziree Herrera, a parent, said. "I was like 'that's really cool, we're going.'"
Lazarin said she hoped the event will inspire future generations and lead to more Hispanic representation in STEM.
"The main takeaway is that they can do it too," Lazarin said. "They can see themselves as a future engineer and that they feel empowered to pursue those dreams."
View Comments(1)
About the Contributor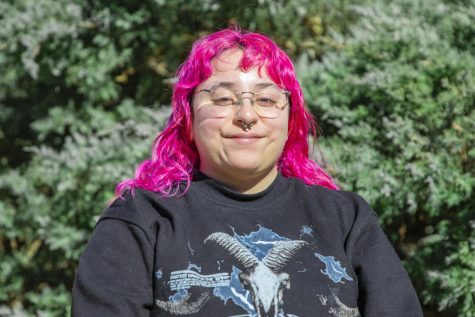 Araceli Lemus, Former reporter
Lemus was a reporter and photographer for The Sunflower.