Edible Book Festival mixes food, books and creativity 
From an orange with a clock on it to a bloody Rice Krispies cat, students created edible creations to place on display on the first floor of Ablah Library. 
On Monday, the edible book committee hosted the fifth annual Edible Book Festival. The festival had a table displaying creations that were 90% edible and inspired by a book of the contestants choosing. 
There are five categories: voting in-person, online voting, students, employees and judges' choice.
Some of the prizes are from Shocker Athletics, Shocker Sports Grill and Lanes, AMC Theater, Doo Dah Diner and more.
"I really look forward every year to seeing all the different creations that people bring," Kelsey Unruh, committee member, said. "Because everybody is really creative when they enter this."
Megan Rasmussen, the creator of the Rice Krispies cat, was inspired by the book "Peeps" by Scott Westerfield.
"I read it when I was pretty young, but it left an impression on me," Rasmussen said. "(Kelsey) mentioned that "peeps" sounded like peeps, the little chicks, and I was like 'that's hilarious,' …  it's about vampires, so I made little vampire peeps."
Rasmussen said creating the project took about six to eight hours. 
"I'm not much of a baker," Rasmussen said. "So I had to utilize other creative acts to kind of recreate it."
Sri Lavanya Ponakala, a graduate student studying computer engineering, came to the event to see creative cooking.
"Cooking is the best way back in India, like we are from another country where our food is treated as God, so sometimes we should have to add some more creativity," Ponakala said. 
The Edible Book Festival winners will be updated on the festival's website with a picture included. The winners are also listed below. 
Leave a Comment
About the Contributors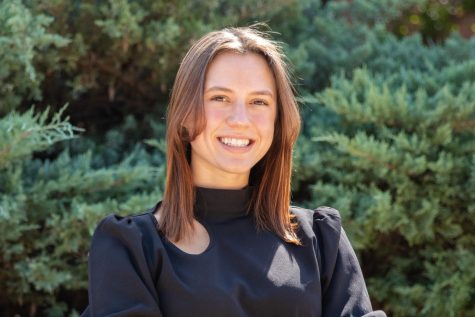 Jaycie Nelson, Reporter
Jaycie Nelson was the Editor-in-Chief for The Sunflower during the 2022-2023 academic year. Before becoming editor, Nelson was opinion editor. The reporter...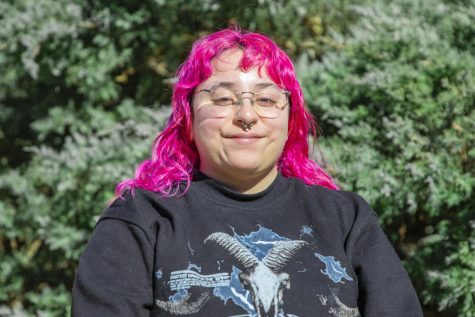 Araceli Lemus, Former reporter
Lemus was a reporter and photographer for The Sunflower.