Vice president of feminist group talks overcoming challenges and finding community at Wichita State
Sophomore Delaney Jones was walking on Wichita State's campus a few years ago when someone shouted, "Are you a feminist?" at her. That someone was Kathlynn Short, a former president of FOCUS, Intersectional Feminists On Campus Uniting Students. 
After speaking to Short, Jones began to attend the organization's meetings, eventually stepping into the president's role for two years. 
While president, Jones helped organize meetings and events and supported bills that had to do with gender equality, such as the menstrual bill that was passed last December.
Now a senior, Jones recently stepped down to vice president to give another person experience as president, while she focuses on grad school.
Jones, an honors student with a 4.0 GPA, recently received word of her acceptance into Wichita State's Master of Arts in English Language and Literature program.
"I didn't want to do them a disservice by being super busy with grad school and then being unable to manage it as effectively," Jones said. "I'll help out. But all the big responsibilities I'm going to push on to someone else."
Despite her academic achievement, Jones said her first two years at WSU were challenging as she had been recently diagnosed with Obsessive-Compulsive Disorder. 
Following her diagnosis in 2018 or 2019, she found that she struggled with academic anxiety and experienced imposter syndrome. 
"Just the idea of always having to be perfect at everything (is an example)," Jones said. "Always worrying about how others perceive you and if you're doing something right."
Jones began taking medication in college for her OCD, which helped alleviate her anxiety.
"I felt like I was in control of how I felt most of the time, and big tasks didn't seem nearly as scary anymore," she said.
Another step that helped Jones was switching her major from engineering to English. 
"I feel like a lot of my professors in the English department were more understanding and willing to work with me," Jones said. "It's a little less 'Right answer, wrong answer.' It's more 'Explain your answer and why you believe it,' and I feel better at doing that than just hearing, 'Oh, you're wrong.'"
Following her switch to English, she began tutoring at the Writing Center, where she met Hannah Holliday, a fellow English major and member of FOCUS.
Right now, the two are in Intro to Multimedia and often partner when they can.
"She is so fun to work with and is always a team player," Holliday said. "She always does her share and then some. She always goes above and beyond to make sure that everything we do together is a good product."
Holliday described Jones as "bright."
"She carries herself in such a sunny way," Holliday said. "She carries herself intelligently and with such positivity that it just makes you feel like sunshine when you're around her."
Holliday said she admires Jones' vocalness on feminism and equal rights. 
"I don't have the bravery that she does to speak about the issues that she does publicly," Holliday said. "And she worked so hard for so many different organizations because she really cares about feminism. Even when she was getting hate messages, she kept going."
Jones worked with Kansas For Constitutional Freedom, Planned Parenthood, and Trust Women last summer to advocate Wichitans to vote "no" on the "Value Them Both" amendment. A few FOCUS members also volunteered.
The group also recently hosted a community care drive where FOCUS worked with Trust Women Wichita to donate menstrual products, binding tape and binders to the Shocker Support Locker. 
Before starting her master's program in the fall, Jones will go on a study-abroad trip with the English department to London.
Jones said her time at Wichita State has impressed her.
"I've made a lot of great connections with students and friends," Jones said. "Even if I graduate with my master's, I would still love to contribute to the English department if I'm still in the area."
Leave a Comment
About the Writer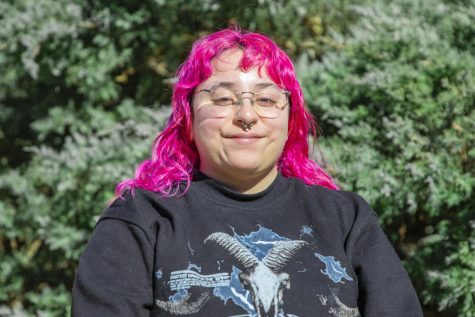 Araceli Lemus, Former reporter
Lemus was a reporter and photographer for The Sunflower.