From studio to Senate: Studio art major gives advice, reflects on college
In combining her passions for art and helping others, Jade Warden, a studio art major with a concentration in painting, became a senator for Student Government Association (SGA).
A push from former Student Body President John Kirk helped Warden decide to join SGA. Before the pandemic's onset, Kirk approached Warden to run with him as a fine arts senator.
"I wanted to work with someone that was going to help me within the fine arts community," Kirk said. "I knew that she would."
The conversation with Kirk during her freshman year pushed Warden to join SGA her sophomore year. She held her position as a fine arts senator the remaining three years at WSU. 
Fellow Sen. Kylee Hower worked closely together with Warden. In the Ways and Means Committee of SGA, the pair, along with the other members, was able to pass legislation.
Some of the bills they passed included the Senate restructure bill, to change SGA's processes, and to recognize student organizations.
"She was a huge role model for me in Senate," Hower said. "Because she wasn't afraid to speak her opinion on things, which I really admire."
Though she specializes in painting, Warden's favorite classes are related to art history, specifically, any taught by assistant professor Brittany Lockard. 
"She has such vast knowledge of everything," Warden said. "Honestly, that made me dive more into my passion because I love learning about all the different types of art."
After getting her freshman year cut short by the onset of the COVID-19 pandemic, Warden said if she had the power to change her college career, it would be to recreate one without the pandemic. 
"My whole college career … got shortened," she said. "I feel like I definitely did miss out on a lot more than newer people coming in."
Despite the setback, Warden said she was ready to experience new things at Wichita State and meet new people following her first year.
"I don't think anything could've prepared me for the groups of friends I would come across," Warden said. 
Warden said one of her favorite things to do on campus is attend events. Shockers After Dark was specifically her favorite.
"I think it's really fun kind of going outside my comfort zone and meeting people that I've never met before," Warden said.
With four years under her belt, Warden said students shouldn't be afraid to take chances. 
"(WSU students) are some of the most carefree people," Warden said. "They don't care where you come from (or) who you are. As long as you give them respect, they will give it right back to you."
After a recent group gallery show in Salina, she wants to get her work out there, reaching not only the Wichita area but outside of Kansas as well.
With graduation on the horizon, Warden has started preparing herself for the next step in her life: freelance painting.
Warden said that finishing college and receiving her bachelor's makes her feel proud. 
"It's kind of a sense of 'Oh my gosh. I actually did that," she said.
Leave a Comment
About the Contributor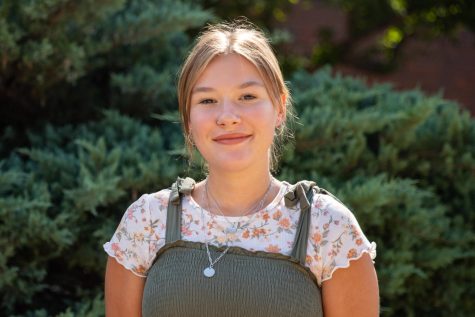 Danielle Wagner, Reporter
Danielle Wagner is a second-year sports reporter for The Sunflower from LaCrosse, Kansas. Wagner is a sophomore majoring in communications with an emphasis...