Biomedical engineering student looks forward to future job 'behind the scenes'
Shay Weigel discovered her interest in biomedical studies in high school when she realized she loved both anatomy and physics.
"I had a really good physics teacher in high school," Weigel said. "He helped me find my passion for all that."
Weigel has been a student at Wichita State since 2019 and plans to graduate in May with a degree in biomedical engineering. 
"I'm really excited to graduate," Wiegel said. "I'm excited to just start this new chapter of my life."
Weigel starts at Verista in June. Verista researches and develops pharmaceuticals for companies including Pfizer, and according to Weigel, the McPherson branch works closely with the Pfizer branch in the area.
Weigel will be working as a validation engineer, a "behind the scenes" job where she plans to ensure operations are running according to the standards and codes Verista has in place.
During her four years at WSU, Weigel has been involved socially and academically. She joined the Kappa Kappa Gamma sorority in her sophomore year. During her time in the sorority, she had the roles of chapter treasurer and vice president of standards.
"I've gained a lot of friendships and have had a lot of leadership experiences and opportunities that I think have really helped me grow as a person," Weigel said.
Kelsey Acosta, Weigel's "little" in her sorority,  said Weigel was always supportive and a good mentor.
"With Shay, she's always been there for me," Acosta said. "I remember when I was really going through it last year, Shay picked me up right after work, had a Sonic drink for me, and we just drove around and talked."
This year, Wiegel worked as the undergraduate teacher's assistant for the bio instrumentation lab, working with Yongkuk Lee, an assistant biomedical engineering professor. 
She helped students doing lab work for classes and said the bio instrumentation lab worked with electrocardiogram and electromyogram equipment to study heart rates and work with muscles.
She said her advice to future students would be to stay on top of schoolwork, avoid procrastinating as much as possible and take advantage of all the research opportunities the university has.
"I really enjoyed going to school at Wichita State," she said. "I think I made the right decision, and I've loved the last four years."
Leave a Comment
About the Writer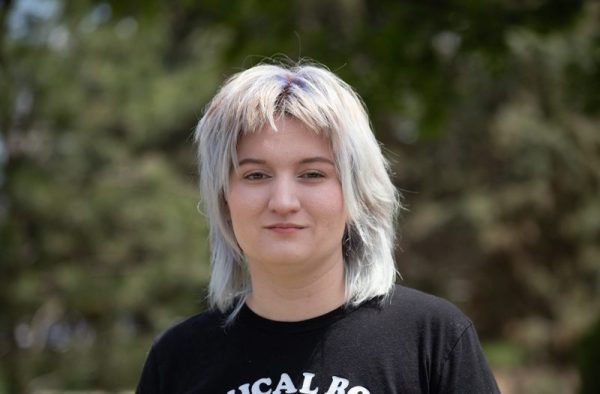 Sarah Beauchamp, Former reporter
Beauchamp was a reporter for The Sunflower.