'Preludes to more': WSU students share concerns about anti-transgender legislation
The Kansas Legislature has passed several bills targeting transgender people, one of which went into effect on July 1.
While Wichita State administration does not currently plan to change policies or practices in light of the new law, some transgender students shared concerns about the impact of Senate Bill 180.
Senate Bill 180 and WSU's response
Senate Bill 180, labeled by supporters as the "women's bill of rights," defines sex based on a person's ability to produce ova or sperm. It also requires state agencies to classify people based on their sex assigned at birth for data collection purposes. 
According to the Topeka Capital-Journal, the legal implications are somewhat unclear, but it could likely impact state offices from changing gender markers on legal documents like birth certificates and driver's licenses.
The legislation also bans transgender and intersex people from using restrooms, locker rooms, domestic violence centers, rape crisis centers, and other spaces that align with their gender identity.
SB 180 also classifies people with developmental differences, including those who are intersex, as disabled.
This bans intersex individuals from women's spaces while requiring separate spaces under the American with Disabilities Act. LGBTQ and disability activists have called this decision "incredibly offensive."
According to the Kansas Reflector, legal authorities said SB 180 has no clear measures for enforcement. In a statement to The Sunflower, Wichita State administration agreed, saying that they await guidance from various Kansas government officials, but do not anticipate any policy changes.
Lainie Mazzullo-Hart, director of news and media relations, sent the statement to The Sunflower, attributing it to WSU administration. 
"The Kansas Attorney General (Kris Kobach) has been quoted as saying SB 180 'leaves a lot of questions unanswered … [t]he bill doesn't lay out a clear mechanism of enforcement,'" WSU administration said. "WSU agrees with this assessment and does not anticipate any changes to its existing policies, procedures or practices that are in order at this time."
Kobach gave his legal interpretation of SB 180 on June 26, stating that the law requires Kansas birth certificates and driver's licenses to match a person's "biological sex at birth." The American Civil Liberties Union said it would fight Kobach's "incorrect interpretation" in court, according to the Kansas Reflector.
WSU administration also conveyed support for students, staff, and faculty of "all diverse backgrounds and identifications."
The statement also highlighted various resources, including the Office of Diversity and Inclusion, Office of Civil Rights, Title IX & ADA Compliance, and Office of Disability Services.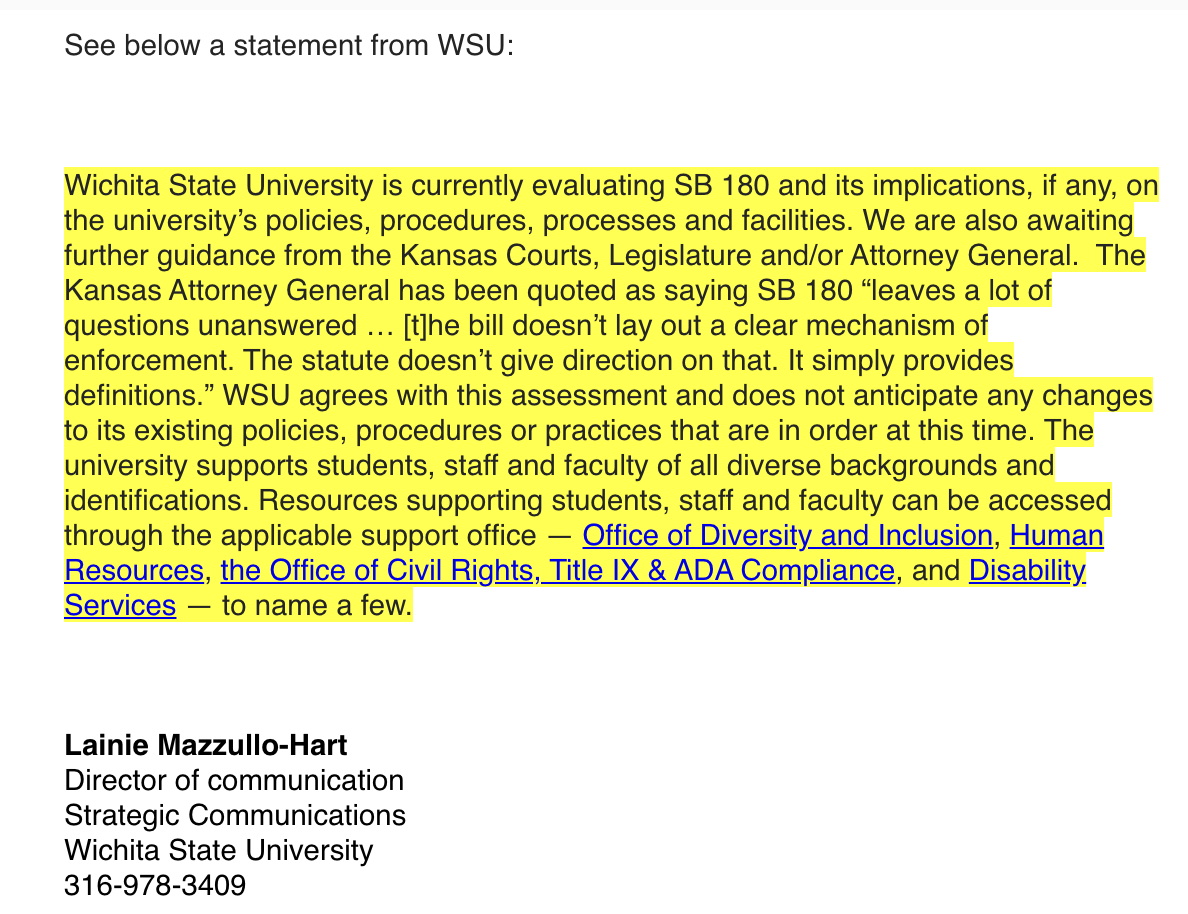 Spectrum President Dawson Jacques said based on the LGBTQ+ group's  conversations at president's lunches with WSU President Rick Muma and his partner, Rick Case, WSU does not plan to actively police restrooms.
"I would hope that no one does that, but obviously I hope that this bill wouldn't exist," Jacques said. "Hope's not always the winner in those situations."
Jacques said he has appreciated Muma and Case's support, along with that from Harold Wallace III, the head of the Office of Diversity and Inclusion.
'Chilling effect': SB 180's bathroom impact on campus, community
Some transgender students shared their concerns about SB 180 and its implications with The Sunflower.
E James, a transmasculine Spectrum member who uses he/they pronouns, said that forcing people to use bathrooms based on their sex assigned at birth could cause confusion because people who've already transitioned might not look like their assigned sex at birth. 
"For people who haven't transitioned, it's like they're trying to squish them around, back into the box," James said. "Unfortunately, a lot of people have transitioned, so they stick out like a sore thumb in that box."
Jacques said every time there's not a gender-neutral bathroom, he has to decide between two bathrooms: one that's uncomfortable or one that's unsafe. 
He said that once he has surgery and passes more, following SB 180 could lead others to think he's in the wrong bathroom. In reference to gender, "passing" refers to when a trans individual is perceived as the gender they identify with.
"(This law) removes the option for people who pass to go to (the restroom) that they legally and safely can go to if they don't have a gender-neutral space," Jacques said.
James and Jacques also both noted that the Heskett Center has two gender-neutral bathrooms with showers, but no lockers or storage areas, unlike the gendered bathrooms.
Jacques said he has discussed this concern with Student Government Association members.
Alex Tackett, a transgender Spectrum member, called SB 180 a "faulty bill" solely made to discriminate.
 "That is a complaint of mine: how (SB 180) has been portrayed, especially in national media, framed as 'the bathroom bill' rather than the fact that this is something that's going to affect every element of life," Tackett said.
While Tackett said all her documents reflect her gender identity, she is uncertain whether SB 180 will be retroactive and worries how this could affect her when going to the Registrar's Office or Financial Aid.
Her concerns extend past WSU, such as attending parent-teacher conferences for her child in school district USD 259, where documents list her as "mother."
"This bill would seem to say that is no longer appropriate. But are they going to change that?" Tackett said. "There's an intentionality of confusion and generally making it uncomfortable for folks to go out in public life and deal with basic life." 
Tackett also mentioned Jason Carmichael, a Wichita Public School board candidate for District 4, who compared being transgender to being "an alcoholic."
Tackett said some people will use SB 180 to justify their hate, and she said with people like Carmichael running, she is concerned she will face discrimination while trying to get her child an education. 
"I do grow concerned more that a teacher or para(professional) or anyone else in my child's life will berate them for calling me mom … because it doesn't fit into their worldview and they have the backing of law to protect them for it," Tackett said.
James said that they had given up on Kansas long before the passage of SB 180. He plans to eventually leave the state after graduating, their mind made up since middle school and reaffirmed by people's responses when he worked at Freddy's. 
"I've started wearing a trans pin on my hat to try and signify like, 'Hey, I'm transmasc,' but I have yet to get a single correct gendering from that," James said.
James said that people's responses relate to SB 180's strict definition of sex.
"(The customers at work) don't tend to see a spectrum, they tend to see one or other, which is very apparent and like how our government has also worked and how strict that law has been put in place with the gendering language," James said. 
James said that documents with incorrect gender markers can lead to continued misgendering and deadnaming from state offices. Deadnaming refers to when a trans or non-binary individual has changed their name, usually to better align with their gender identity, but someone continues to call them their former name.
"I've been dead-named a lot by (legal offices) because I haven't got my stuff changed, so I've just kind of become used to it," James said. "But for other people who aren't as used to it, it can be very frustrating." 
Jacques said he has lots of friends who were rushing to change their gender markers before July 1. Jacques said SB 180 also has him worried about his ability to receive medical treatment in the future. 
"I've heard a lot of people try to offer support to me and say the words of like, 'This is just the Republicans' rallying point right now,' and 'It's just being used as an agenda,'" Jacques said. "And I get what people mean by that, but it is directly impacting people's lives."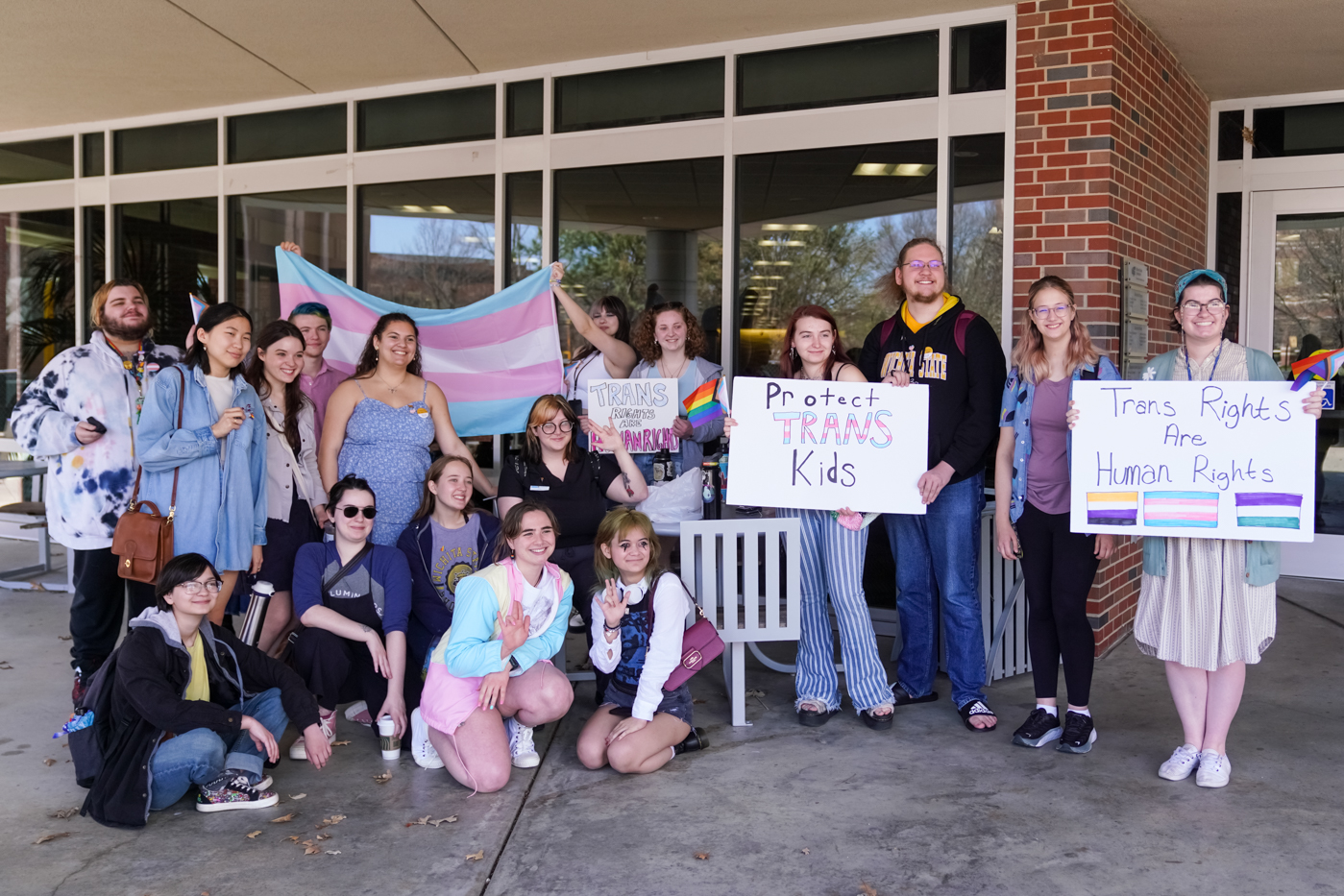 Action, hope within the community, nation  
James participated in the Trans Day of Visibility Walkout on March 31, where WSU students protested various anti-transgender legislation at the Rhatigan Student Center. James said it was fun getting to protest and meet with others outside of Spectrum. 
"(The walkout) was about protesting a stupid law that has affected us more negatively than positively," James said. "But seeing that small crowd that we had gathered just to protest with still made me have a little bit of hope for our community." 
Tackett said that while she recognizes administration is in a difficult position, lack of support leads to enforcement, and she said transgender people don't have the option to stay silent.
"Trans folks experience violence on a daily basis," Tackett said. "It is a place of privilege to be able to quietly accept these frankly authoritarian measures. So it's not a nice answer of 'take a stand and maybe lose your job,' but that is the point that we are getting to." 
Tackett highlighted how other states have passed legislation banning gender-affirming care for youth; 19 states have restricted it in some form.
Tackett hopes a court strikes SB 180 down, but she doesn't expect any strong action from the WSU administration. She said these laws will only change if through community action and voting out those government officials.
Tackett said students and faculty can help through "active resistance," calling campus community support meaningful. 
"I've taken a class before where I had a professor misgender me constantly," Tackett said. "And that only stopped because other members of the class were like, 'Hey, no, stop that.'"
Tackett said it is important that others understand SB 180 isn't the end.
"These are only preludes to more," Tackett said. "They (legislators) will never be content … The folks writing these laws and pushing these laws want us out of mind, out of existence."
Leave a Comment
About the Contributors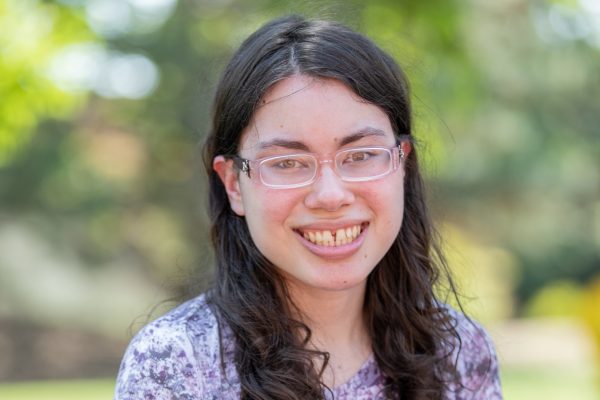 Courtney Brown, Investigative News Editor
Courtney Brown is the investigative news editor for The Sunflower. Brown previously worked as a reporter and assistant news editor.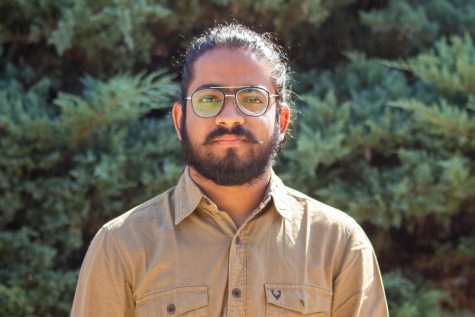 Baswanth Naidu, Photographer
Baswanth Naidu is a third-year photographer for The Sunflower.