Taking the Innovation Campus tour
One of the first new buildings on Innovation Campus at Wichita State will be opening to students in the coming months.
A majority of the Experimental Engineering Building (EEB) will be opening on campus in mid-November, Emily Patterson, associate director of facilities planning, said. But some areas will not open for the public until December.
The EEB will contain 25 labs containing various equipment geared for engineering students, but also available to all students and members of the community.
"We're trying to create a place where people can come together and collaborate," Patterson said.
Some of the new facilities available to students include a water jet capable of cutting aluminum a half inch thick and 3D printers capable of producing larger objects than most printers of the type will be in an area called the "reverse engineering lab." Areas for welding, metalworking, sewing, textiles, aerosol painting, and a computer lab will also be in the EEB.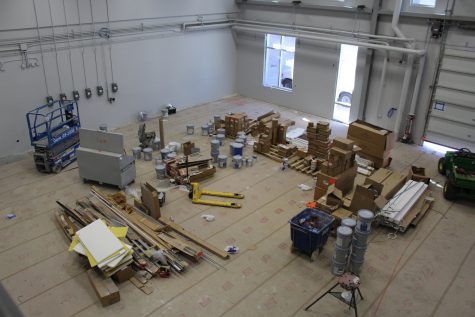 One room is for a series of projectors to attempt to create a virtual reality and an interactive environment.  There will be a drone lab and a lounge area for students to mix and share ideas on projects.
A vehicle design lab will also be an area where vehicles can be created and two platforms will display cars that have been created by students in the past.
The second floor will feature an experimental classroom in which an instructor is projected onto a screen as he or she speaks to their students, and a large gaming lab. Patterson called this "less traditional teaching, the instructor will actually look at the screen."
Students and members of the community can purchase a pass similar to a "gym membership" for use of the facilities, Patterson said.
Students will receive an "IDJ card" that they then use to activate the machines for them to use. Five different classifications levels can be activated on each person's card, and the machines will not operate without the proper level of clearance.
On the third floor, a medical engineering lab will have an area where a person can run or walk on a treadmill and then their gait can be projected onto computers to study how they walk or run.
There will also be biomedical research and bio-imaging microscopes on the third floor.
Patterson also said that bonds issued by Sedgwick County on behalf of the university were raising funding for the EEB, although she could not describe the process with clarity or detail.
Cut through the center of the building is a large glass-walled structure that contains a lobby that will be complete with a small convenience store, chairs, tables, and nine 55-inch televisions arranged three by three that can be used in presentations. The "gateway building" is intended to be the walking entrance to the innovation campus.
The ceilings in the hallways will be left bare.
"You can see pipes, ducts, and cables running overhead," said Patterson, "We wanted to give off an industrial feel."
The innovation hub will be a project space for students who can also rent out small private rooms to work.
"Every room has electrical panels, vacuum tubing, and water," Patterson said. "This is so people can make changes in the future. We know it won't be like this in a year; we know it will be different. We don't want people having to rip out the walls to make changes in the future."
WSU Ventures, a group that helps students with business startups, will be moving their offices from Devlin Hall to the EEB. Youth entrepreneurs, a group involved in high school outreach, will have offices in the building.
No faculty will have offices or be employed in the building, Patterson said. No traditional classrooms will be in the building, but students can take basic training courses to learn how to operate the machinery. No vocational certifications for using the machines will be available.
An apartment building also will be opened.
"I think they're targeting upperclassmen," Patterson said, "That's what it will be geared for."
Other additional future buildings set to open include a strip mall, a hotel, an office building for Airbus, and a police academy.
"Some of the buildings are a public-private partnership," Patterson stated, "But there will only be a partnership if it's for the benefit of the students."
Leave a Comment
About the Contributors
Nathan Davis, Reporter
Nathan Davis was an inquisitive reporter and an exceptional friend.

Nathan studied nursing at Wichita State, and had intention to switch to communications.


Selena Favela, Photographer
Selena Favela is a photographer for The Sunflower.

She was the photo editor for The Sunflower her junior year. Favela is currently a senior majoring...