Bark at the moon: ghost hunter Chris Moon comes to WSU
Sporting long, dirty-blonde hair, wearing ratty jeans and dangling a chain from his back pocket, it's not Kurt Cobain — it's paranormal investigator Chris Moon.
Moon spoke at Wichita State's Campus Activity Center Theater on Friday to a crowd of about 100 about his paranormal experiences. After his presentation, Moon led 50 attendants around campus to give them a taste of a paranormal hunt.
"My name is Chris and I see dead people," Moon jokingly said at the beginning of his presentation.
Moon said ghost hunting is "the pursuit of evidence of the paranormal."
"What we're looking for is proof of the other side," Moon said. "If we can't prove it through a photo or recording, it didn't happen."
He said he had his first paranormal at age seven after his family moved into a new house.
The house, located on top of a hill and isolated within woods, made Moon uneasy.
"Laying in bed, hot, I couldn't sleep," Moon said. "As I opened my eyes, there was a three-dimensional shadow of a little boy staring at me."
Moon quickly found out from local residents that his house was on an "ancient burial ground."
He said his house then became the go-to neighborhood haunted house.
"A lot of times, people would have an experience, then regret having that experience," Moon said.
This experience led Moon down his paranormal path, one that would include TV shows, magazine features and college campus tours.
A key component of Moon's investigations is his "ghost box," which is, he said, a completed version of Thomas Edison's telephone to the dead.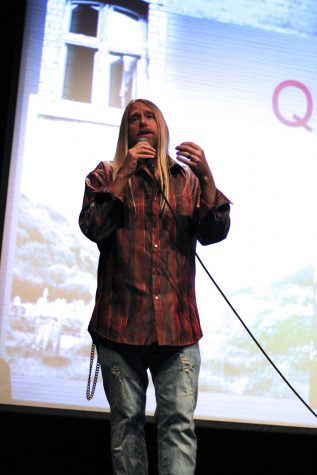 He came across a man, Frank, on an online forum who had been working on this ghost box. Moon argued that it couldn't be possible, leading to "the greatest flame war in flame war history."
"I was being very serious about it," Moon said. "I started to believe him. Once he was convinced we weren't FBI or CIA, we decided to meet up."
Moon showed up at Frank's house. He described the man's living room as "a cross between a bad 1960s sci-fi movie and Deliverance."
"There's speakers hanging from the walls, there's wires, fur pelts," Moon said. "There's a gigantic tinfoil pyramid hanging from the ceiling."
He ended up taking the box from the man unwillingly, letting it collect dust at his house for a time.
Moon then described his ventures into the Sallie house, a notoriously haunted location in Atchison.
"If you've ever heard of the Sallie house, you want to take a whole team in," Moon said.
This was Moon's first attempt at using the ghost box. He said he was embarrassed when attempting to use it in front of his fellow investigators.
"I had the idiot moment of my life," Moon said. "I'm like, um, if there's any ghost here who wants to talk please speak to this thing. Thank you. Technician assist."
Moon said he just heard white noise.
All of a sudden, Moon heard a voice come through the speaker that said "listen."
"Every hair on my body shoots up," Moon said. "I'm panicked. It's the most amazing thing I've ever heard in my life."
Moon said he and the other investigators started asking questions to specific dead people.
"A lot of people actually heard the voices of their loved ones," Moon said. "Not a voice — their voice."
Moon spent the rest of his presentation detailing other investigations and showing out of focus photos that he said feature paranormal activity.
"Anyone see the face in this one?" Moon said. "Some do, some don't."
Moon wrapped up his presentation with a piece of advice: Do unto the spirits as you'd have them do unto you.
After the presentation, Moon led 50 attendants around campus, using his ghost box to "talk to the dead" in Wilner, Fiske and Henrion halls. Moon asked attendants to shout out questions, and he acted as the "mediator" who gave the response.
One attendant asked, "What year was Wilner created?" prompting the response of "the spirits tell you to go away."
After the presentation, attendants to the "ghost tour" gave their thoughts on Moon's presentation.
Campus police officer Chad Agnew said he didn't believe in the paranormal until he worked at night on campus.
"As soon as I came into (Wilner), all the lights started flickering on and off, and as soon as I left the building all the lights were on," Agnew said. "Some of the officers won't go into Fiske at all."
Wichita resident and paranormal enthusiast Steve Levan said he thought Moon was fast on his feet, but still isn't convinced.
"I'm skeptical," Levan said. "I've been looking for supernatural experiences for years and I've never seen anything that couldn't be explained."
Junior theatre major Robert Stillwell said he has always been open minded and enjoyed Moon's presentation.
"There's too much out there that science cannot prove that their own equipment has monitored," Stillwell said. "I find the prospect interesting, though I'm skeptical of his box."
About the Contributors
Andrew Linnabary, Digital Managing Editor
Andrew Linnabary is the 2018-2019 Digital Managing Editor of The Sunflower.

He is a senior studying journalism and minoring in English. Linnabary is...
Selena Favela, Photographer
Selena Favela is a photographer for The Sunflower.

She was the photo editor for The Sunflower her junior year. Favela is currently a senior majoring...