'Grab 'em by the percussion'
Loud as a thunder clap, soft as a kitty cat – it's a dynamics lesson that was on full display in the Duerksen Fine Arts Center Miller Concert Hall Sunday.
Directed by Gerald Scholl and featuring fourteen group members, Wichita State's Impulse Percussion Group performed "Shades of Enlightenment," a concert accompanied by colorful, motion-filled art and designs created by Laura Scholl that reacted dynamically to the performances, to an audience of about 150.
Gerald Scholl jokingly said at the beginning of the concert that there were thoughts of calling the concert "Grab 'em by the percussion," in response to this year's election cycle, but settled on the name "Shades of Enlightenment."
Pieces included a marimba quartet, a tom-tom faceoff drum duel that was sporadic in tempo and volume and finished with a thunderous crescendo, performed at the forefront of the stage, and a lively, jovial piece accompanied by pink and purple visuals to wrap up the night's performance.
Typical orchestral styled instruments were featured throughout the pieces, but there were also "toys," as Gerald Scholl describes them, such as woodblocks, a glockenspiel, xylophone, marimbas, chimes, timpani, and stranger instruments such as the garden weasel, which Scholl said makes "this incredibly beautiful sound" when it's spun.
"Another thing you'll hear that people aren't used to is musicians bowing," Scholl said. "Not just vibraphone, but even on the marimba or the gong or cymbals."
Scholl said the idea of "Shades of Enlightenment" was to effectively mesh the music with Laura Scholl's performative drawings.
"I think doing that really put everything together and created the shades of musical color," Scholl said. "That's the overall string that kind of led us from piece to piece. I also like to try to vary things. You started with a very melodic and jazzy style, going to a very mathematical, less tuneful piece, to a drum chorus, to this gorgeous hymn-like piece at the end.
"These varied colors are what keeps the attention of the audience. I'm really interested in making sure the audience is having as good of a time as we are."
Scholl said he and the percussion group practiced at least once a week, with three hour rehearsals on Tuesdays. He said they spent the weekend fine-tuning and making sure everything worked out exactly as planned.
Laura Scholl said her accompanying artwork is known as performative artwork.
"Basically, it's also performing, just like the musicians," Scholl said. "If they're feeding off each other, the program itself is feeding off them as well."
Scholl, who is a graphic design professor at Newman, said all of the student performers at Wichita State were professional and fun to work with.
"It was just really a pleasure to do this," Scholl said.
Student audience members were impressed by the skill the performers displayed.
"I haven't been involved in music since five years ago, but I thought it was a great performance," criminal justice senior Joel Trembly said. "My favorite piece was the last piece, because that's just kind of who I am. I like happy, lively pieces."
Anthony Fincher, a Butler Community College sophomore studying psychology, said he particularly enjoyed the second half of the performance.
"The first song in the second act I felt was very moving," Fincher said. "I don't know why, but it was very relaxing. I kind of lost my train of thought and started thinking and thinking and got lost and I was like, 'Oh!' I had a moment of clarity and realized where I was."
Dirk Petersen, a KU sophomore studying meteorology, said the performers were talented all around.
"Overall, the musicianship level is pretty apparent," Petersen said. "I was actually a percussionist and I was a friend of someone who was in there. It's really easy to appreciate it even if you're not a percussionist or a musician."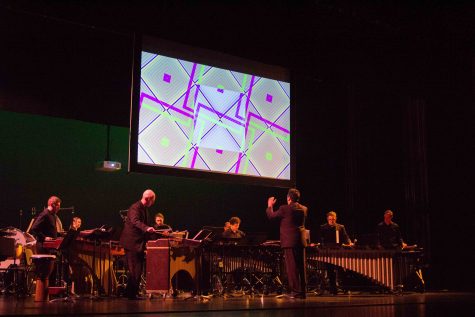 About the Contributors
Andrew Linnabary, Digital Managing Editor
Andrew Linnabary is the 2018-2019 Digital Managing Editor of The Sunflower.

He is a senior studying journalism and minoring in English. Linnabary is...
Hannah Roberts, Photographer
Hannah Roberts is a photographer for The Sunflower. Roberts is a senior majoring in entrepreneurship and minoring in communications. She was born and...