Shockers punch ticket into NCAA Tournament with win over Missouri State
With a 22-7 record and ranked 37th in the NCAA RPI, Wichita State felt confident that their resume' was strong enough to secure their second straight NCAA Tournament appearance. The Shockers, however, wanted to watch Sunday's selection show to see who they were playing rather than if they were going to play next week.
WSU will not have to break a sweat in 24 hours, as the Shockers clinched the Missouri Valley Conference's automatic bid to the NCAA Tournament by beating no. 1 seed Missouri State 3-1 in the MVC Tournament Championship on Saturday in Cedar Falls, Iowa.
MSU jumped out to an early 11-8 lead until senior outside hitter Jody Larson tied it up with two kills and forced a Bears' attack error. The Bears broke an 18-18 tie by scoring off four straight kills, but a kill from junior outside hitter Mikaela Raudsepp and three from sophomore outside hitter Tabitha Brown to tie it up again.
The Shockers kept set one alive by matching MSU's five set point opportunities to tie it at 29 all. Junior libero Gabi Mostrom came into the match and immediately got the Shockers back on top with a service ace. Brown gave the Shockers the victory in set one by getting her eighth kill of the set.
WSU trailed early in set two until junior middle blocker Abbie Lehman scored off a kill and the Bears committed two attack errors that gave the Shockers an 8-7 lead. Two kills from Raudsepp pushed the Shockers to an 11-9 lead before MSU took the lead off a Lehman attack error.
Brown and Larson came up with two kills each to give the Shockers an 18-15 lead, but the Bears responded with their own 3-0 scoring run to tie the set and force a WSU timeout. The Shockers came out of the timeout by ending set two on 7-1 scoring run to claim set two 25-19 and take a commanding 2-0 lead heading into the locker room.
The Shockers continued to have the momentum with an early 5-3 lead in the third set, but MSU went on a 5-1 scoring run later on to claim a 13-10 lead. Tied 16 a piece, WSU committed three straight attack errors to give the lead back to the Bears.
Kills from Larson and Raudsepp led to an MSU attack error that tied the set up at 22 all. A kill by Brown made it set point in favor of the Shockers, but MSU rallied to score the final three points and keep the match alive with a 28-26 victory.
After going back-and-forth, the Bears took a 15-13 lead in set four. The Shockers took command by going on a 5-0 scoring run with four kills and a service ace by junior setter Emily Hiebert. MSU scored three consecutive points to cut their deficit 21-19.
Two kills from Lehman and one from Raudsepp gave the Shockers a 25-23 victory in set four to claim the match 3-1. WSU won their second consecutive MVC Tournament Championship and their third in four years.
Brown and Hiebert were named the MVC's All-Tournament Team and Larson earned MVP honors with a double-double performance of 16 kills and 16 digs. Brown led the Shockers with 18 kills on .326  hitting and Hiebert added a double-double of 55 assists and 16 digs.
Raudsepp added 14 kills while Lehman added 11 kills hitting .400. Senior libero Dani Mostrom had a game-high of 23 digs and G. Mostrom and junior libero Hanna Shelton added 12 digs each.
WSU (24-7) will have a watch party open to the public during Sunday's NCAA Volleyball Tournament Selection Show at the Champions Club inside of Charles Koch Arena. ESPNU will release the pairings of the 64 teams at 8 p.m.
Leave a Comment
About the Writer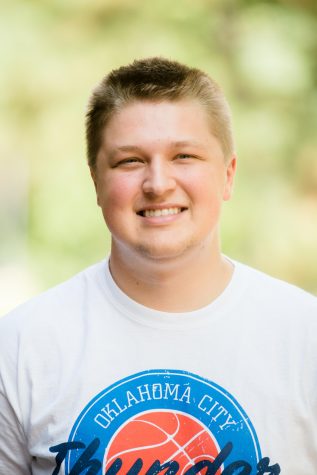 Grant Cohen, Former reporter
Grant Cohen was a reporter for The Sunflower. Cohen majored in communications with an emphasis in journalism with a minor in sports management.