Food trucks worth your food bucks
The Flying Stove
The Flying Stove is one of the O.G. food trucks in Wichita. Its style is a mash-up of whatever style they can think up. Cajun inspired fried rice or Thai influenced pulled pork sliders.
"I think the cardinal rule is try to make stuff we would eat ourselves," co-owner Jeff Schauf said.
You can't go wrong on the menu. Some of the standouts are a cheesy beef taco pocket, full of braised beef and cheese and a salad with marinated beets and mandarin oranges. Even if you're not Dwight K. Schrute, you'll still love the beets in this salad.
The Flying Stove will be serving all winter long. If you don't want to brave the cold or if you're in a hurry, the food truck offers text ahead ordering. More information is available on The Flying Stove's Facebook page.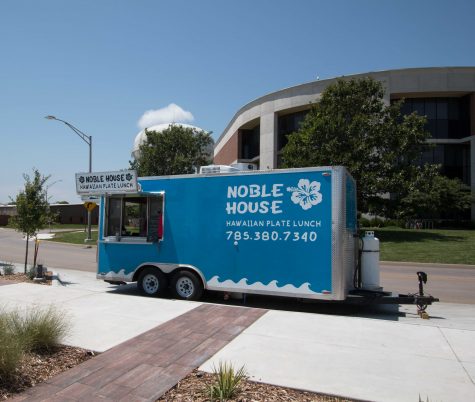 Noble House Hawaiian Plate Lunch
Even though Wichita is hours away from any ocean, Noble House Hawaiian Plate Lunch is dishing out Hawaiian fare. It is the only place to get authentic Hawaiian food in Kansas. That's a point of pride for Chef Akamu.
The menu changes daily, but some of the available favorites are the huli huli chicken and kaulua pork, served with sticky rice and macaroni salad, and two cups of soy sauce thoughtfully placed in every takeout box. Chef Akamu's goal is "sharing the aloha one plate at a time."
Noble House plans to expand into a restaurant, so you can get your Hawaiian plate lunch fix wherever it parks the big blue trailer and at the soon-to-be restaurant's location at 3219 E. Douglas Ave.
LoLo's Crepes
If you're hankering for something sweet or savory, Lolo's Crepes has the best options, all in a perfectly griddled crepe. Owner Matt Lo said the sweet lolo is the best seller. It has Nutella, banana, strawberry, ice cream, whipped cream chocolate chips and chocolate drizzle, all in a handheld Japanese style crepe.
The best seller on the savory end of spectrum is the Beast Lolo, which has roast beef, spinach, egg, onion and plenty of melted cheese.
Lo brought his love of crepes from Hong Kong to Wichita and we're all benefiting from it. Keep an eye out for LoLo's Crepes on Wichita State's Main Campus and along Douglas Avenue in downtown Wichita.
Garden of Eatin' Food Company
If you're craving healthy comfort food, Garden of Eatin' Food Company has you covered.
It specializes in deli fare. The mac-and-cheese with various toppings, from cheesesteak to BBQ chicken, is a go-to. The menu varies, one day it could be biscuits and gravy, the next day sandwiches and salad.
You can find Garden of Eatin's unique eats in their eccentric pull-behind food truck made from a retrofitted camper, and restaurant in The Renfro building at 612 E. Douglas Ave.
About the Writer
Brian Hayes, Former Photo Editor
Brian is the photo editor at The Sunflower. Hayes is a junior majoring in mass communication with an emphasis in journalism. He is from Wichita. Hayes enjoys...