Douglas Avenue Chop Shop brings Kansas' best meats to its butcher's block
Despite being surrounded by farms, it can be surprisingly difficult to find local meat in Wichita. Two and a half years ago, the Douglas Avenue Chop Shop opened its doors and has been serving custom meat cuts to the community ever since.
The Chop Shop offers a wide array of meats including beef, pork, chicken, duck, lamb and rabbit. There's also a healthy offering of house-made sausages and specialty bacon. All meats have one thing in common here: they are local and they are free of additives.
"We try to keep it as local as we can," employee Damon Stephens said.
The meats come straight from a small number of farms around Kansas including Creekstone Farms in Ark City, Wendland Farms in Barnes and RC Farms and Good Shepherd Poultry, both located in Lindsborg.
"Our meats are natural. They have no GMOs and no hormones," Stephens said.
Stephens went to explain how this can sometimes surprise customers when they see how that affects their meat.
"We get a lot of comments on our chickens," Stephens said. "They're a lot smaller than they are in Dillons. We don't have pound chicken breasts. They're not pumped up with hormones."
The Chop Shop is owned by Schane Gross and is located right next to her bar and grill, The Anchor.
Several local restaurants receive their meat supplies from the Chop Shop, including The Anchor.
However, the location of the Chop Shop right next to this bar and grill allows a special relationship to form between the two establishments.
"Anything anyone buys here they can take to The Anchor and have them cook it for no extra cost," said Stephens.
For customers that just can't wait to get home, or who aren't very adept at cooking themselves, that's a huge plus.
The best days to visit the Chop Shop are Thursdays and Fridays. This is when they are the most fully stocked after breaking down their Tuesday deliveries.
The Chop Shop also offers a selection of high-end cheeses. Few of these originate in Kansas due to a lack of dairy farms, but they all share the Chop Shop's quality standards. The Cottonwood River Cheddar, which does happen to be made in Kansas, is one of Stephen's favorites. He also favors the Rouge Smokey Blue, an Oregon cheese.
Since you can't sell meat without some basic condiments, the Chop Shop also offers a select number of jarred preserves, pickles, hot sauces, mustards and, of course, barbecue sauce.
For the holidays, the Chop Shop is offering holiday boxes, which typically contain a variety of steaks. But as far as the Chop Shop is concerned, you can get pretty much anything you want.
"If there's a meat we don't have that you want we can get it — for the most part," Stephens said.
Orders can sometimes take a little longer than customers expect them to, especially during the holiday rush. The staff encourages calling well in advance for special orders.
The Chop Shop also offer turkeys, available for special order during the holidays. If you're the more adventurous type, they offer a special treat — turduckens. For those of you unfamiliar with this bird behemoth, it consists of a deboned chicken stuffed into a deboned duck, which is then stuffed into a deboned turkey.
If a classic cut is more your style, Stephens recommends the Cowboy Ribeye — a 2-lb cut of premium beef.
Special orders should be placed by Dec. 14. They can be made either by calling the store at (316) 239-7400 or stopping by their location at 1113 E Douglas Ave.
Stephens said the Chop Shops' products have received nothing but praise from customers, especially for their specialty Red Wattle pig pork cuts.
"I used to work as a chef at Fork & Fennel. We got meats there from the Chop Shop," Stephens said. "I lost track of how many times people told me it was the best pork chop they ever had."
Leave a Comment
About the Contributor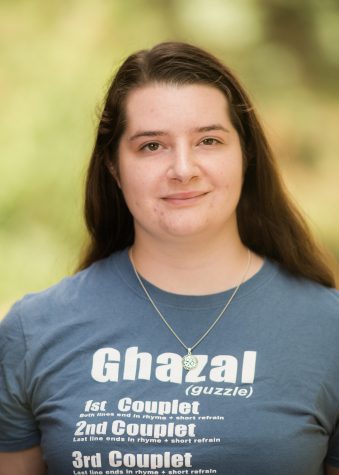 Nicole Byrne, Former digital editor
Nicole Byrne was a digital editor for The Sunflower. Despite her better judgment, she developed a crippling addiction to poetry. She self-medicates with...