Gift Theft Poses Threat to Online Shoppers
With the holiday season upon us and stores overflowing with customers, online shopping seems more appealing than ever. However, digital shoppers should take care that their holiday gifts aren't falling into the hands of Grinch-like thieves.
These opportunistic package-snatchers follow delivery trucks to houses and scout out neighborhoods for unattended boxes to steal from front porches.
A report issued by InsuranceQuotes.com last year estimated that 23 million Americans have had packages stolen. Such thefts occur year-round, but spike during November and December. Kansas has not been spared from this increase.
Just last December, nine Wichita households fell victim to gift theft when a woman went on a Riverside-area stealing spree just days before Christmas. Fortunately, Riverside's neighborhood coordinated and cooperated with the police to find the perpetrator and return the gifts to their rightful owners.
Shipping companies such as UPS and FedEx take extra precautions this time of year to ensure packages arrive safely at customers' homes. Delivery truck drivers are trained to watch for suspicious individuals and vehicles and will often leave a note for the homeowner or wait to deliver a package if they believe it is in jeopardy.
Customers are encouraged to follow a few simple steps to protect their purchases.
When arranging for a package to be shipped, shoppers should manage their delivery preferences. Boxes can be delivered out of sight — by a side door or behind a back gate — to minimize unwanted attention. These instructions can be followed for all deliveries or on a case-by-case basis if specified.
Requiring a signature to hand off a delivery can keep packages from being left on an exposed porch. Deliveries classified as valuable automatically require a signature, but customers can request a signature manually for any purchase if they wish.
FedEx and UPS offer services alerting customers when their packages are being delivered. The UPS version includes an option to re-route boxes mid-delivery to a work address or the home of a neighbor or family member if the customer is unavailable to receive their delivery.
One way to ensure a package won't fall into the wrong hands is to have it delivered to the nearest FedEx Office or UPS Store for a later pickup time. These locations generally have extended hours to accommodate customers, and packages can be held for days at their convenience.
Securing your purchases this holiday season only takes a few minutes, and could save you the headache of losing gifts. 'Tis the season of giving, just make sure you're gifting your friends and family, not petty thieves.

Leave a Comment
About the Writer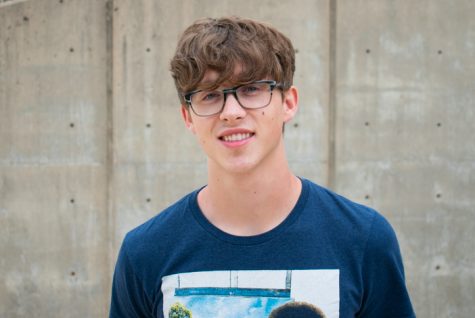 Matthew Kelly, Former Editor in Chief
Matthew Kelly is a former editor-in-chief and managing editor for The Sunflower. Kelly graduated in 2020 with a bachelor's degree in political science...