'Skeletons' provides oddities for ICT
Furrybones Figurines, Wichita flag T-shirts dripping with blood and eclectic skeleton statues cover the racks and shelves of the old, rickety house that is now home to Skeletons Out of the Closet.
After moving out of Delano District to 2903 E. Douglas Ave. on Oct. 8, the shop is in a bigger building with more space for events, an oddities museum, space to hangout and of course its shop of unique items.
"The purpose that [Skeletons] was started for is not what we're doing now," owner Jessica Olson said. "We were supposed to be repurposing furniture, household items, art and stuff and everything was supposed to be handmade and we were going to hire homeless [people] to help us do that. We were only able to do that our first month, and then I figured out really quickly that was a pipe dream, but we did help one guy get off the streets."
Olson's original plan for Skeleton's Out of the Closet came from a thesis she was working on where she spent a year and a half walking around the streets and essentially living with the homeless population throughout the day.
As people referred to Olson's store as the "oddities store," she realized Wichita did not necessarily have a business to cater to these types of items and began to search for the stuff that would be deemed as oddities.
"It turned to us kind of providing people, or weirdos, or whatever, with stuff they can't get in Kansas," Olson said. "I then used my social work mindset, and the way I am, to kind of make this into a home and safe place for every type of misfit, unwanted, misunderstood [person] in the city."
In the three years that Skeleton's Out of the Closet has been in business, it has tried to create a space for people to not only shop, but to come and sit on its antique couches, use the coffin table and enjoy conversation with Olson and other customers. The business has also been hosting monthly movie nights for community members to come in their pajamas and have a "sleepover" while watching old movies.
"We basically accept anyone into our shop and to hangout as long as they're not a jerk," Olson said.
Olson and co-owner Sean Smith search the internet to find strange items and other oddity stores in order to find products.
"We just try to associate with other oddity stores and cliques of people that sell and trade the same items that we look for," Smith said. "All of the art hanging on the walls is also stuff done by local artists."
Olson and Smith try to fill their business with unique items, including a small but growing oddities museum that's home to a human brain, heart and hand — none of which are for sale. The pair hopes they bring unique entertainment and items to Wichita.
"Some of our best sellers are the Furrybones Figurines and our own version of the Wichita flag," Olson said. "We also have couple skeleton figurines that people will use as their wedding cake toppers, so those are pretty cool too."
With Christmas just weeks away, Skeleton's Out of the Closet features some of the strangest items in Wichita that are suitable for friends and family interested in oddity items.
"We go out of our way to make sure that the customer service we are providing is great," Olson said. "We want people to know that they can come here to shop or to talk. We are always here for anyone and we will listen."
Leave a Comment
About the Contributor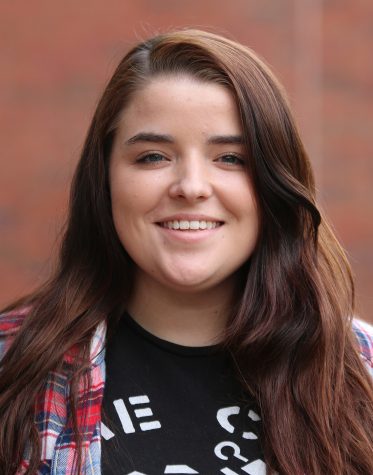 Marissa Campbell, Former culture editor
Marissa Campbell was the Culture Editor for The Sunflower. Campbell wrote music reviews as well as arts, culture and other entertainment stories. From...