From Maryland to the Midwest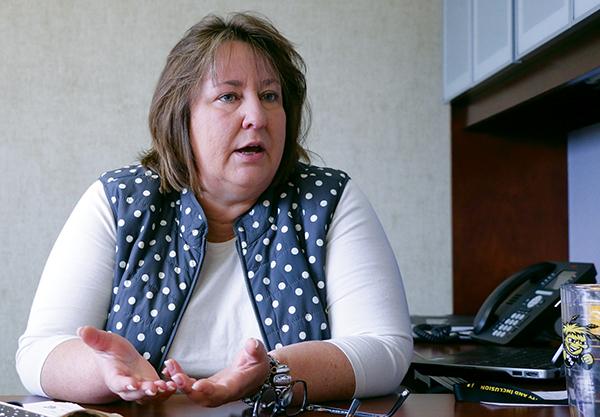 Advertisement
Hang on for a minute...we're trying to find some more stories you might like.
After 18 years of working at Towson University in Maryland — eight miles north of Baltimore and less than an hour's drive from Washington, D.C. — Teri Hall decided she was ready to try something new.
When she stumbled upon the job posting for student affairs vice president at Wichita State, she knew it was "too awesome" of an opportunity to pass up.
After years of studying in the Midwest for undergraduate, master's and doctoral degrees, the opening at WSU gave Hall an opportunity to return to her old stomping grounds. It was in her early college years that she knew working with students was the exact career she wanted.
"I was really involved as an undergraduate student leader and was really close to some of the advisers I had during that time and thought that this looked like a pretty cool job," Hall said.
"Certainly you have to sit in an office, but you get to interact with people, you get to be out-and-about, you get to do all those kind of things so I decided as a sophomore in college that I wanted to work in higher education."
Hall has been working in higher education for about 30 years. During her time at Towson University, Hall had similar assignments to what she now has at WSU.
"It was all about how we get students to get connected and have a good experience at Towson," she said.
Hall's also has experience working on an expanding campus.
"We did lots of stuff on policy," Hall said. "We were doing a $40 million addition to our campus rec building there, so I got to be a part of some of the construction stuff that was going on."
With the many changes occurring on the Towson campus, WSU Provost Tony Vizzini and the board of committees in charge of the search decided that Hall was the best fit for WSU with her experience that WSU expects to develop.
"I think because I have been through kind of the same growth that we expect WSU to go through, that was kind of seen as helpful," Hall said. "I've been through that, and we were able to keep the campus community strong and even build it as we grew as an institution.
"I think that is why the folks here thought that I might be able to add a thing or two."
Hall hopes to become a permanent fixture in a position that has been a revolving door for administrators in years past.
Hall will aim to help mediate issues between higher university administration and Student Government Association.
"I see myself as a neutral party coming into this," Hall said. "It's about moving forward and moving into a new year together."
Student Body President Joseph Shepard said he is excited to see how Hall can help mend the situation.
"She's pretty much going to be viewed as a savior," Shepard said. "A lot of people are hurt because of the past, are fearful for their future, feel the university is headed in a direction that is not beneficial to all communities and so we are all looking to Dr. Hall to say 'help me.'
"It's really going to be up to her to figure out how she helps us all."
Hall has already set goals for her new role and has met with Shepard regarding making an Innovation Campus building powered by solar energy since she arrived Jan. 9.
"My goal is to provide some stability, to be the person that people can go to and ask questions and know that they're going to get a straight answer," Hall said. "I'm a really direct person. Life is too short to not be honest and have a good relationship with somebody, but I think things are going to get better. I intend to be here for a long time."