'No Ban, No Wall' rally unites students, faculty
"The people united will never be defeated" was the chant of participants in the student-led "No Ban, No Wall Peace Rally" Tuesday afternoon outside the Rhatigan Student Center.
The rally was organized in response to decisions made by President Donald Trump regarding immigration and a wall along the border of Mexico and the United States.
Student Body President Joseph Shepard said he worked with several other student leaders on campus to make the rally happen.
The purpose of the rally was to show individuals on campus that they are not alone in their frustrations and worries, Shepard said.
"There is no border, there is no line, that can separate us," Shepard said. "We are all one and we're going to continue to make sure that we exemplify that through our actions."
Signs containing messages of support could be seen throughout the crowd of around 200 at the rally. Karina Fabela and Kiah Duggins were two students who came to the rally with signs.
Fabela, a senior studying Health Service Management and Community Development, made a sign saying, "We all belong and we will all defend each other. LBGTQ. BLM. No ban. No wall."
"I feel like I absolutely have to be here," Fabela said. "I am a proud daughter of two immigrants. This nation was built, founded by immigrants and I think what's going on right now is disgusting."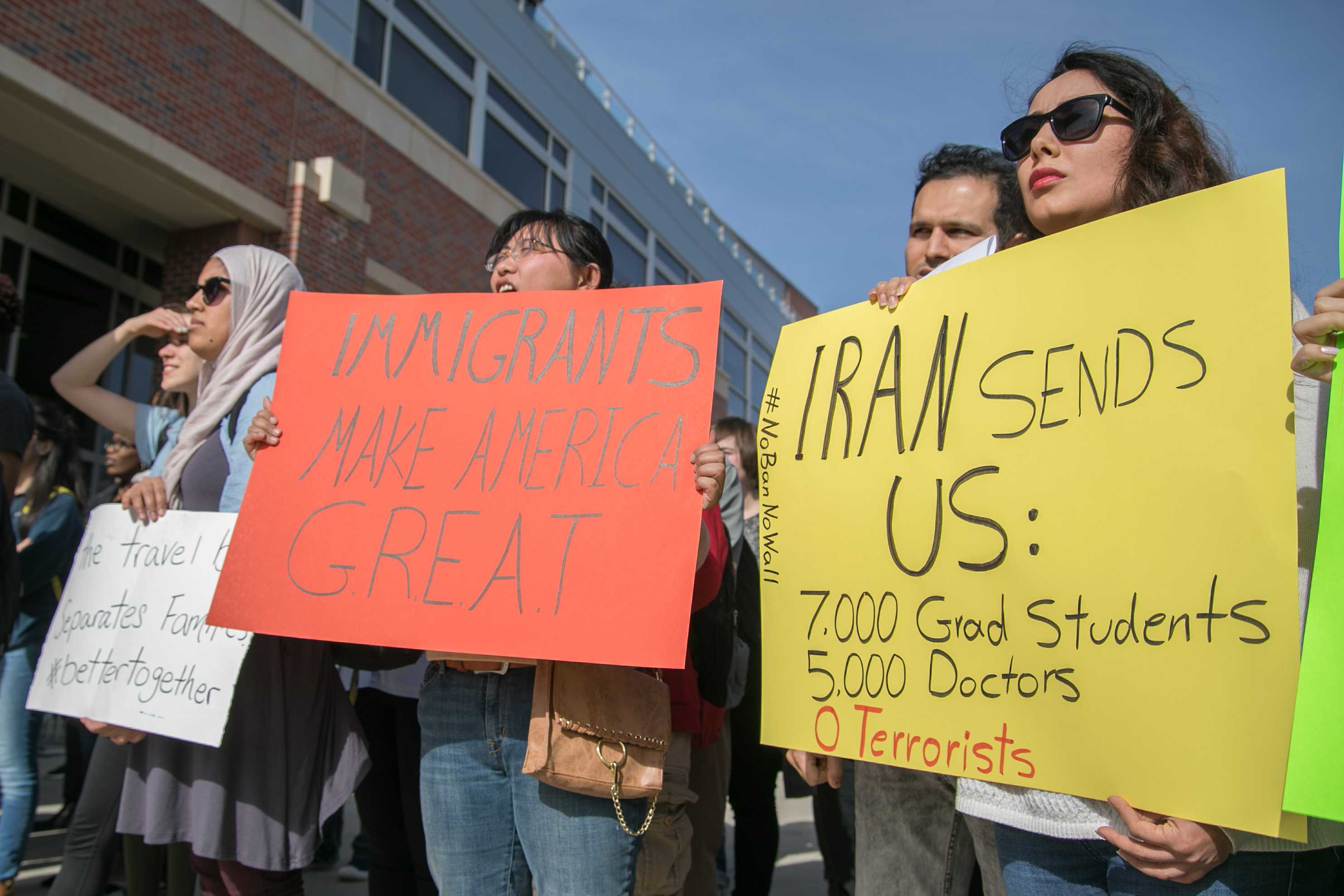 Duggins, a senior studying international business, economics and Spanish, held a sign which said, "Love tears down walls."
"I don't think that a wall is going to solve any immigration issues that we might have," Duggins said. "I'm here to support all of the marginalized people that are affected by these policies, and I'm here to make sure that everybody feels welcome and loved on the campus of Wichita State and in Wichita in general."
Those in attendance ranged from students to faculty to administration for the university. 
Tony Vizinni, Provost and Senior Vice President at Wichita State, said he was proud of the students for gathering and having their voices heard.
"I think it's great that our community has come out in support of things they believe in," said Vizinni. "I think hearing your voices, making it clear what the people think, is important, and I'm proud that our students are standing up and making these kinds of comments."
The rally featured prominent student leaders on the WSU campus including Savana Servantez, President of Kappa Delta Chi Sorority, Inc.
Servantez wanted to communicate that the Latino community is feeling very fearful and afraid right now.
"There's a lot of discrimination going on," Servantez said. "I just wanted to let people know that it's not new to us and we're not going to sit here and let people discriminate on Latino students, undocumented students, people of color here on this campus."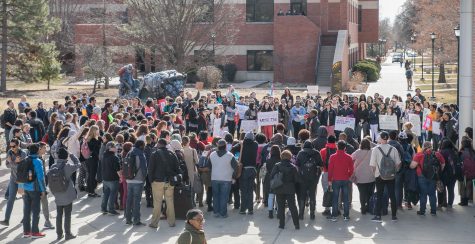 At several points during the rally, Servantez led the crowd in chanting "Si se puede, yes we can."
Richard Mai, President of the Asian Student Conference, also spoke during the rally. Mai said he was nervous before he spoke but was determined to say something to keep the crowd excited.
"I just had to go out there and do my best and hope that people would listen and I think they heard what I had to say," Mai said.
At the end of his speech, Mai quoted Shepard: "Don't talk about it; be about it."
The crowd began to chant this phrase.
"I think that's a good quote to make people aware that we can all say things," Mai said. "We can all like pages on Facebook, we can all retweet things, but until you go out and do something you're not really helping much at all."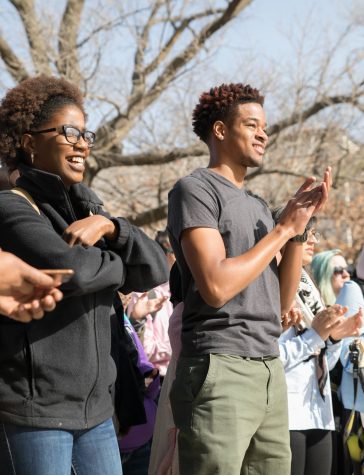 Leave a Comment
About the Contributors
Sam Belsan, Reporter
Sam Belsan is a reporter for The Sunflower.
Hannah Roberts, Photographer
Hannah Roberts is a photographer for The Sunflower. Roberts is a senior majoring in entrepreneurship and minoring in communications. She was born and...