Demonstrators demand answers on guns from leaders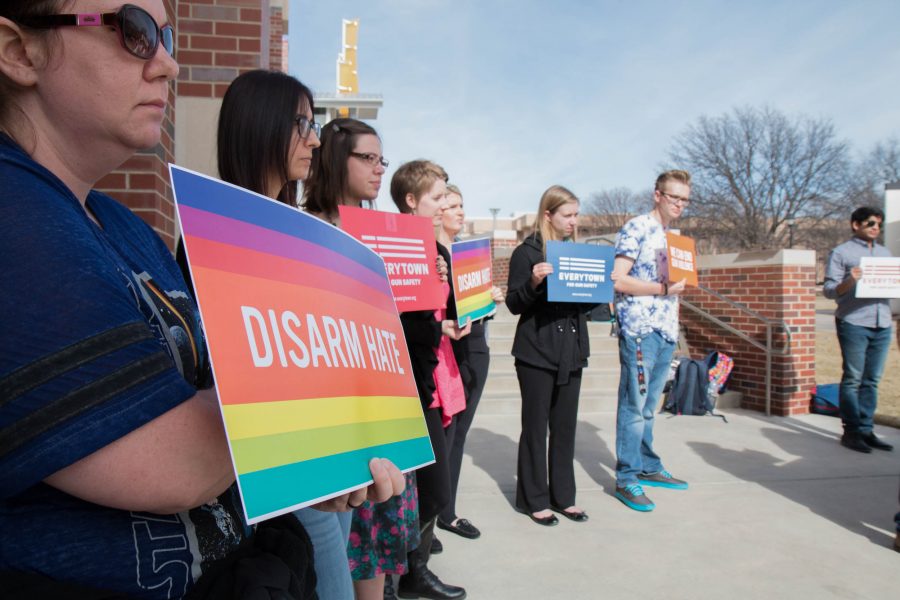 To Randy Barbour, a graduate student and instructor, resisting the concealed carry of firearms on college campuses that is set to begin July 1 is a matter of responsibility to students.
Allowing firearms in classrooms would "inhibit the learning process," especially when discussing heated topics, Barbour said.
"If we don't protect those students who perhaps would speak out if there weren't guns in the classroom," he said, "That's doing our campus a disservice."
Barbour was one of several speakers from a crowd of about 30 people outside of the Rhatigan Student Center Wednesday to contact their representatives as well as university administration to voice their concerns regarding firearms on campus.
"(President Bardo) has been very quiet," Barbour said. "We need to know what our leaders are thinking."
"We did have some faculty and staff that attended but we do need that presence from the administration and that's what we lacked," Barbour said. "That's important that they didn't come."
Debbie Ojeda-Leitner, who helped organize the demonstration, helped write a student government resolution to declare the student senate's opposition to concealed carry on campus in November.
The resolution passed 27 to 4 with two abstaining.
Ojeda-Leitner said it didn't make sense that tobacco would be banned on campus beginning July while allowing firearms.
"We fought to make sure this campus is safe and healthy," she said about campus going tobacco-free. "And here we are adding this new ingredient that will be detrimental on so many levels."
Students cited a lack of requirement for training or a permit as reason for opposing the concealed carry of firearms on campus.
"I think that if you have a gun you should be educated and qualified," said Rebekah Blakely, a sophomore majoring in journalism.
Known as constitutional carry, the law allows Kansans aged 21 and older to conceal and carry a firearm without obtaining a permit.
"If we had extensive training," Ojeda-Leitner said, "Maybe it would have been a different conversation.
About the Contributors
Jenna Farhat, News Editor
Jenna Farhat is the News Editor of The Sunflower.

Farhat is a junior majoring in creative writing. After graduating, she plans to pursue a career in...
Selena Favela, Photographer
Selena Favela is a photographer for The Sunflower.

She was the photo editor for The Sunflower her junior year. Favela is currently a senior majoring...