New landlords: Who runs The Flats at WSU
If Wichita State doesn't own The Flats at WSU, then who does?
MWCB, LLC is co-owned by four prominent Wichita businessmen: David Murfin, Nestor Weigand, Jr., Ivan Crossland and Steve Barrett. The company has been awarded the contract to build the private housing option — and several other projects on Innovation Campus — by Wichita State Innovation Alliance, a non-profit organization that manages Innovation Campus.
All four partners have been active in the local business community and politically engaged for decades. In total, the four partners of MWCB, LLC have given at least $576,920 to conservative PACs, Super PACs and joint fundraising efforts, according to campaign finance disclosures.
Murfin is the Chairman and CEO of Murfin, Inc. That company's interests include Murfin Drilling Company and Murphy Tractor and Equipment Company. He graduated from the University of Kansas. In September of 2015, Gov. Sam Brownback to appointed Murfin to the Kansas Board of Regents, where he is Vice-Chair serving a four-year term, and the Governor's Council of Economic Advisors. As a regent, Murfin disclosed his ownership interest in MWCB, LLC (and four other companies engaged in working relationships with Kansas universities: BGC Developers,LLC; Executive Airshare, LLC; Gladiators, LLC; and Air Capital Flight Line, LLC) to the board in fall 2016. The board ruled he must now excuse himself from participating on behalf of the board in "matters involving or related to the contract or transaction" between his companies and universities. Murfin gave $291,250 between 1999 and 2016 to conservative politicians and committees.
Weigand is the Chairman and CEO of J.P. Weigand and Sons, the Wichita area's largest real estate company. Weigand has served on the boards of the Kansas Health Foundation, Kansas Highway Commission and the Wichita Area Chamber of Commerce. Weigand also sits on the board of Freedom Partners, a partially Koch-funded, non-profit chamber of commerce and major sponsor of various Republican politicians and conservative groups, including Gov. Sam Brownback.
Crossland is the CEO of Crossland Construction Company. That company made Engineering News-Record's top 100 contractors list in 2010. Some of the company's most recent projects include other major university projects and Walmart. Crossland contributed to Gov. Brownback's 2003 and 2004 congressional campaigns and his 2007 presidential campaign. Crossland Construction Company has been awarded several contracts on Innovation Campus by MWCB, LLC.
Barrett graduated from WSU with degrees from the Fairmount College of Liberal Arts and Sciences and the Barton School of Business with emphasis in economics and real estate. He has developed, brokered, purchased and sold more that $450,000,000 of real estate investments during his 17-year career as a member of the Herbert L. Krumsick Group and J.P Weigand and Sons, Inc., according to the J.P. Weigand and Sons website.
Leave a Comment
About the Contributor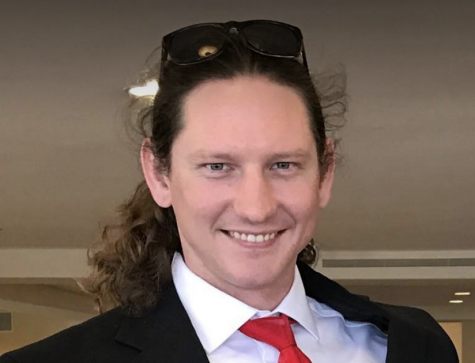 Chance Swaim, Former Editor in Chief
Chance Swaim was the Editor in Chief of The Sunflower from fall 2017 to spring 2018.

Swaim was a graduate student in the English Department working...