Beach: KenPom could be huge for Shockers in future years
According to kenpom.com, Wichita State is currently the 10th best team in the country.
KenPom is an extended basketball metrics system that's been active since 2002 and has gained attention in recent years. Ken Pomeroy founded the website 15 years ago with the idea that college basketball fans needed more insight into how good a team really is.
The site charts adjusted offensive and defensive efficiency along with that of a team's opponents to help warrant a ranking.
KenPom has been used as one of the deciding factors for the NCAA selection committee to help gauge to worth of certain teams in play for the field. Starting next season, the selection committee will rely more on this metrics system.
While the majority of the time more big conference teams deserve a bid with a decent record and a few quality wins, the current system is flawed without a doubt.
It's not that KenPom will be the committee's only selling point in future season, but the news sure helps the Shockers. Teams like WSU and Gonzaga perennially pummel the majority of their opponents in admittedly weak conferences, but the fact is wins are wins and playing efficient basketball should be rewarded.
WSU currently grades out as the 11th best team in the country in terms of adjusted offensive efficiency and the 20th best in adjusted defensive efficiency. Combine this with a luck rating and the efficiency of the Shockers' opponents and they rank 10th.
Now I've watched most of the teams in consideration for this year's NCAA Tournament field and 10th may sound a bit inflated, but the efficiency ratings sound spot on.
The Shockers are averaging more than 80 points per game and while they aren't what they once were defensively when Ron Baker and Fred Vanvleet were on the roster, they're still a force to be reckoned with when it comes to getting stops.
KenPom adds the basketball factor to the selection committee's process.
This is something that has been lacking in recent years and while it might not be a huge change, it will certainly help teams like WSU.
The system also puts a damper on the hopes of teams from big conferences with ample opportunities to pick up quality wins, but don't capitalize on them very often. Also when they do capitalize on them, they weren't necessarily very convincing.
For example Georgia Tech (17-14, 8-10 ACC) ranks 80th and are currently a clear bubble team. While some might argue they're hopeless at the moment the pure depth and power of the ACC is keeping them in the conversation, they could sneak in the field.
Going forward, a team like Georgia Tech's poor KenPom rating is going to hurt them– and a team like Wichita State's No. 10 rating can only help them when it comes to an at-large bid should they stay in the Missouri Valley for extended time.
Leave a Comment
About the Writer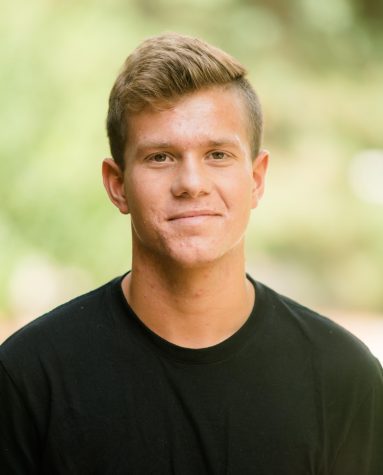 Nick Beach, Former reporter
Nick Beach served as a reporter for The Sunflower. Beach served as a sports reporter and columnist, as well as a movie critic. Beach is from the coastal...