Pflugradt: Nothing is impossible, Wichita State is 3-0 against No. 2 seeds for a reason
Wichita State will lose at some point — probably. But it doesn't have to be Sunday.
I study a great deal of stats on Wichita State, and come NCAA Tournament time, I spend nearly a whole day analyzing their opponent.
When I talked with Wichita State players yesterday, they all knew too much about the No. 2 seeded Wildcats. Kentucky, who seemed to be more focused on their choice of shoes they'd wear in Sunday's primetime second round game, couldn't even name a single Wichita State Shocker — that's assuming you no longer count Fred "VanSleet."
Kentucky head coach John Calipari spent most of his presser time Thursday discussing how well the selection committee did. He changed sentiments on Friday night when Wichita State advanced as their next opponent.
"We're a two-seed playing a four in the second round," he said a bit disgruntled.
If anything was clear, it was that Calipari, one of basketball's most renowned college coaches, was trying to save face should his team falter on Sunday.
He said that his team was less experienced than the Shockers. An interesting note considering Kentucky starts one senior and brings in two more off the bench, while Wichita State gave a scholarship to one of their two senior walk-ons earlier this season.
Point being, Kentucky's focus games ahead, well past Sunday. And that's enough to say Wichita State stands a chance.
Listen, Kentucky, a perennial powerhouse, is considered only a 4.5 point favorite.
Kentucky played No. 15 Northern Kentucky on Friday. The game was within single digits with under four minutes to play, and Northern Kentucky was not playing well — at all.
In the first half, Calipari had played nine deep and only four of them had hit a made field goal. Wichita State, a defensive minded team, doesn't foul a whole lot. Without the free throw stripe, Kentucky wouldn't have stood a chance.
The Norse of Northern Kentucky — which I guess is a viking? — hit 3-points like you wouldn't believe in the second half, but it was all they shot. They turned it over, a lot. Still, they made the game too close for comfort for Kentucky, and the Wildcat superstars brushed it off as just a sub-par game.
Nothing was sub-par about it. Sure, Kentucky star freshman Malik Monk didn't put up 47 points  — still impressive — the Wildcats were soft on defense. If not for Bam Adebayo snagging 18 rebounds and scoring 15 second half points, Kentucky would have had next-to-nothing to challenge the NCAA Tournament first-timers.
Should Wichita State play up to their level — which, if you didn't know, is ranked No. 4 in the country in 3-point shooting percentage — they'll stand more than a chance, and Kentucky will spend more time wishing they learned more about "VanSleet."
Basketball is a game of runs, Gregg Marshall emphasizes that all too much. Forget the storylines, two 30-win teams will meet tomorrow and each can go toe-to-toe with anyone in the country. If the Shockers strike first, don't say it wasn't destiny.
Leave a Comment
About the Writer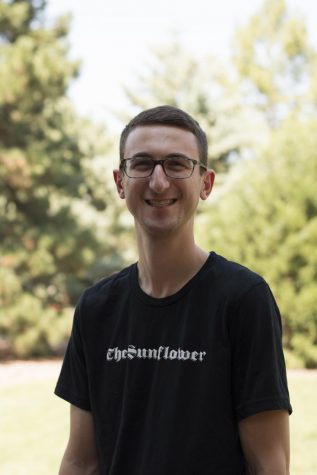 Evan Pflugradt, Former sports editor
Evan Pflugradt is the former sports editor of The Sunflower. Pflugradt past served as the publication's Editor in Chief, Opinion Editor and a reporter....