'Everybody knows his smile': GoFundMe campaign sends super fan to watch postseason play
"Gregg Marshall lifted me up over the rail and then they took me back to the locker room and I got to talk to the basketball team."
Darren Thomas, a die-hard Wichita State fan, has been attending Wichita State games for more than 30 years.
Thomas has cerebral palsy, so he relies on family and friends to help him get around and make it to the basketball games; that doesn't keep him from cheering and supporting the team.
"I sit behind the team every season and never miss a beat," Thomas said. "I'm around them all the time."
Thomas said his favorite part of being at the games is how he interacts with the players.
"The basketball team is like family to me," he said.
Attending postseason games has been a highlight for Thomas. His favorite memory was when his favorite Shocker and former neighbor, Antoine Carr, provided him with tickets to a special game in 2013.
"Antoine Carr had tickets for the Final Four," Thomas said. "His girlfriend was going to sell the tickets but Carr said, 'Naw this is going to my man right here. I want him to have the tickets.'"
Thomas said he considers that game to be one of his favorites from his time as a Shocker fan.
Thomas travels with his brother, William Polite, but the last few years have been more difficult financially, Polite noted. This season, a special friend stepped up to ensure they could travel to St. Louis and beyond.
Maurice "Mo" Mitchell has been Thomas' friend for the past 18 years and brings Thomas to every home game throughout the season.
"Darren's a fixture at all the home games," Mitchell said. "Everybody knows his smile."
Mitchell noticed that Thomas and Polite had not been attending the postseason games, so he he asked what the reason was. Polite let Mitchell know it was a financial issue and Mitchell put together a GoFundMe page to raise money to support Thomas' travel to the tournament games.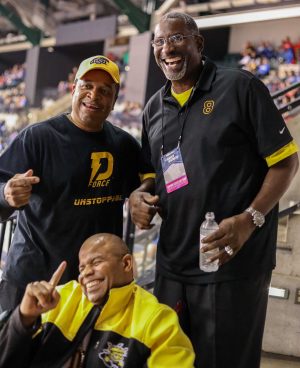 The original plan was to keep the fundraising campaign to some close friends, but one of the donors suggested Mitchell open it up to other fans in a Facebook group called "The Shocker Faithful."
"[There was an] overwhelming response with sharing the love and getting Darren and his brother to the games," Mitchell said.
Raising more than $3,000 through the GoFundMe campaign, Thomas, Polite and Mitchell were headed to St. Louis for the Missouri Valley Conference Tournament.
After watching the Shockers win the championship game, Polite and Mitchell helped Thomas get down to the lowest level so he could see the players and coaches celebrate.
"My brother said, 'Wave your hands so he can see you,' so when [Gregg Marshall] saw me he kept calling me to come down," Thomas said.
On his way toward the court, Thomas embraced friends, family and players, but kept his sights fixed on Marshall who was waiting for him at the bottom of the stairs.
"Marshall lifted me up over the rail and then they took me back to the locker room and I got to talk to the basketball team," Thomas said.
Marshall supported Thomas as they walked to the locker room. Shocker fans cheered as Thomas took every step.
To cap off his time with the Shockers in St. Louis, Thomas was able to hold the championship trophy the team had just won.
Because he had received so much support, the trio of Thomas, Polite and Mitchell were able to travel to Indianapolis. They cheered loudly as the Shockers played the Dayton Flyers and they'll be watching as Wichita State takes on the Kentucky Wildcats.
Thomas said he's appreciated the support he has received from his fellow Shocker fans.
"It's been wonderful," Thomas said. "I've been loving it."
[embedyt] http://www.youtube.com/watch?v=tTA0Yr0nLII[/embedyt]
Leave a Comment
About the Contributors
Sam Belsan, Reporter
Sam Belsan is a reporter for The Sunflower.
Hannah Roberts, Photographer
Hannah Roberts is a photographer for The Sunflower. Roberts is a senior majoring in entrepreneurship and minoring in communications. She was born and...