Wichita State football great Linwood Sexton dies at age 90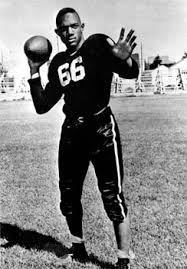 Wichita State football great Linwood Sexton has died at the age of 90, the university's athletic department announced Wednesday night. 
One of the first African-American athletes to compete in the Missouri Valley Conference, Sexton won All-MVC honors from 1945-1947 and led the team in rushing and passing yards during his junior and senior seasons. Sexton sat out during certain road games because of his race and would not be allowed to stay at the same hotel as his teammates or eat in certain restaurants.
Sexton, who played his high school football at Wichita East, is a member of MVC Athletics Hall of Fame, the Shocker Sports Hall of Fame and the Kansas Sports Hall of Fame. His 1,995 career rushing yards and 2,260 all–purpose remain in the top 10 on WSU's all-time list.
After graduating from WSU, Sexton spent four years teaching elementary school before working for Hiland Dairy in 1953 until his retirement. Numerous of scholarships have been named after him and has received the Alumni Achievement Award, the WSU Board of Trustees Award along with other awards for his service around the community.
Sexton's son, Eric, worked multiple administrative positions in his 26 years with the university, including athletic director.
The university will hold a memorial service for Sexton at Charles Koch Arena on April 8.