Documentary directed by WSU grad to screen on campus
A documentary written and directed by a Wichita State graduate will be screened as part of the Office of Diversity and Inclusion's "Gaypril" events.
"Out Here in Kansas," written and directed by Adam Knapp, explores the relationship between gay people and the church. The film will be screened at 6:30 p.m. Wednesday in the Campus Activities Center Theatre. Following the screening, attendees will be able to discuss the film with Knapp.
Admission is free for WSU students and $2 for the general public. Proceeds will go to Spectrum: LGBTQ & Allies. ODI, the Elliott School of Communication and the Kansas Pro chapter of the Society of Professional Journalists are sponsoring the screening.
"Out Here in Kansas" is based on two news articles written by Knapp. The stories centered on Burt Humburg, a fundamentalist Christian who was an All-American football player. Humburg realized he was gay as he was winding up his football career.
Humburg's former pastor, Joe Wright, was instrumental in Kansas outlawing same-sex marriage in 2005. In 2011, Knapp wrote an article for The Andover American about Humburg's coming out and Wright's involvement in banning same-sex marriage.
From there, Knapp was inspired to bring the two together to discuss their thoughts, which is the premise of "Out Here in Kansas."
The film had its premiere in October and since has gotten positive reviews.
"Adam Knapp's powerful documentary 'Out Here in Kansas' tackles the controversial issue of Gays and the Church through the eyes of a gay All-American football player living in Kansas and a Christian pastor," wrote Molly McMillin, President of the Kansas Pro Chapter of the Society of Professional Journalists. "As Adam tells the story, he explores both sides of the issue with sensitivity, humor and insight. He holds nothing back. The gripping film is meant to open minds and hearts. It doesn't fail."
Leave a Comment
About the Writer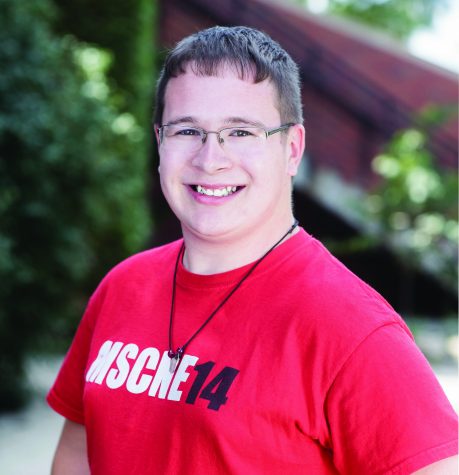 TJ Rigg, Former reporter/copy editor
TJ Rigg is a former employee of The Sunflower.