Christine Schneikart-Luebbe honored — questions remain
One question surrounding Christine Schneikart-Luebbe's resignation was answered Friday, but the most important ones remain unanswered.
Schneikart-Luebbe, who mysteriously resigned as associate vice president of student affairs and dean of students the day before spring break, returned to campus to receive recognition from the 59th Session of the student government association, answering a question asked in several paid advertisements in The Sunflower in the past month: "Where is Christine Schneikart-Luebbe?"
"It's hard for us to believe that after 23 years she would just leave without so much as a word," an advertisement by alumni of the Student Ambassador Society early this month said.
A group of 40 students, faculty, staff and former-colleagues gathered in the Armstrong Room of the Marcus Welcome Center Friday, sharing memories, stories, and gratitude for Schneikart-Luebbe's service to the university. She received the "Golden Standard" award for her excellence in her roles at the university.
Reunited with students, friends and former colleagues, giving hugs and snapping photos, Schneikart-Luebbe chose not to give a speech, but that didn't keep others from speaking in her honor.
But one subject was off the table — the question of whether Schneikart-Luebbe resigned willingly or if she was forced out of her position.
"We're not going to talk about some things tonight," said Wade Robinson, who served as WSU vice president of student affairs until June 30, 2015, and is suing WSU and President John Bardo for alleged violations of Title IX, a federal civil rights law that prohibits sex discrimination and retaliation.
"There is a great story here," Robinson said. "There is a great story to tell. And while it won't be told tonight, it will be told. And I hope you will all listen and participate as that story is told because a lot of great things have happened and there are a lot of things that we're just not aware of."
Schneikart-Luebbe would not answer The Sunflower's questions about the circumstances of her resignation.
Eric Maki, who also resigned in March — days after speaking out against the proposed YMCA on Innovation Campus — also attended the celebration of Schneikart-Luebbe's career. Maki has also declined to answer questions about his resignation.
"We know that oftentimes speaking out can result in higher consequences," said Joseph Shepard, president of the 59th Session of SGA.
"Thank you for being my rock, thank you for laying the foundation for me," Shepard said of Schneikart-Luebbe.
"Your presence is definitely missed," he said. "We honor you because you are our champion.
"In student affairs there aren't many champions left who truly consider the needs of the students," Shepard said. "It seems as though student affairs sometimes has become a political game rather than viewing who the most important stakeholders are — the students."
Leave a Comment
About the Writers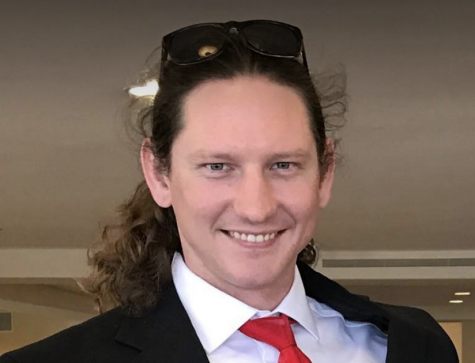 Chance Swaim, Former Editor in Chief
Chance Swaim was the Editor in Chief of The Sunflower from fall 2017 to spring 2018.

Swaim was a graduate student in the English Department working...
Jenna Farhat, Former news editor
Jenna Farhat was the news editor of The Sunflower. Farhat majored in creative writing.