Linnabary voted in as SGA's Director of Public Relations
Andrew Linnabary was sworn in after a 27-3-4 vote.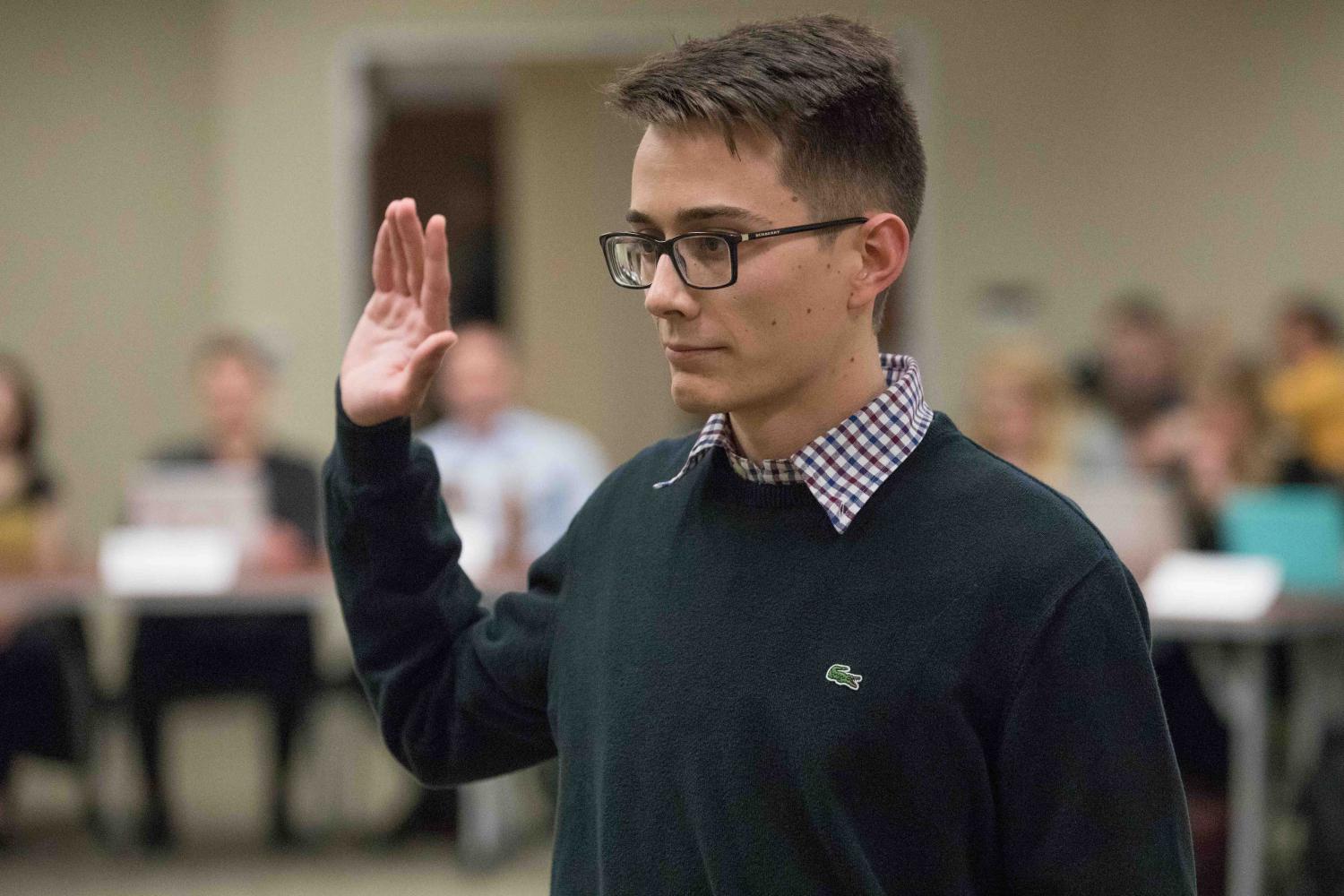 Andrew Linnabary, the former managing editor at The Sunflower, was sworn in as Student Government Association's Director of Public Relations (DPR) Wednesday night after a debate that spanned two meetings.
The vote was tabled last week due to senators' questions regarding potential conflicts of interest between The Sunflower and SGA.
The vote passed 27-3 with four abstentions after a week of communication between Linnabary and individual senators.
"After last Wednesday I was pretty discouraged, but I reached out to a handful of senators and set up personal meetings to address their concerns and just dialogue with them," Linnabary said.
Sen. Shelby Rowell, had her reservations about Linnabary originally, but said he proved himself to her over the course of the week.
"He answered my questions truthfully, and I really admire his character," Rowell said. "I threw random scenarios at him, and he's handled them with a lot of character and speed."
Sen. Paul Raymond also felt Linnabary could be entrusted with the responsibilities of Director of Public Relations.
"We made it very clear that the DPR is the voice of SGA — like the press secretary," Raymond said. "The DPR tends to be the one front and center, and given the responses he gave us, I felt he completely understood what it means to take on this role."
Sen. Anna Turosak was one of three senators to vote against the appointment, citing an issue last November where she and another individual were interviewed by Linnabary for an article covering a WSU production of The Vagina Monologues.
A paraphrased quote in the article misrepresented the production by using exclusionary language towards transgender individuals applying for roles. The Sunflower updated the story online for clarification.
"That was a very negative experience, and I think it is important to share," Turosak said.
Linnabary denied malicious intent, but acknowledged his error.
"I got the article incorrect and I acknowledge that it was a mistake — the biggest mistake I made within that position," Linnabary said. "I just misunderstood and I look at that as a learning experience."
Student Body President Paige Hungate said she was excited to bring Linnabary on board for the 60th Session.
"Andrew has great experience for the public relations role, and I think that he will really be able to paint the picture for SGA this next year," Hungate said.
As Director of Public Relations, Linnabary will hold 20 office hours a week and make $9,275 a term.
Linnabary's position with SGA would create a conflict of interest, and for that reason, his position with The Sunflower was terminated effective last week when Linnabary accepted the nomination.
Moving forward, Linnabary said he hopes to tackle a number of goals during his term.
"I'd like to engage students, engage leaders, and engage the Fairmont community," Linnabary said. "In terms of more specifics, I want to bolster the social media, write profiles on individual senators, and use the journalistic skills I've developed as much as I can."
About the Writer
Matthew Kelly, Former Editor in Chief
Matthew Kelly is a former editor in chief and managing editor for The Sunflower.  Kelly graduated in 2020 with a bachelor's degree in political science...