Shockers claim final MVC Championship
In their final Missouri Valley Conference Outdoor Track and Field Championship, Wichita State swept the top spots in the men's and women's team scores Sunday.
The women scored 226 points — a new record for the MVC surpassing the 2010 Southern Illinois total of 202 points — claiming 89 points more than second place Illinois State (137 points).
Sophomore distance runner Rebekah Topham took first in the 5,000 meter run (17:28.82), three seconds faster than Indiana State's Taylor Austin. Topham also placed second in the 1,500 meter run with a time of 4:36.67.
Seniors Nikki and Taylor Larch-Miller finished second and third, 13.17 and 13.26 respectively. Sophomore Claudia Rojo took third in the 400 meter hurdles with a time of 59.94 seconds.
In the 4×100 meter relay, the Shocker unit of Raianna Maples, Jacque Darby, Taylor Larch-Miller and Nikki Larch-Miller ran the race in 44.89 seconds earning them second place. The team ran 0.56 seconds behind Southern Illinois' squad.
In the final field events, senior Courtney Mills won triple jump with a jump of 12.70 meters.
The men claimed first place with 181.50 points, 15.50 points more than Northern Iowa (166 points).
Sophomore Austin Corley won the 400 meter hurdles in 50.59 seconds. Junior Isaac Poe missed the podium by 0.23 seconds and ended fourth with a time of 52 seconds flat.
The Shockers took the second spot in the men's 4×100 meter relay. Denvoir Griffin, Cody Scheck, Rhys Powell and Mike Wells finished in 40.55 seconds. In the 4×400, the WSU team of Corley, Powell, Poe and Scheck placed third in 3:12.32.
Sophomore Hayden Bugner vaulted 4.97 meters to take second in pole vault. Junior Hunter Veith also placed third in triple jump with 15.06 meters.
This is the women's fourth-straight MVC outdoor championship title and men's second-straight MVC outdoor championship title.
Head coach Steve Rainbolt was honored with the Coach of the Year award. Nikki Larch-Miller was named the Women's Outstanding Athlete of the meet. Breanne Borman was named co-Women's Field Athlete of the Year.
---

Final Team Scores
Women
1) WSU — 226
2) Illinois State — 137
3) SIU — 107
4) Indiana State — 104
5) UNI — 90
6) Missouri State — 70
7) Loyola — 38
7) Drake — 38
9) Bradley — 8
Men
1) WSU — 181.50
2) UNI — 166
3) SIU — 143.50
4) Indiana State — 104
5) Illinois State — 96
6) Bradley — 43
6) Loyola — 43
8) Drake — 42

Leave a Comment
About the Writer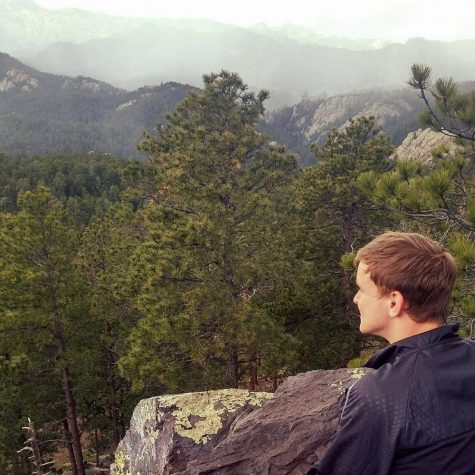 Sam Belsan, Former eporter
Sam Belsan was a reporter for The Sunflower.