Move-in day at Wichita State: frustrations, excitement, extra beds
Move-in day at Wichita State was full of frustrations, excitement, and extra beds.
As a result of Wichita State's decision to close Fairmount Towers, 80 students have been moved into "temporary arrangements" at Shocker Hall, a practice known as tripling. Those arrangements can mean putting a bed in a the common area of a shared suite or adding a bed to a private bedroom meant for one fewer person.
Wichita State announced its decision to close Fairmount Towers, a university-owned housing facility, and move 300 students to The Flats, a privately owned apartment complex on Innovation Campus, about a month before move-in day.
According to the university's website, Fairmount Towers had the capacity to hold 600 students. The Flats has been filled to capacity, with about 380 students living there, said Vice President for Student Affairs Teri Hall.
"We didn't triple in The Flats because with the double occupancies from Fairmount and opening a new building we didn't want to add another new item to an already new move in," Hall said.
Hall said tripling is a common practice at universities across the country, but that this is the first time it has been done at Wichita State.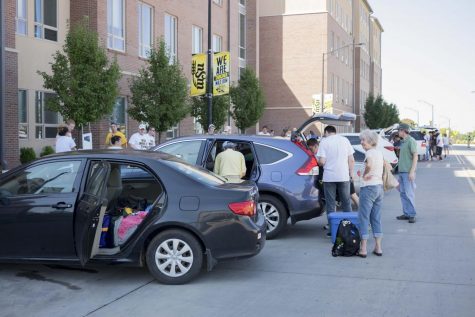 "Because we don't have a deadline for people to apply for housing students continue to show up," Hall said Saturday. "A student showed up yesterday needing a room. We have made a commitment to house every student who requests it."
Students affected by the room shortage will receive a 20-percent discount on their rent for the duration of the arrangements.
According to an Aug. 10 email sent to a Shocker Hall residents who would be getting an additional roommate: "Housing and Residence Life has now reached a point of expanded occupancy for the fall semester. This means that every room space has been filled, and we are creating temporary spaces to accommodate our additional residents. Your room will be housing one of these temporary spaces until a permanent space opens up."
Hall said that could take as long as the end of the semester for some students.
"We will de-triple students as soon as we can," Hall said. "Sadly, it means someone will have to leave to make a space. By the end of the semester, if not by October, we should have all rooms de-tripled."
Hall said the rooms where additional students were added were the largest available and, from her experience, "bigger than standard residence hall rooms."

"Often I have seen that those in triples end up liking it and don't want to be broken up," Hall said.
'Luckily, I'm a heavy sleeper'
Freshman Reue'l Boyes applied for a room at Fairmount Towers July 15, the day after Wichita State announced the Fairmount-Towers-to-The-Flats move. He said he didn't hear about the move for three weeks.
Boyes said it wasn't until Aug. 10 that he found out Fairmount Towers was no longer a housing option for him. He's now a fourth person in a three-private-bedroom suite, paying the two-private-bedroom rate he would have paid at Fairmount Towers — with a 20 percent discount.
His bedroom is accessible by all three of his suitemates and they have to walk past him to exit to go to the restroom.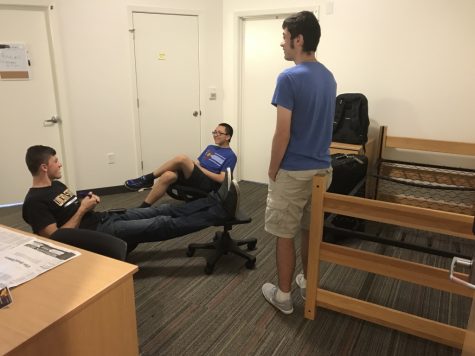 "Luckily, I'm a heavy sleeper," Boyes said. He said he packed only a suitcase full of clothes and school supplies. He said he was told he might be able to move into a room as early as next week.
"It's more people to meet," Boyes said of the unexpected living arrangement.
Aug. 10, Boyes received an email from Housing and Residence Life notifying him that he would be placed in a temporary space at Shocker Hall.
"We are unable to place residents in temporary spaces in Fairmount Towers as it is cost prohibitive to operate a building that would only be 10% occupied and not up to our standards of safety to have so few students living in a nearly empty building off of main campus," the email said.
"I chose Fairmount Towers because of affordability," Boyes said. "I didn't really know what the living situation would be until I saw the diagram on the door that had my bed where the doorframe should be."
Boyes's suitemates Ian Villanueva and Joseph Patten said they don't mind the arrangement, because they get a 20 percent discount.
"He didn't bring much," Villanueva said of Boyes. "It might suck when I have to go pee in the middle of the night, but he said he's a heavy sleeper."
'The experience is worth the price'
While other students and parents moving into The Flats were on their third trip to the car on move-in day, giant cardboard boxes in tow and sweat beading on foreheads, Tesh Subramanian was still looking for his room.
"I don't know where the heck it's at," Subramanian said Saturday.
Subramanian, a junior studying mechanical engineering, was a Shocker Hall resident before transferring to The Flats for fall 2017. Unlike many Flats residents who were transferred from Fairmount to The Flats, The Flats was his first choice.
"I wanted a bigger room and something that wasn't too far from campus, so it was perfect," Subramanian said.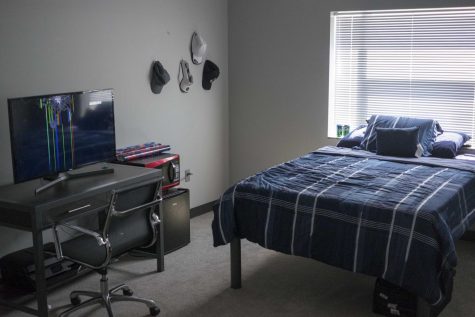 Navigating the hallways ("maybe it's the floorplan, not me"), Subramanian noted with a hint of skepticism that the hallways reminded him of Shocker Hall.
His skepticism disappeared the moment he entered his fully-furnished and hardwood floor room: "Wow — this is sweet.
"This feels more like an apartment than a dorm. This is good."
Subramanian was one of the 380 residents moving into The Flats, many on Saturday's "big move in day," others at different points of the week. As of noon Saturday, 317 of the 380 had checked in.
Other students and parents were equally impressed by The Flats.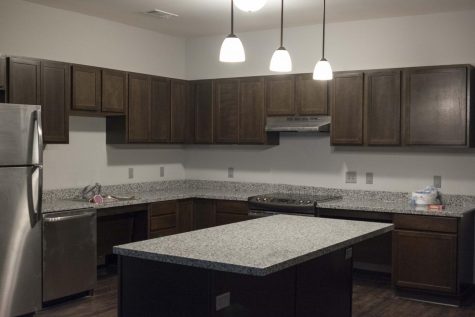 "Who can come to college and have an underground pool, sand volleyball and brand new appliances?" Amy Tollefson, whose daughter is a junior studying computer science, said in The Flats common area. "I think it's wonderful."
For transfer student Jacob Seidel, a junior studying sports management, "the experience is worth the price by far."
Some students, especially those forced to move from Fairmount Towers to The Flats, said that while their new rooms are high quality, Fairmount Towers was good enough for a college living space.
"I didn't really see a need to build something else," Andie Burch, junior in marketing, said. "Everybody kind of talked down on Fairmount, but I thought it was nice enough."
Other former Fairmount residents, such as Dale Palmitier, a sophomore in aerospace engineering, said he's happy with the free upgrade, but is wary of an increased rate down the line. For now, though, he's happy.
"The accommodations are nice — a lot better than I thought they'd be. Still, if they switch back to the first prices, I may move elsewhere."
Marie Thompson, associate director for resident life, said The Flats' rates beyond this year are unknown.
"We don't know what the rates will look like down the line, but we think it's a great opportunity to offer new housing to our students."
Parents and students across the board were impressed with the move in crew, comprised mainly of student volunteers who helped lug belongings into elevators, up floors and into rooms.
"It's been very smooth," parent Samuel Asante, whose son is an incoming freshman studying computer science, said. "We were told it was going to be a lot of hustling, but it's been nice. Those girls in white, they did awesome."
'I wouldn't wanna pay that price'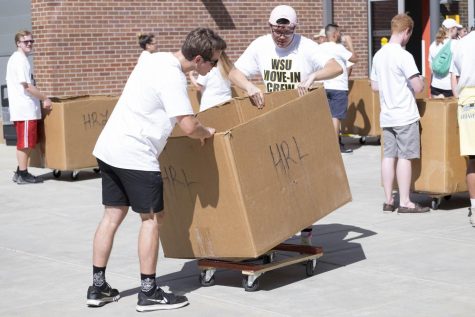 Breckon Kaufman and Jordan Sumner, both sophomores, were asked if they wanted to relocate from Fairmount Towers to Shocker Hall about three weeks before the university announced the closing of Fairmount Towers.
Since they were relocated before the announcement, they said they had to pay the difference between Fairmount Towers and Shocker Hall rates.
"I was originally assigned to a room in Fairmount, and I guess they had an opening (in Shocker Hall), so they asked if I would rather be here," Kaufman said.
"Then three weeks later they announced everyone is going to The Flats and I was like, you're kidding, right?" Sumner said. "Fairmount was a lot cheaper, so it would have been better paying that price. It would have been nice to have that option."
Kaufman said the university had to have known Fairmount Towers was going to be closed before she received a phone call asking if she wanted to move to Shocker Hall.
"Asking us three weeks in advance, they had to have known they were thinking about closing Fairmount," Kaufman said. "It would have been easier for us if we were given the option to stay in Fairmount and be moved over to The Flats, or to choose to move in to Shocker Hall," Kaufman said.
"They should have come up with a better plan before announcing they were closing Fairmount," Sumner said.
"I was pissed about it," Sumner said. "When I talked to the housing and dining service people, they said that after this year, they wanna be where The Flats are all apartments, and not housing and residence life."
Kaufman and Sumner said they weren't planning to live on campus next year.
"If The Flats were cheaper, I would consider living in those apartments," Kaufman said. "I wouldn't wanna pay that price."
View Comments (4)