Moonshine on a cloudy day
Thousands — including 100 Wichitans — held their breath as sheets of rain and dark, rolling clouds shadowed their glimpse of the first coast-to-coast solar eclipse since 1918 in St. Joseph, Missouri.
Their goodwill and persistence paid off — the heavens opened and, for a glorious second or two, totality was seen.
The field, shrouded in darkness, glowed on the horizon in all directions. The moon covered the sun, masking all but a faint, glowing ring around the edge.
It was like a string of fire-orange beads around the moon.
"There is a massive power somewhere behind the formulation of this magnificent universe," retired Wichitan Katherine Hoffman said. "It was a serendipitous moment.
"It happened."
Then it was gone, vanishing behind clouds. Then back. Then gone again. Tears ran down faces. Cheers and clapping rang out.
"It was awe-inspiring," Kimberly Moore, Continuing Education Director at WSU, said.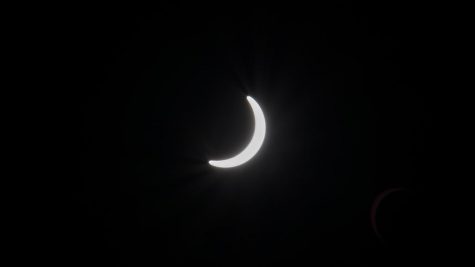 St. Joseph enjoyed two minutes and 38 seconds of totality, seen intermittently through the rain. The city was the 5th largest on the eclipse's path.
The formulation and smoothness of the trip were thanks to Moore and Linda Ambler, Community Education Coordinator, both with the Office for Workforce, Professional and Community Education at Wichita State. The two busses, packed full with 107 Wichitans, left Eugene M. Hughes Metropolitan Complex around 5:20 a.m. Monday.
Both busses received a presentation about the eclipse from Caleb Gimar, an educator at the Kansas Cosmosphere in Hutchinson, on the trip up. They made it to Atchison, along the Missouri River, shortly before 8:30 a.m. to have brunch at Paolucci Restaurant, Deli, Lounge.
The two buses arrived at St. Joseph's Rosencrans Memorial Airport around 11a.m. They set up blankets and lawn chairs. Some stayed with their fellow bus riders. Others chatted with travelers from out of state — Minnesota, Illinois, Tennessee, Oklahoma, Iowa — places all over the country.
"You're part of something so special and so rare, and to be part of a group of people sharing that — it's a memory I will have always," Moore said. "I hope the participants were as thrilled as I was to be part of that historic moment. It was an amazing experience to share."
After watching the progression, attendees watched the regression, then left St. Joseph at 2 p.m., going on to visit museums and have dinner in Atchison.
Heavy rain, construction and traffic put them behind schedule, delaying their Wichita arrival to 1 a.m.
Attendees were impressed not just by the eclipse, but by WSU's Office for Workforce, Professional and Community Education.
"My hat is off to the people at WSU who were in charge of this," Katherine Hoffman said. "The coordination was absolutely magnificent."
It was a moment that Hoffman said she will remember forever.
"I felt completeness after it was over," Hoffman said. "I experienced something I thought I'd never see."
While the rain put a slight damper on the event, attendee Willard Fruen offered a bit of wisdom: "A bad day at the beach is a good day at the office. Anything you do is a risk, but it awesome and definitely worth it when we got to see it."
It had to be seen to be believed — right then and there, without distractions — and won't be seen coast-to-coast again until 2045.
Pictures won't do it justice, Hoffman said. "Don't worry about pictures — just savor the moment."
About the Contributors
Andrew Linnabary, Digital Managing Editor
Andrew Linnabary is the 2018-2019 Digital Managing Editor of The Sunflower.

He is a senior studying journalism and minoring in English. Linnabary is...
Tanat Maichan, Photographer
Tanat Maichan (Tat) is a photographer for The Sunflower. Tat is a junior majoring in aerospace engineering with a minor in mathematics. He is from Bangkok,...