Nancy Loosle steps up as 7th SGA advisor in nearly 2 years
Director of Student Involvement Nancy Loosle is the seventh person to serve as the Student Government Association's advisor since April of 2015
Loosle acknowledged that the last few years have been rocky for SGA advisors — and SGA in general.
"I think there's been a lot of extenuating circumstances and I don't know all of them," said Loosle, who has been with Wichita State for 15 years and has served with the Office of Student Involvement since its inception five years ago.
Loosle and Lyston Skerritt, former director of fraternity and sorority life, were set to co-advise SGA together until Skerritt resigned from Wichita State in July, citing a lack of focus on students by the university and "a need to preserve [his] morals," he said in an email.
Loosle and Skeritt replaced Vice President for Student Affairs Teri Hall as SGA advisor.
Hall took over as interim SGA advisor following the unexpected resignation of Christine Schneikart-Luebbe, formers Associate Vice President for Student Affairs, in March.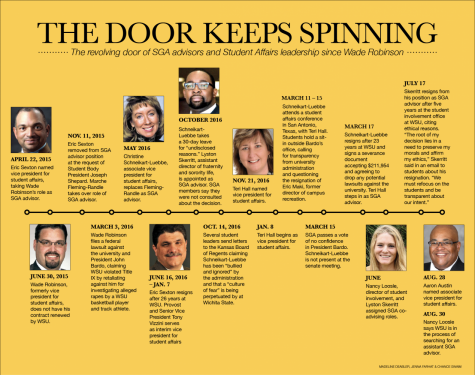 Schneikart-Luebbe began serving as SGA Advisor in May of 2016, but took an unexplained 30-day leave of absence in October, following speculation by members of SGA that the President's Executive Team was pressuring her into censoring student government resolutions before they were presented to the Student Senate. Shortly after her leave of absence was announced, several members of the SGA sent letters to the Kansas Board of Regents, alleging that Schneikart-Luebbe had been "bullied and ignored" by the administration.
On March 15th, the student senate passed a no-confidence vote in President John Bardo. Just two days later, Schneikart-Luebbe, who had been with Wichita State for 23 years, resigned from her position of associate vice president for student affairs and SGA advisor, effective immediately. Her sudden resignation sparked questions of whether she resigned willingly or was pressured to leave.
Upon her resignation, Schneikart-Luebbe accepted a full year's salary of $131,954, along with an additional $80,000 from the university as part of a separation agreement that limits what she can say about the university.
Loosle said she hopes to bring a consistency to the position that she feels has been lacking.
View Comments (3)