'This is part of my job.'
WSU grad and former editor of The Sunflower Shelby Reynolds is braving Hurricane Irma to tell the stories that need to be told.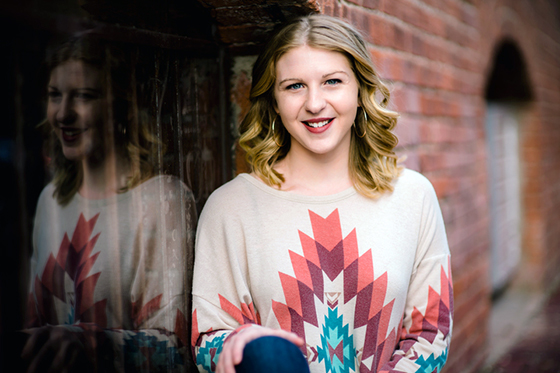 Shelby Reynolds is no stranger to storms. She grew up in Wichita, where high winds and hard rain can spring from nowhere, but her 22 years in tornado alley didn't prepare her for this.
Reynolds, back-to-back Kansas college journalist of the year and former editor in chief of The Sunflower, graduated from Wichita State in the spring of 2016 and took a reporting gig at the Naples Daily News in southwest Florida after graduation.
"Miami and Tampa get slammed by hurricanes all the time, but southwest Florida never gets hit," Reynolds said she remembered people telling her when she was considering accepting the job in Naples, Florida.
Never say never — Reynolds is now directly in the path of Hurricane Irma, which experts have called one of the most powerful storms ever recorded. This week it tore a path of destruction through the Caribbean, leaving at least 23 people dead as of Saturday night and many more missing.
As Irma made landfall in Cuba, Reynolds was hunkered down in her newsroom in the northern part of Naples with a couple dozen other young reporters — and their pets — about to experience their first hurricane firsthand.
As thousands evacuate the Florida region most likely to be affected by Irma, someone has to stick around to document the storm and its aftermath — the massive destruction of nature and the heroic resilience of the human spirit. That's exactly what Reynolds and her news team plan to do, once the storm passes.
But for now, they're waiting.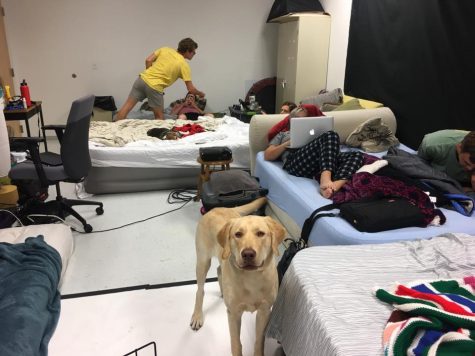 They all set up cots Friday and converted their newsroom to living quarters to brave out the potential dangers of the storm, which could bring flooding as high as 15 feet.
"I pretty much expect to come out of this without a car and without an apartment," Reynolds said.
Her family and friends are worried, but they stay in close contact.
"My parents both get it, and they support me being here," Reynolds said. She said they have offered to help her with her housing and transportation needs if she loses her apartment or her car.
"I don't know what's going to happen with my apartment," Reynolds said. Her apartment is on the third floor, above the expected high water mark, but she took extra measures, before she left, to ensure her prized possessions — including her diploma from Wichita State — were as safe as possible. Where did she put them?
"I stuffed them in the dryer," Reynolds said. "I figure that's a pretty sturdy, secure place."
She said she and the other reporters with the Naples Daily will be waiting out the storm tonight and tomorrow, but Monday the hard work begins — the work of telling the story of Hurricane Irma.
Monday morning, she'll go out with a local fire and rescue crew to assess the damage and possibly aid rescue missions.
Reynolds, and the others, didn't have to stay. But they all know it goes with the territory in a journalism career.
Reynolds said they have a generator and provisions to last several days, should anything go wrong.
No one is panicking, Reynolds said. Having a large number of pets around doesn't hurt. She said she's counted 15 dogs, three cats, and even a guinea pig running around the newsroom.
"But I'm pretty sure there are more," Reynolds said.  
Reynolds said there are brief moments when she thinks, "a year ago I was in Kansas, and now this," but those moments are fleeting.
"There's not a lot of time to think about it because you're working," Reynolds said. "And this is part of my job."
Asked what the group of reporters is doing to keep their minds off the coming storm, Reynolds had a simple, if unexpected, answer.
"We're setting up Mario Party," Reynolds said. "And it doesn't hurt having all of the dogs around to keep us happy."
———
This story will be updated with the most up-to-date information available.
Follow Shelby Reynolds's live coverage of Hurricane Irma on Twitter @_ShelbyReynolds.
The Sunflower will be sharing content on its Facebook page from the Naples Daily News.
View Comments (2)
About the Contributor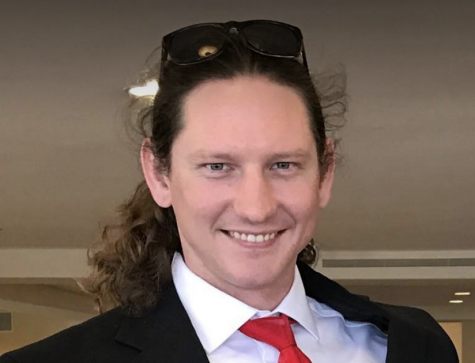 Chance Swaim, Former Editor in Chief
Chance Swaim was the Editor in Chief of The Sunflower from fall 2017 to spring 2018.

Swaim was a graduate student in the English Department working...