Wichita State drops banner investigation
Wichita State will not discipline two students who hung a banner advertising "free house tours" from the side of a fraternity house, an incident that created a social media storm and opened university investigations. The decision came after the Foundation for Individual Rights in Education (FIRE) criticized the university's investigations for violating free speech rights protected by the First Amendment.
"After reviewing the incident involving a banner posted at Phi Delta Theta fraternity last week, WSU Student Affairs doesn't believe university disciplinary action is appropriate," Teri Hall, vice president for student affairs, said in an email statement. "Any action taken by the fraternity chapter and its members is independent of the university decision. The banner triggered uncomfortable feelings, but the banner was protected speech under the First Amendment."
The banner, which hung Thursday — the first day of sorority recruitment — for about five minutes at Phi Delta Theta fraternity before being removed, read "New members … free house tours!" Some students viewed the banner as encouraging sexual assault. After a student reported the banner to student affairs, the university said they were looking into the incident as both a potential code of conduct violation and a Title IX violation, according to student affairs.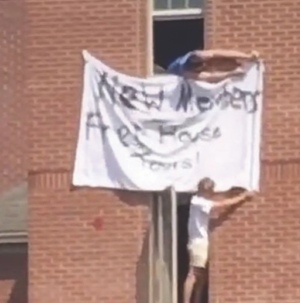 Courtesy Photo
An internal fraternity investigation, conducted by chapter officers, led to the immediate suspension of two chapter members.
FIRE sent President John Bardo a letter demanding the university end the Title IX investigation into a fraternity house banner offering "free house tours" to new sorority recruits.
FIRE's letter, sent on Tuesday, said Wichita State's claim that the banner constitutes sexual harassment is "faulty, at best."
Hall cited United States Secretary of Education Betsy DeVos's decision to rescind the Obama administration's "Dear Colleague" letter on campus sexual misconduct as a factor in the decision to investigate the incident.
Hall said while the banner was "absolutely inappropriate," the timing escalated the incident, both with recruitment's start and with Secretary DeVos' Title IX announcement.
"I think we're all a little more sensitive because of the statements Betsy DeVos made," Hall said Saturday.
FIRE's letter argues that the banner in no way deprived students of access to an educational opportunity or benefit.
"Even assuming that the banner was in fact intended to be sexual in nature, it would still not constitute sexual harassment, as it was not so 'severe, pervasive, and objectively offensive' that it deprived any WSU students of access to an educational opportunity or benefit," the letter argues. "Indeed, according to WSU itself, the banner was only visible for five minutes. Such a fleeting occurrence, combined with the fact that the banner's relation to sex was tenuous at best, simply cannot reasonably be said to have impacted any student's ability to fully participate in campus life.
"Equally troubling and unacceptable is Hall's comment in relation to this incident that the campus community is more sensitive because of perceptions about Betsy DeVos' Title IX enforcement plans. To be clear: such subjective heightened sensitivity is not a license to violate established law."
The letter went on to warn that investigations, even those not ending in punishment, can violate students' free speech rights.
"WSU's investigation sends a message to all students that if their expression offends others, they will be subject to disciplinary investigation," the letter said. "As a result, students will likely refrain from speaking rather than risk discipline. Such a result is the very definition of the impermissible 'chilling' of speech."
FIRE responded in an email to the university's decision not to discipline the students responsible for the banner.
"FIRE is pleased that Wichita State promptly reversed course after we informed them that the Phi Delta Theta banner was protected by the First Amendment," the email said.
This spring, FIRE wrote to Wichita State to demand the student government reverse a decision on a prospective student group, Young Americans for Liberty — a libertarian group — citing viewpoint-based discrimination against the group. The student government overturned the decision in response, allowing YAL to establish itself on campus.
View Comments (5)
About the Contributor
Andrew Linnabary, Digital Managing Editor
Andrew Linnabary is the 2018-2019 Digital Managing Editor of The Sunflower.

He is a senior studying journalism and minoring in English. Linnabary is...