Grace Market offers killer Korean-Japanese spread
As I sat down to a plate of turquoise-tinged spicy octopus with a side of sweet Kimchi, pickled radishes, and cucumber with a mound of steamed rice, my stomach couldn't help but overturn with giddiness at what I was about to eat.
Sunny Choi, head chef at Parklane Plaza's Grace Market Korean Grocery and restaurant, delivered a side of crisp Japanese-style shrimp tempura and a bowl of beef bulgogi with broccoli and chives. My hunger was about to be most-illustriously satisfied. I raised my chopsticks in anticipation.
The intriguing polychromatic palette of culinary options is a sweet jumping off point for Grace Market, but, before diving into the savory goods that awaited me, it's important to understand the work that goes into each day at Grace Market's 1030 S. Oliver location.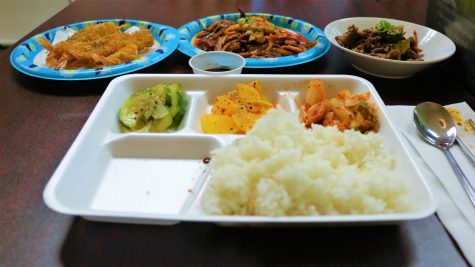 Grace Market is home to not only a Korean and Japanese restaurant, but an Asian grocery store offering a wide array of products ranging from oriental sweets and bulk rice to fried gluten with peanuts and Inarizushi no Moto — that's fried soy bean curds to you and me. Wichitan Timothy Hsu has owned and operated Grace Market since June 2015.
Hsu said frequenting Grace Market is a good two-in-one deal for customers.
"One stone, two birds," Hsu said. "We have many varieties of groceries. The food is a good price and it's a homemade style."
Hsu confidently added that customers who visit Grace Market will be floored with the Korean and Japanese cuisine.
"You will really feel you're in Korea or Japan," Hsu said.
He was true in his word.
As I dug in to my four-course meal, delighting first in the spicy octopus which immediately lit my mouth asunder with a tangy Korean red spice, I really felt transported to another country. My mouth wasn't quite ready, or perhaps sophisticated enough, to understand the cuisine. By the second bite of octopus with a bit of Kimchi added to the mix, I began to sweat. This meal was off to a fantastic and delicious start.
The shrimp tempura, battered and dipped in a cocktail sauce of peppered soy, vinegar, and plum juice, was nothing less than a revelation to the taste buds. The sauce, while a tad bitter, did seem fresh and went over with the taste palette better than a simple horseradish sauce would have. It was originality that counted here.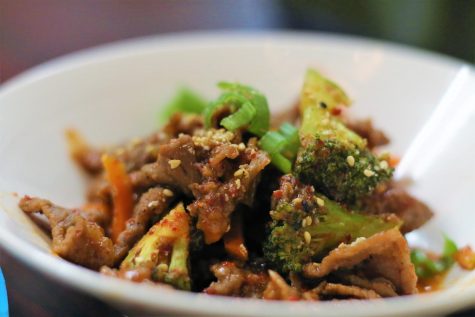 The beef bulgogi, a late addition to the meal, was the defining piece of an already delightful meal. The finely-sliced beef chunks were peppered and topped with fresh broccoli, tangy red sauce, and a sesame spice that made the dish pop in the best possible way. Just one bite of the bulgogi mixed with a small helping of the octopus was enough to send me into culinary shock.
The verdict here is one of overwhelming affirmation. This Korean-Japanese fusion will leave you happy and opulently full.
Leave a Comment