Students advocate for student advocate
Joined by members of the Multicultural Greek Council, Student Body President Emeritus Joseph Shepard addressed the Student Government Association Wednesday with concerns that the association's student advocate, Rheanna Pierce, was being treated unfairly by SGA's executive branch.
Shepard said Pierce has been left out of the decision-making process.
He said that he has received complaints throughout the year about Pierce's exclusion.
"We believe that Rheanna Pierce has not been included in important conversations, meetings, and gatherings this year with SGA." Shepard said.
Shepard said an SGA press release from Student Body President Paige Hungate "acknowledging every other cabinet member except for Student Advocate Rheanna Pierce," inspired him to speak up.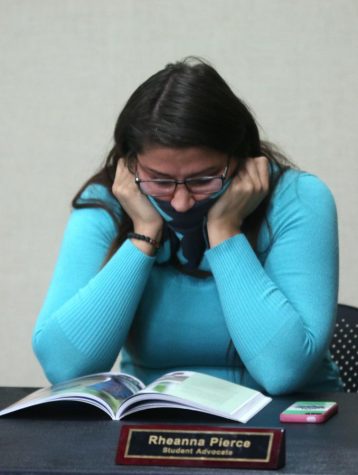 "We believe that this is very disheartening and we believe that this oversight is, again, a cherry on top of everything that [Pierce] has been excluded from this entire year," Shepard said.
Shepard said he believes Pierce's exclusion from a meeting with President John Bardo and his executive team was intentional.
"She deserves to be kept in the loop. She deserves to be part of this team," Shepard said. "She should not have to constantly ask for permission to be a part of the important conversations."
Student Body Vice President Breck Towner said he will make an effort moving forward to include Pierce.
"For me personally, I could do a better job with word of mouth," Towner said. "Stop her in the office and say, 'Hey, we've got something going on. I'd like you to be there. I want you to be there. You're important to this.' That's something I can do better moving forward."
LAS Sen. Kenon Brinkley asked Student Body President Paige Hungate if Pierce can join the other officers in giving a weekly report.
"We can definitely talk about that with Student Advocate Pierce," Hungate said.
Returning Adult Sen. Kathy Bond said she didn't know who Pierce was.
"This is a case in point," Shepard said. "Rheanna is your student advocate. This is the young lady that works day in, day out."
"It is the responsibility of the cabinet and everybody in this room to make sure you know who your student advocate is."
View Comments (13)
About the Contributor
Selena Favela, Photographer
Selena Favela is a photographer for The Sunflower.

She was the photo editor for The Sunflower her junior year. Favela is currently a senior majoring...