The Purple Mile: "No more" to domestic violence
In honor of Domestic Violence Awareness Month, the Wichita/Sedgwick County Domestic Violence/Sexual Assault Coalition hosted its third annual Purple Mile Awareness Walk Saturday.
The coalition's intent behind the walk was to raise awareness of domestic violence and sexual assault, while honoring victims of such abuse.
Lynn Turner, an event coordinator there on behalf of the coalition, spoke on the significance of the event.
"I think it's very important to raise awareness and prevention of sexual and domestic violence," Turner said. "[The walk] is a great opportunity for community partners to come together to champion against these issues."
The National Coalition Against Domestic Violence reports that 1 in 4 women and 1 in 7 men have been victims of severe violence by an intimate partner at some point in their life.
The Wichita/Sedgwick County Domestic Violence/Sexual Assault Coalition hopes to decrease those rates through the Purple Mile and other means of preventative education.
Students from Coleman Middle School volunteered to establish the walking route, as well as to serve as "living witnesses" to those lost to violence. As the group followed its path around campus, students stood alongside with signs commemorating the lives of victims.
Other memorials to the victims of sexual assault and domestic violence included a moment of silence in The Plaza of Heroines and various art and poetry exhibits by students for the victims.
Several organizations, such as the Wichita Family Crisis Center, WPD Victim Assistance Unit, and WSU's Center for Combating Human Trafficking were at the event.
Risa Rehmert, director of program development at the Center for Combating Human Trafficking, spoke on the center's broad goals, and how the Purple Mile contributed to them.
"Our ultimate mission is to enlarge the nation's capacity to help survivors of abuse and violence," Rehmert said. She expressed hopes that the center's presence at the event would remind others that trafficking is also a severe form of abuse.
In its first two years, the Purple Mile Awareness Walk was sponsored by WSU's Criminal Justice Department, but this was the first year that it was sponsored by the Division of Diversity and Community Engagement.
This division is responsible for hosting various training sessions, special guest seminars, and other events centered on inclusion, diversity, and involvement around the community.
Marché Fleming-Randle, vice president of diversity at Wichita State, spoke on the division's reason for supporting this event.
"[The division] chose to support the walk to raise awareness of violence not only in the city, but at Wichita State as well." She went on to to talk about the many resources available for helping students in abusive situations and said that many students are unaware of them.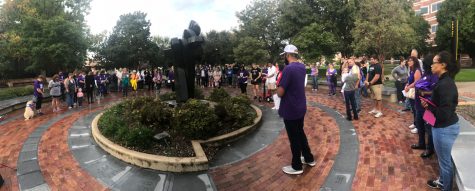 About the Contributors
Daniel Caudill, Former Editor in Chief
Daniel Caudill is the former editor in chief for The Sunflower. A staffer at the paper since 2017, Caudill first covered Student Government Association...
Tanat Maichan, Photographer
Tanat Maichan (Tat) is a photographer for The Sunflower. Tat is a junior majoring in aerospace engineering with a minor in mathematics. He is from Bangkok,...