Students respond to new traffic violation policy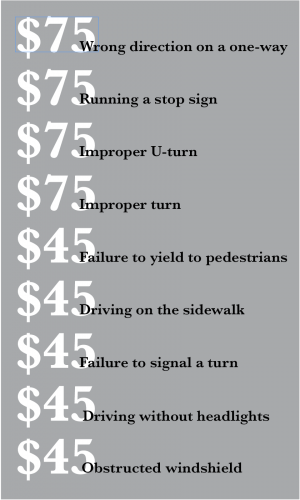 There are nine traffic violations WSU police can issue tickets for as of Nov. 1. Fines range from $45 to $75.
Until this week, university police would only enforce traffic rules by issuing district court tickets, according to Interim University Police Chief Robert Hinshaw. Hinshaw said the process was time-consuming and a drain on the county's resources.
A university news release said it was custom for WSU police to offer verbal warnings to drivers "without any real consequences for their bad driving habits."
Speeding tickets still cannot be issued by WSU police and have to go through the district court, Hinshaw said.
"Because of a number of complaints and a near fatal accident in 2016, it has become necessary to change driving behaviors," the news release stated. Hinshaw said the accident refers to an incident last year in which a professor was almost ran over by a vehicle.
In 2016, WSU police made 375 traffic stops. 12 of them resulted in traffic charges through the district court.
In 2017, up until September, WSU police made 224 traffic stops. 13 of them resulted in traffic charges through the district court.
WSU police tickets are only issued to people affiliated with the university. Those not affiliated with the university will be issued district court tickets, Hinshaw said.
Tickets issued to WSU students, faculty, and staff can be appealed through the traffic appeals committee within twenty days. The committee is headed by Carolyn Shaw, president of the faculty senate. Rheanna Pierce, student advocate, and Ryan Siebur, a student government senator, also sit on the committee.
Hinshaw, who served as Sedgwick County sheriff from 2008 to 2012, serves as interim WSU police chief after Sara Morris retired from the position late September.
"Some may feel we're trying to generate revenue and that's absolutely not the case," Hinshaw said. "It's not like anybody's making any money off of this.
"The idea is to encourage good driving behavior."
One student said she didn't know university police couldn't issue tickets in the past.
"When I was previously stopped, I never knew they were not allowed to ticket us," senior Heba Madi said. "I think it was almost a hidden rule.
"We always thought UPD was always nice for not giving us tickets but if it's like, oh they weren't allowed to, that changes the game a little bit," Madi said.
She said she doubted the new enforcement would change people's driving behavior.
"I don't know if it will actually enforce safer driving, because people are already expected to do those things," Madi said.
Another student said it was a good idea for university police to issue tickets.
"The same rules apply to regular police," junior Dari Lam said.
Lam said she often sees cars fail to stop for pedestrians at crosswalks on campus.
"It prevents you from getting into an accident and hitting students when they're walking on the road," Lam said. "Sometimes when I walk, people don't actually stop.
"There's a walkway for students to walk and they just don't respect that."
Leave a Comment
About the Contributor
Jenna Farhat, News Editor
Jenna Farhat is the News Editor of The Sunflower.

Farhat is a junior majoring in creative writing. After graduating, she plans to pursue a career in...