'I can't imagine life without him': Friends of Hasan Rahman gather at memorial
Friends gathered outside the Rhatigan Student Center Sunday afternoon to mourn the death of former Wichita State student Hasan Rahman.
Moving from Bangladesh to Kansas in 2011, Rahman quickly joined the Wichita Bangladesh community where he soon made many friends.
One of those friends, President of Mid Continent Bangladesh Association of Kansas (MCBA) Anwar Chowdhury said Rahman and other exchange-students from Bangladesh would often come over and have home-cooked meals with his family when they were feeling home-sick.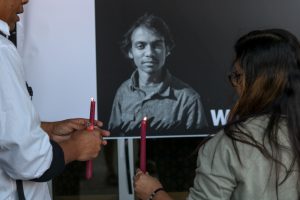 Of the students that would visit, Chowdhury said Rahman stood out from the rest.
"He had a very charming, heart-warming personality," he said. "A lot of students come here to study engineering, but he set himself apart. He was always smiling."
Rahman, who studied aerospace engineering, also worked part-time as a delivery driver for Pizza Hut.
He went out to deliver pizzas late Saturday, Nov. 25, but never returned.
Rahman and his vehicle were reported missing that night, when he did not report back to work after delivering two orders.
Upon hearing of his absence, the restaurant sent out coworkers who located property belonging to Pizza Hut in the yard of his last delivery.
They then brought back the property to the restaurant before calling 911.
Wichita police officers were unsuccessful in locating Rahman that night.
He was found dead the next day, in the trunk of his car. Police say he was shot.
After hearing of his death, friends and family couldn't believe the news.
"The first thing I wanted to do was go home and cry," sophomore Arfa Haque said. "But if I had learned anything from him it was to be positive and to keep going and believe in your dreams."
Haque, along with other members of the Bangladesh community, helped organize the memorial.
Like Chowdhury, Haque said Rahman was one of the most helpful and caring people she knew.
"My last memory of him was complaining about a course and I remember him telling me 'Don't give up Arfa, you are strong, you can get through this,'" she said.
Suvessa Chakrborty, a friend of Rahman, also had a few words to say during the memorial.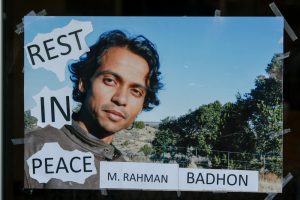 "He has no enemies, I have no idea who would do something like this, but I hope whoever it is will be brought to justice," he said. "He was my best friend, I can't imagine life without him.
"He was so close to his dream, and it's sad to see it taken away from him," Chakrborty said.
After everyone had finished stepping forward to talk, Chakrborty, Haque, Chowdhury, and other friends of Rahman gathered for a moment of silence to remember their friend.
"We are just heartbroken, and we want him brought to justice and get to the bottom of what happened," Chowdhury said. "Any of us can be a victim. We also need to remind people not to jump to conclusions. This is an ongoing investigation and we have full confidence in the police department."
Rahman's death is still currently under investigation.
View Comments (1)
About the Contributors
Madeline Deabler, Advertising Manager
Madeline Deabler is the advertising manager for The Sunflower. Deabler is a senior and is double majoring in journalism and graphic design. Originally...
Joseph Barringhaus, Sports Photo Editor
Joseph Barringhaus is the Sports Photo Editor for The Sunflower. Joseph is a senior at Wichita State majoring in marketing with a minor in communications....