Pflugradt: Trae Young delivers, Oklahoma jumps to No. 2 in latest poll
Evan Pflugradt ranks the top 25 teams in college basketball (Jan. 15).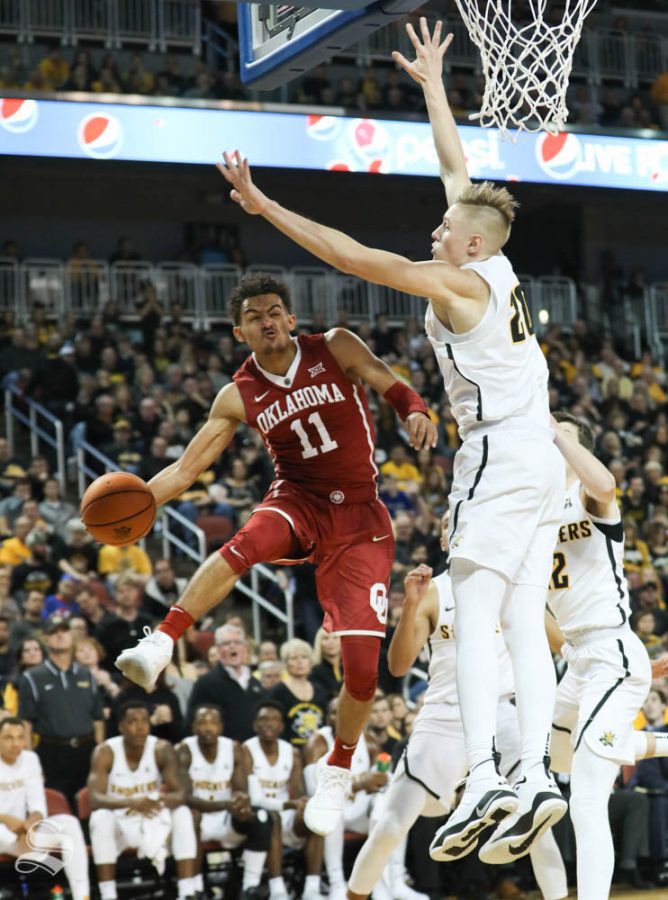 ---
Wooden Award finalist Trae Young is the first player to lead the field in both scoring and assists since assists were recorded.
What looked like a slow day for Oklahoma's freshman point guard turned into 43 points and an overtime home victory against Texas Christian. With the Big 12 as contentious as its maybe ever been, Oklahoma did exactly what they needed to do defending home court in back-to-back home games against ranked opponents.
The Sooners delivered TCU their third consecutive loss, and gave Texas Tech their second loss on the season. Oklahoma picked up two more top-50 wins, bumping them into an elusive field — the Sooners have eight wins against teams ranked in KenPom's top 100, tied for best with North Carolina. No team can match this, and the Sooners rise to No. 2, up five spots from last week.
Villanova claims the top spot after last week's No. 1 West Virginia goes one-and-one in Big 12 play. West Virginia hosts Kansas Monday for a chance to stay in the top spot of the Big 12.
Wichita State is up one spot after staying undefeated on the road in The American. The Shockers can move up with a big win against Southern Methodist on Wednesday.
Michigan entered the rankings at No. 14 after delivering an upset on the road at Michigan State. The Spartans are down three spots after suffering a second loss in three games.
Kansas is up four spots after winning back-to-back Big 12 games, and moving into a four-way tie for first in the Big 12.
Cincinnati is up three spots holding an eight-game winning streak dating back to early December.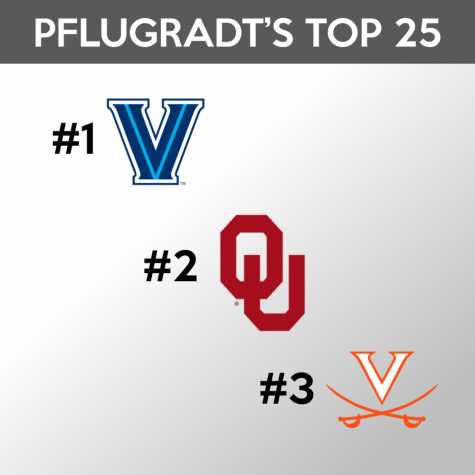 Rankings — (Jan. 15)

Villanova jumps West Virginia after the Mountaineers drop with a loss on the road to a solid Texas Tech team. Jay Wright's team stayed clean while hosting Xavier, and then again at Madison Square Gardens against St. John's. Villanova owns wins against ranked opponents, Tennessee and Gonzaga, both on neutral court.
Oklahoma point guard Trae Young is the first player in Division I basketball to lead in both points and assists since assists were officially recorded. Saturday he finished a 43-point performance off with a 3-pointer in overtime to hold off TCU, claiming the regular-season sweep over the Horned Frogs. The Sooners are on the road this week after claiming back-to-back wins at home against ranked opponents. Their only losses is a road loss at West Virginia and a neutral court loss to Arkansas.

Virginia stays at three after wins against Syracuse and NC State. Virginia hasn't lost since the first week of December when they faltered on the road at West Virginia. The Cavaliers are on the road this week for two AAC road games. '

Purdue beat Michigan on the road by one point — no small feat after Michigan took down the nation's top team, Michigan State, a week prior. Purdue ended the week trouncing Minnesota by more than 30 points in a game that was never close. They take a 12-game winning streak to Iowa on Saturday after hosting Wisconsin.

Wichita State traveled into unchartered territory playing at East Carolina for the first time before extending their two-game road trip to Tulsa where they were each victorious. The Shockers return home after five days on the road with a half-game lead in The American. They host Southern Methodist on Wednesday.

Texas Tech defended home court, taking down one of the nation's toughest teams, West Virginia. Texas Tech lost on the road by 10 points to Trae Young and the Oklahoma Sooners, but it's hard to fault a team for losing to the most premier player in college basketball. Texas Tech travels on the road for a two-game stretch with games against Iowa State and Texas.
West Virginia's 15-game winning streak — the longest in college basketball — was snapped on Saturday on the road at Texas Tech. West Virginia fell by just a single point to a team that could end up winning the Big 12. West Virginia, who is in a four-way tie for first place in the Big 12 hosts Kansas on Monday.

Kansas rebounded with wins against Iowa State and a one-point win against a hungry Kansas State team. Their 4-1 conference record puts them in conversation for another Big 12 title, sitting in a four-way tie for first place. They're on the road at West Virginia Monday, where a win could put them ahead in contention for their 14th consecutive conference title.

Cincinnati shook off a sluggish start against South Florida on the road, and ended up winning by more than 20. They're a half-game behind Wichita State, still undefeated in The American. The Bearcats are riding an eight-game winning streak after dropping back-to-back games in early December.

Duke won two easy games this week, still in recovery following their loss to NC State a week ago. Duke coach Mike Krzyzewski sat out Saturday's game due to illness, and the Blue Devils continued to impress. Their schedule picks up strength Monday when they travel to face Miami (Fl).

Michigan State fell for the second time in three games — this time at home in the hands of Michigan. Michigan held off any second-half rally from the Spartans. Tom Izzo's Spartans have Indiana and Illinois this week as they look to pick up the pieces of what was once the consensus No. 1 team in America.

Xavier defeated Creighton at home, snapping the Musketeers' two-game losing streak. Xavier has no bad losses, despite losing two of their last three games — Villanova and Providence, each on the road. They host St John's before finishing the week at Seton Hall.

Auburn is 16-1 and undefeated in SEC play. They haven't loss since a week before Thanksgiving. They pulled off wins against both Mississippi schools this week. With aspirations of staying perfect in the conference, Auburn faces Georgia and Alabama this week.

Michigan has done the unthinkable, handing Michigan State their second loss in less than a week, this time at the Spartan's place. Michigan now owns four wins against teams ranked in KenPom's top 100. They hung with Purdue until the final seconds, where they eventually lost by a point.

Tennessee defeated Vanderbilt on the road before finishing the week at Texas A&M where they won by double figures. They've won three straight — including a win over Kentucky — after starting 0-2 in the SEC. The Volunteers will travel for a two-game road trip starting at Missouri on Wednesday.

Gonzaga gets their first challenge in some time when they lost Saint Mary's on Thursday. Gonzaga is 6-0 in conference play, with their best conference win being at San Francisco, No. 138 in KenPom.

Kentucky, like Tennessee, also won against Vanderbilt and Texas A&M this week. Kentucky narrowly escaped both games — their greatest margin by six points — they sit with a 4-1 SEC record.

Clemson lost on the road by a point to NC State. Clemson avenged the loss by defeating Miami (FL) at home on Saturday. Clemson sees a uptick in their schedule difficulty with an away game at Chapel Hill before they return home to host Notre Dame. The next nine days include games against top-level programs, when they finish a terrifying three-game stretch on the road at Virginia.

Ohio State is on a five-game winning streak, and is undefeated in the Big Ten. Ohio State is having little trouble defeating conference foes by double-digits. Their next 10 games are all against teams ranked inside KenPom's top 100, and the intensity starts at Northwestern on Wednesday.

North Carolina defeated Notre Dame by a point on the road. Their two-game winning streak snaps a two-game losing streak. North Carolina has just one bad loss, in addition to owning eight wins against teams ranked in KenPom's top 100.

After starting 12-0, Arizona State hasn't found the same success in Pac 12 play. The Sun Devils lost to Oregon at home before defeating Oregon State, narrowly, by two points. Arizona State can't escape the scares to assert any premier dominance in the Pac 12 at a time when Bobby Hurley desperately could use a blow-out win.

Seton Hall lost on the road at Marquette. They rebounded at home with a win against Georgetown. Things don't get any easier with games at Creighton and home against Xavier, both this week.

Arizona swept both Oregon schools and moved to 4-1 in the Pac 12. With Arizona State struggling to show much in conference play, the Wildcats could rise to the top of the Pac 12. Arizona enters a two-game road trip through California.

Texas Christian has now suffered three consecutive losses in the Big 12; two of them (back-to-back) have come in overtime. Three of their last four games have gone into overtime, and just once have the Horned Frogs successfully closed it out. After struggling in back-to-back away games, TCU returns home to host Iowa State before finishing the week at K-State. TCU's worst loss is at Texas in double-overtime.

Nevada is off to a 5-0 start in the Mountain West Conference. They escaped their No. 78 best strength of schedule with three non-conference losses, none which were won by more than four points.
About the Writer
Evan Pflugradt, Sports Editor
Evan Pflugradt is the former Sports Editor of The Sunflower.

Pflugradt past served as the publication's Editor in Chief, Opinion Editor and a reporter....