Jeff Jarman: from national champion debater to leader, 'not just for the Elliott School, but for the community and the university'
Jeff Jarman is the bowtie guy on campus at Wichita State.
He also happens to be a member of the Maize school board, the coach of a nationally recognized college debate team, and, as of December, the Kansas Health Foundation (KHF) distinguished director of the Elliott School of Communication.
Jarman, who was appointed interim director in the fall of 2016 and director last November, received his new title in the form of a KHF endowment that provides financial support for activities in the Elliott School.
Jarman said one of his goals is to use the grant money to expand applied-learning opportunities that provide valuable connections for communication students.
"Our hope is to partner with a wide range of businesses — not just traditional communication businesses, but agencies of all kinds," Jarman said.
"We'll send them our best and brightest. We're now able to provide some financial support to try to make those partnerships meaningful and more available."
A Wichita native, Jarman said his commitment to the university and the Elliott School runs deep.
"This is the only job I've had — working at Wichita State," Jarman said. "I came here directly out of graduate school, and I have a real passion for the department and what we do."
It was the allure of college debate that drew Jarman to a career in communication.
"I won the national championship in 1992, and kind of at that moment realized that I might want to stay in debate and become a debate coach," Jarman said. "Historically, debate coaches were professors of communication, and so, even though I had a political science undergrad degree, I went to grad school in communications."
Jarman was hired at WSU in 1996, and has since built a debate program that consistently competes on the national level. He said the skills he has learned from more than two decades of debate have aided him in his role as director of the Elliott School.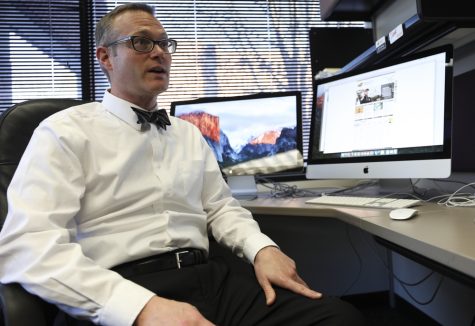 "A part of my job as director is to advocate on behalf of the department, and I certainly think that my background in argumentation — debate — gave me some preparation to do that advocacy," Jarman said.
Madeline McCullough, a communication professor, said Jarman's intelligence, approachability, and experience make him a successful advocate.
"There's academic, within-your-discipline smart. He's way beyond that. He's smart with people, he's smart with politics, he's smart with systems," McCullough said.
"He's approachable, and I know he's done what we do. The fact that he taught for years and years before he had a leadership role, to me, helps put me at ease and makes me feel like he understands."
Jarman said that, as with any department, the Elliott School faces its fair share of challenges.
"We face the same challenges that all departments face now," Jarman said. "How to improve the curriculum, how to improve the offerings, and how to deliver what we want to deliver in an era of shrinking budgets — in an era of reduced faculty."
Jarman said the rapidly developing nature of communication presents its own set of challenges.
"The field of communication is everchanging," Jarman said. "Students 20 years ago, when they left from here, they did some jobs that don't even exist today."
"For us, it means that we're constantly trying to balance teaching foundational skills while, at the same time, trying to future-proof degrees so that, when you leave from here, you can do not just the job that exists today, but be positioned to do the job that's going to exist next year and in the next decade."
A routine part of Jarman's job is visiting other schools to evaluate their communication departments for ideas that could be implemented at WSU.
"I enjoy the opportunity to strengthen what we do here," Jarman said.
Pat Dooley, a communication professor, said Jarman's investment in the community goes beyond the Elliott School.
"He's been on the news, he's given speeches," Dooley said. "He's a real community leader in terms of being a spokesperson — not just for the Elliott School, but for the community and the university."
About the Contributors
Matthew Kelly, Former Editor in Chief
Matthew Kelly is a former editor in chief and managing editor for The Sunflower.  Kelly graduated in 2020 with a bachelor's degree in political science...
Brian Hayes, Former Photo Editor
Brian is the photo editor at The Sunflower. Hayes is a junior majoring in mass communication with an emphasis in journalism. He is from Wichita. Hayes enjoys...