Judge says retaliation lawsuit against WSU can move forward
A federal judge denied Wichita State's requests to throw out portions of a lawsuit filed by former WSU Vice President for Student Affairs Wade Robinson alleging the university violated Title IX of federal civil rights law.
In a ruling released Tuesday, Judge Daniel Crabtree said Robinson will be allowed to move forward with parts of his lawsuit related to retaliation, denial of due process, and defamation.
The lawsuit, filed by Robinson, alleges WSU and WSU President John Bardo retaliated against Robinson when he was demoted and had his employment terminated in 2015 after he attempted to investigate two student athletes for alleged rapes, including one member of the 2013 men's basketball team shortly after the Final Four, and a track athlete a year later.
In the spring of 2013, WSU's men's basketball team made it to the Final Four. About a month later, Robinson learned that a player on the team allegedly had committed a rape. Robinson investigated the potential violation of Title IX, as part of his responsibilities as vice president for student affairs, and Bardo later threatened Robinson's employment status, the lawsuit says.
Title IX is the federal civil rights law that prohibits schools that receive federal funds, like WSU, from engaging in sex discrimination and protects those who file a complaint from retaliation.
Robinson sued in 2016, alleging WSU and Bardo retaliated against him because of the Title IX complaints against the athletes, defamed him and ruined his reputation, invaded his privacy, denied him due process rights, and violated the Kansas Open Records Act.
WSU and Bardo asked the judge to throw out the lawsuit because Robinson wasn't protected under Title IX, as he was performing his job duties.
The judge dismissed Robinson's assertion that WSU violated the open records law because the federal court does not have jurisdiction over the Kansas Open Records Act.
"We are pleased that Judge Crabtree ruled favorably … on several portions of our request to dismiss a lawsuit filed by the former vice president of student affairs alleging he was unfairly terminated from employment," WSU Attorney David Moses said in a news release about the judge's order Tuesday night.
The court dismissed two claims and partially dismissed two others.
"We believe the university and President Bardo acted properly in its dealings with Robinson and in its Title IX actions," Moses said in the statement.
Moses said the university takes its Title IX responsibilities "seriously" and noted that the judge's opinion was not a judgment on the truth of the claims made by Robinson in the lawsuit.
"Accusations made by victims of sexual assault, or in their behalf, are reviewed and assessed by university staff trained in Title IX issues," Moses said. "An investigation follows, when appropriate, after facts are learned during the review and assessment phase."
Shortly after Robinson's employment was terminated, a full-time Title IX Coordinator was hired at WSU.
Leave a Comment
About the Writer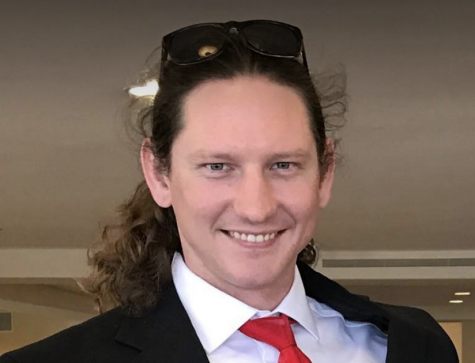 Chance Swaim, Former Editor in Chief
Chance Swaim was the Editor in Chief of The Sunflower from fall 2017 to spring 2018.

Swaim was a graduate student in the English Department working...