Lone candidate Kenon Brinkley elected WSU Student Body President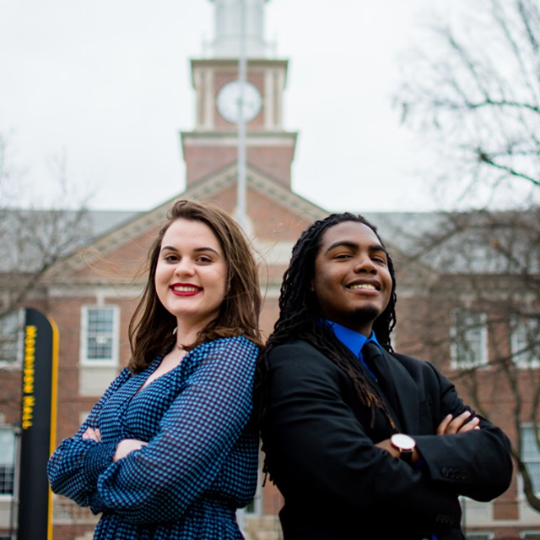 Unopposed student government presidential candidate Kenon Brinkley was elected as Student Body President for the Student Government Association's 61st session.
Brinkley and his running mate, senator Shelby Rowell, lead their ticket, "Revival." The pair are the first to run unopposed in a student government election since 2005. The Election Commission announced their victory Wednesday evening. Brinkley was home sick during the announcement in the Rhatigan Student Center.
1,554 students, or 12.3 percent, voted in SGA elections this year. That number is down from 2,601, or 19.7 percent last year.
"I don't believe in the idea of (voters) buying into my agenda," Brinkley said early Wednesday afternoon.  "(The students) vote for the power of their voice. In order for me to empower their voice, I need people to find their voice and walk with me."
Brinkley, a junior strategic communication major, said that he looked up to the leadership style of South African political leader Nelson Mandela.
"(Mandela) did a lot of recognizing leadership in the people that marched with him; uplifting the people that marched with him," Brinkley said. "Explaining to them that courage isn't action without fear, it's action alongside fear."
"He took all of those concerns, he took all of those fears and kept them on his shoulder as he continued to march forth," Brinkley said.
"A lot of people have a misconception that leadership is fearlessness," he said. "I would hope that people can recognize that leadership doesn't require invulnerability; it's a matter of taking the blows and continuing to walk forward."
As Student Body President, Brinkley said he wants to "decentralize the power" and inspire the leader in each student at Wichita State.
"I want to make sure that people know that they can write legislation; that they can themselves speak to administration; that they themselves can be a part of committees; that they themselves can be a part of the conversations that they currently lack the trust to be apart of," Brinkley said. "I want to see SGA take better care of its community by being more a part of its community."
As a lifelong Wichitan, Brinkley grew familiar with prominent figures in the city's history, including Carl Brewer and Lavonta Williams.
"Coming to Wichita State, there wasn't much of a shift in my environment," Brinkley said." "I know everybody here, everybody knows me, so I still feel like I'm at home when I come to campus."
As a freshman, Brinkley became involved with SGA and joined Alpha Phi Alpha, the first African-American intercollegiate Greek-lettered fraternity.
"I just let myself fly right into it," he said. "I found out that if you come to Wichita State, you're not allowed to hide. . . Someone's going to pull at your shoulder and tell you to come get involved."
Despite his involvement at WSU, Brinkley said he did not initially have faith in his leadership.
"Last year was a pretty hard time for me. One of the lowest points in my life," Brinkley said. "But somebody on campus recognized leadership within me. They said that I have a voice. They said that I can perform."
Brinkley said he kept "waiting for people to expose (him) as a fraud."
"I now believe I do have what it takes to not only be in the same room and have the same conversations, but invite other people to do the same," Brinkley said.
"Shockers themselves know what they're going through, and they know how to relate to each other," Brinkley said. "Relying on each other's strength, I think, is probably the strongest aspect of Wichita State's students."
Brinkley and SGA Vice President Shelby Rowell said that their ticket aimed to deal with the "apathy" at Wichita State and in SGA.
"Kenon pitched the name Revival to me early in the formulation of our ticket," Rowell said. "(It) stems from the lack of passion and sense of apathy that we've seen during our tenure as senators this year."
Brinkley said that national issues could be the underlying cause of apathy.
"(Wichita State) used to be a roaring campus, and with the political climate changing the way it has, the apathy is the result of a lot of fear, a lot of instability in the hearts of people," Brinkley said.
"I think a lot of the external political climate has led to a lot of people just disengaging," he said. "They start to think, what does it matter what goes on on campus? I'm gonna be gone in x amount of years anyway.
"I can understand that fear, and I can understand that apathy, but the resistance needs to start on places like college campuses," Brinkley said. "The senate candidates that I have compiled together all understand different perspectives of that fear, different perspectives of that apathy, different motivations for it."
"Even though I can't, by any means, claim to know all the issues and all the things going on with individual students, I've surrounded myself with a team of people that do," he said.
Brinkley said that, as a leader, he second-guesses himself "to be more permeable to the concerns of those around (him)."
"I am a person that doesn't have the ego to plunge forward without listening," Brinkley said. "I just ask that as I move forward, people recognize that I want to hear what they need as I move.
"If I don't, then I'll just be a placeholder president in a time where people care the least," Brinkley said. "I need people to walk beside me if we plan to leave this university and this state better than we found it."
About the Writer
Daniel Caudill, Editor in Chief
Daniel Caudill is the editor in chief for The Sunflower. A staffer at the paper since 2017, Caudill first covered Student Government Association and general...