Wichita State charges $1,500 for Innovation Alliance financial transaction documents
Wichita State wants to charge The Sunflower $1,500 to release financial records tracking incoming and outgoing financial transactions by the closely-held nonprofit handling Innovation Campus projects.
Nearly two months before announcing his plans for Innovation Campus to the university community in 2014, President John Bardo had already filed articles of incorporation with the State of Kansas for a nonprofit to manage relationships with private businesses on the campus, according to documents recently obtained by The Sunflower.
On Aug. 15, 2014, Bardo announced Wichita State was "becoming an innovation-focused university." In a presentation to faculty and staff, he described a plan to transform Braeburn Golf Course on the east side of campus into an Innovation Campus, which in the first five years would include an experiential engineering building, one or more partnership buildings, a new business school with an adjacent innovation center, mixed-use buildings, a hotel, and a residence hall.
On June 20, 2014, Bardo filed articles of incorporation for Wichita State Innovation Alliance on behalf of the university. Innovation Alliance is a closely-held 501c3 nonprofit. That's almost two months before the university community knew about the plans to expand campus.
Its board of directors is made up of Wichita State administrators.
Innovation Alliance leases ground from the university and then leases that ground to private developers on Innovation Campus, a campus expansion project doubling the size of campus by building on what used to the university golf course directly east of campus. The nonprofit also recently leased a university building to a Koch family-funded private elementary school.
On April 3, The Sunflower requested "all documents recording incoming or outgoing financial transactions by the Wichita State Innovation Alliance between April 15, 2017 and the date this request is fulfilled" from David Moses, Wichita State's general counsel.
Moses said he could provide the documents, but only if The Sunflower paid $750 up front and $1,500 total.
Moses said the public records include at least 400 documents.
Read his full response to the request here:
"It is not clear what specific records you are seeking in requesting "incoming or outgoing financial transactions."  In an effort to comply with your request, we have identified at least 400 documents (some likely contain multiple pages) documenting outgoing payments made by WSIA and incoming revenue received by WSIA for the specified time period.  These records are stored in our imaging system.  We anticipate a minimum of 30 hours of work to retrieve and process these records based on an estimate of 5 minutes per document, and additional time for review and redaction as we know that there will be confidential financial information and potentially other information contained within these records that are exempted by the KORA.  Since the documents are financial in nature and will likely contain personal identifiers and bank information, the amount of time may be greater than 5 minutes per document.  In addition to the KORA, privacy laws also require a detailed review and redaction of these type of documents.  As a result, the total hours of work may exceed 30 hours which will then increase the estimated cost mentioned, below.  
As you know, pursuant to statutory law, WSU policy 20.01 requires the following:
Public records kept in computer files: a. Access to public record(s) stored on computer files that can be accomplished using retrieval software already available and without software modification(s): $50/hour of staff time necessary to obtain the printout(s); no charge for request requiring less than thirty minutes of staff time to obtain. b. Access to public record(s) stored on computer files that requires custom programming time to retrieve and process: $75/hour of staff time necessary to provide custom programming and retrieve and process the requested information.  
Also pursuant to statutory law, WSU policy 20.01 provides that If hard copies are requested, rather than electronic copies placed on a flash drive provided by you, there is an additional charge of $.10/page. 
In addition, if the time of our accounting staff or legal staff is required in getting the records compliant with the KORA, we reserve the right to charge for actual time spent at that individual's hourly rate which could also increase the cost estimate, below.  Please confirm that you would like for us to proceed with pulling such records and deposit $750 of the estimated $1,500, as directed by WSU policy 20.01.  A final bill will be remitted when the documents are ready for delivery."  
Moses did not respond to two email responses this week to his estimate asking "if there's a cheaper solution to finding out how a university entity spends and receives money on behalf of the state of Kansas."
Leave a Comment
About the Contributor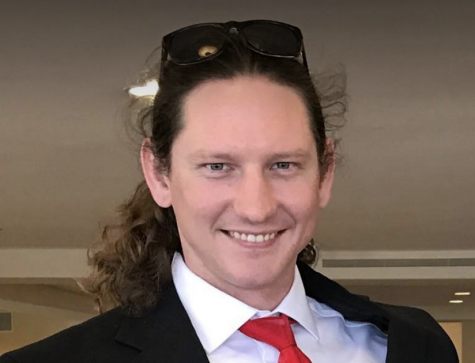 Chance Swaim, Former Editor in Chief
Chance Swaim was the Editor in Chief of The Sunflower from fall 2017 to spring 2018.

Swaim was a graduate student in the English Department working...