Former WSU English instructor passes away after release of his first book
Poet and former Wichita State English instructor Michael Cissell has died of a heart attack at the age of 45.
"Michael Cissell did pass away yesterday morning," Butler Community College Vice President Lori Winningham told the Sunflower Friday morning.
Cissell was an English instructor at Butler at the time of his death.
Butler Associate Dean of Humanities, Social and Behavioral Sciences Troy Nordman commented on the department's loss.
"Thursday morning, I got a call from his family saying that he had passed," Nordman said. "As one of his administrators and former colleagues, the hard part was having to tell his friends and former English instructors. It was a real shock to everyone."
Before being hired on at Butler, Cissell was a full-time member of the WSU English faculty from 2002-2008. His untimely death comes following the release of his first published book of poems, "The Cutting Songs of the Butcher Son," earlier this month.
"I'm glad his book was published," Nordman said. "There is a legacy in those poems."
Nordman noted the poignancy of the initial success of Cissell's book.
"I called Watermark Books Friday," Nordman said. "They had already sold out of the book, and I think that is a testament to his passion as a poet."
The book, dedicated to Cissell's wife, Monica and two sons, Guthrie and Rohan, was released just two weeks ago through Spartan Press.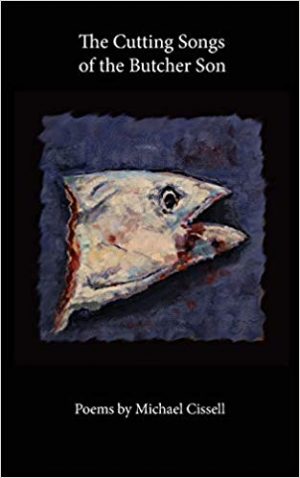 Days before his death, The Sunflower sat down with Cissell to discuss his book
The scene was Phil Uhlik Music, downtown Wichita.
Under dim lights and surrounded by amplifiers, JCM Marshalls, and vintage Fenders, Cissell jammed blues scales on a jet-black Gibson Les Paul Standard.
He spoke of his book, "The Cutting Songs of the Butcher Son." The poetry collection is an exercise in the cycles of life — a unique medium for the sordidness of fathers long gone and forever misunderstood.
Cissell discussed the freneticism that becoming a father entails.
"Fathers, sometimes they just go crazy," Cissell said, smirking and palm-muting an E minor chord.
Then, just five days later, Cissell was gone.
Cissell had been a part of the Kansas literary community since traveling to Wichita in 1993. Working at bookstores, including the now defunct B Dalton Books and later at Watermark Books, Cissell absorbed himself in all Kansas and Wichita had to offer in the way of culture, books, art, and poetry.
He taught English classes as a graduate student instructor at WSU. Espousing the ethos, logos, and pathos doldrums of Comp 1 and Comp 2, Cissell would later take on faculty status at WSU. There, he taught classes on the beat writers — Kerouac, Burroughs, Ginsberg.
All of this landed Cissell working a gig as a full-time member of the English department at Butler in El Dorado. There he taught undergraduates core English and how to comprehend the madness and beauty of John Berryman's "Dream Songs" for the first time.
Kentucky, though, was where the poet's past stemmed from, setting the scene for most of his book. Telling of his grandfather, a black-face minstrel in Paducah, Cissell solemnly plucked the guitar during his last interview, and answered questions about his home state, his family, and how, "The Cutting Songs of the Butcher Son" came to be.
The Poet Jams and Speaks
Q: You've expressed in the past a connection with the Beat poets — Ginsberg, Kerouac, Burroughs, and Cassady. They wrote about being sympathetic to readers and the cyclic existence of humans more generally. Is "Cutting Songs of the Butcher Son" written in the same spirit?
A: The whole book is trying to point out cycles I think. Here's an example. Let me tell you something that happened once with my son, Guthrie. When he was about two, we were outside and came across some dead birds. Then, out of nowhere, Guthrie asked Monica, my wife, if humans were all equal. To this, she said, 'Well, of course they are.' Then, instantly, Guthrie belted back, 'But, then why is that dead bird over there in the trash can?' Those types of experiences found their way into the book.
Q: What is your take on the negative light some college-level professors shed on some of history's more controversial pieces of literature?
A: I fall to my knees and bow to the body of literature. And when professors let their own politics get in the way of teaching the classics, it's inevitable that some kids will develop aversions. Though It's an antithesis not to communicate the love within classics. It's just about feeling what other people are keeping on the inside. Anything else is just relevant to the place and time of the author.
Q: Within "Cutting Songs," you versifically speak to and acknowledge the wit and prolific stylings of poet and former WSU instructor Albert Goldbarth. What is your connection to Goldbarth?
A: I had read Goldbarth when I worked in the library at Brescia College in Owensboro, Kentucky, prior to moving to Kansas, but, it all really started in 1993 when I moved to Wichita and began looking into local poets and literature. Then I picked up a copy of Golbarth's book, "Marriage and Other Science Fiction." It was mind-blowing stuff, and he, through his writing more than anything else, nurtured me — turning my ideas of what literature and poetry were upside down. What he really loves are the classics, though, and I found that interesting. He is a tremendous influence on me.
Q: As for the book itself, where did all of your material come from?
A: Some of the material is recycled. I took from material, some of which was used in my thesis called "Natural Hunger." They were sort of family-related and speaking of my father, who was a butcher. Looking deeper though, the poems to me were about the more symbolic meat that my family came from. So, I kind of adjusted and reworked some of those to fit in with newer poems that featured recycled voices.
Q: Poets so often make themselves the central speaker in their work. Is this so with the Butcher Son?
A: It's me and it's not me.
Q: Your grandfather was a black-face minstrel in Kentucky. You've attempted to illustrate his character in your book. In doing so, do you think you are playing with language that some readers will read on a surface level as racist or bigoted? What is your response?
A: Unfortunately, there's a lot of backlash when someone like me, or anyone else, tries taking in the voice of someone's other than their own. It's unfortunate, because with the empathy required in our craft, at times, you are indelibly required to imitate the characteristics of other people. So yeah, that will probably happen in some form, and I'm ready for that.
Q: You've been writing for a long time. Have you ever made a concerted effort to market yourself to major bookstores to get your material to wider audiences?
A: *Laughs* Not really. The thing is, I always thought that should be the job of publishers. Although, I probably should have done a better job of marketing myself.
"The Cutting Songs of the Butcher Son" can be purchased here.
Leave a Comment