Beta Theta Pi fraternity temporarily suspended, under investigation
Beta Theta Pi fraternity is on temporary suspension pending the outcome of an investigation into unspecified charges. The fraternity was already on deferred suspension before the investigation, and will likely be put on full suspension if any of its charges are found to be true.
Scott Jensen, director of Student Conduct and Community Standards, said the initial investigation should be finished by the end of this week. He would not confirm or deny any of the rumors circling among students, including wet recruiting and providing alcohol to minors. The event in question occurred Aug. 24.
Jensen said if charges are brought forward and the organization is found to be in violation of school policies, Beta's deferred suspension will be removed and they will likely be placed on full suspension.
Beta's temporary suspension means the fraternity has to "cease all organizational activities," Jensen said, until the outcome of the investigation.
The Sunflower went to Beta Theta Pi fraternity Tuesday to see if any rumors or accusations about their charges could be confirmed or denied. The frat house was empty, but one brother, who requested his name not be in The Sunflower, said he wasn't aware of the situation and would not answer other questions.
"I don't know anything about that," he said.
At the request of The Sunflower, the brother contacted Beta President Lane Smith. Smith directed his brother to tell The Sunflower that he did not want an in-person or over the phone interview, and the best way to contact him was over email. Smith provided the following statement: 
"Our chapter has met with university officials and is fully complying with the conditions of our temporary suspension. Beta Theta Pi is dedicated to being forthcoming and working alongside campus administrators and our General Fraternity during this investigation and hopes to resume activities as soon as possible. However, to remain compliant with the university's investigation, we cannot answer any questions at this time."
Here's a recent history of Beta violating conduct policies:
January 2017 – A member of Beta Theta Pi fraternity reported hazing within the fraternity to Student Involvement during spring 2017's Greek initiation week.
March 2017 – Beta Theta Pi fraternity was placed on deferred suspension, academic probation and was subject to membership review after a university investigation into hazing allegations stemming from their January 2017 initiation week. The hazing was reported to Student Involvement by a member of Beta.
Leave a Comment
About the Writer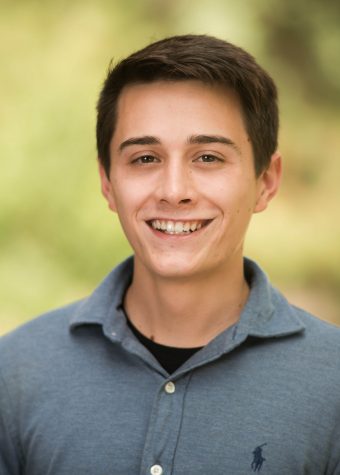 Andrew Linnabary, Former digital managing editor
Andrew Linnabary was the 2018-2019 Digital Managing Editor of The Sunflower. He studied journalism and minored in English. Linnabary is from Wichita, Kansas.