He was a top N.C. player. Then he tore his ACL.
Jamarius Burton was a rising star in North Carolina.
Scouts from Penn State, Wake Forest, Virginia Commonwealth, and others, scouted Burton during his junior season at Independence High School. He was considered one of the top high school players in North Carolina.
Then, he tore his ACL.
"I had offers from some great schools," Burton said. "But after I tore my ACL, I didn't hear from them anymore."
"
I had offers from some great schools, but after I tore my ACL, I didn't hear from them anymore."
— Jamarius Burton
Burton missed his 17U season of the AAU circuit, which likely played a factor in his recruiting stars. Rivals and 247Sports listed him as a three-star recruit.
Burton rehabbed his left knee that summer, and offers from Massachusetts, George Mason, and Temple came in. He limited his decision to five schools. After leading his high school to a 4A state championship in North Carolina, he had two spots remaining.
"That's when Butler and Wichita State contacted me," Burton said.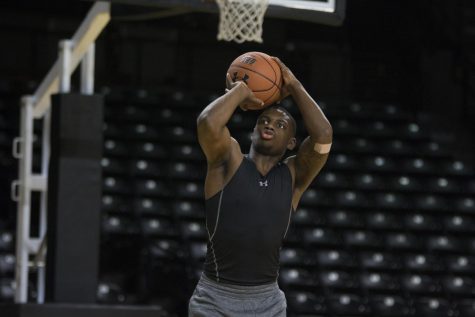 Burton decided to take his last two official visits to those schools. He visited Butler on a Tuesday and got on a flight to come to Wichita Wednesday. That same week, on Friday, Burton would announce a verbal commitment to WSU.
"It all happened so quick," Burton said. "My mom told me to pick a school that Friday, and Wichita State was the one."
Burton said he felt like Wichita State was the perfect fit for him.
A six-person senior class graduated and others transferred out. Burton said he felt like the opportunity for him to come in and play immediately was right there in front of him.
"I knew I could come in right away and make an impact," Burton said. "It was an opportunity I couldn't pass up."
Former Shockers turned NBA players, Ron Baker and Landry Shamet, played roles in Burton's recruitment.
"Ron told me that Coach (Gregg Marshall) was going to push me, and if I came in with the mindset to work, then anything that I wanted to accomplish while playing here was possible — whether that's getting a degree or going pro," Burton said.
Shamet emphasized the importance of body language to Burton, a combo guard.
"[Shamet] spoke about how Coach Marshall doesn't like bad body language," Burton said.
Players like Baker, who started as a walk-on for the program, and others, who weren't highly rated high school prospects, made WSU stand out among Burton's other offers.
"They've had players make it even if they weren't the top-ranked prospects," Burton said. " It shows me that if you put in hard work that anything is possible."
Burton grew up around basketball. His mother played for Alabama A&M and his two sisters played collegiate basketball — one at Fayetteville State and the other at Paine College. He grew up on the sidelines, playing with a ball or recording his sisters playing.
Burton first picked up a basketball when he was 3.
"I just grew up loving the game," Burton said. "When you're around the game for that long, you will fall in love with it."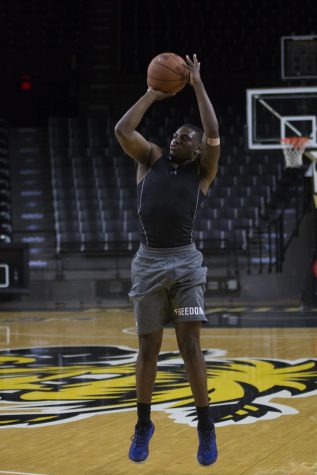 Leave a Comment
About the Contributors
Marshall Sunner, Sports Editor
Marshall Sunner is the Sports Editor for The Sunflower. Sunner is a sophomore majoring in communications with a journalism emphasis. He was born and raised...
Selena Favela, Photographer
Selena Favela is a photographer for The Sunflower.

She was the photo editor for The Sunflower her junior year. Favela is currently a senior majoring...