ODI's Danielle Johnson receives Wichita Business Journal Leaders of Diversity Award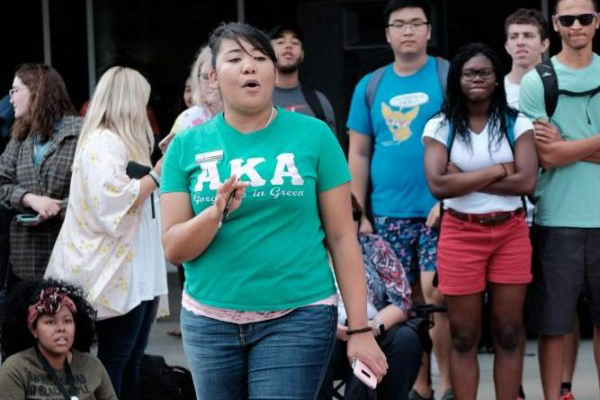 Assistant Director of the Office of Diversity and Inclusion Danielle Johnson was a recipient of the Wichita Business Journal's Leaders of Diversity award for 2018. The awards recognize the accomplishments of local individuals, as well as organizations, who aim to represent Wichita's multicultural community.
"Danielle's body of work in support of and promoting diversity and inclusion was worthy of recognition," said Bill Roy, editor in chief of the Wichita Business Journal. "She has a great story to tell. We had known Danielle through her work at WSU, and we have called on her to help us as we strive to make all our awards programs, not just this one, more diverse."
Johnson's involves assisting in workshops and training, as well as discussing and educating inclusivity, both in the community and here on campus. Johnson has also assisted in getting keynote speakers like Lavern Cox and Tim Wise to come and speak for ODI's annual Diversity Camp.
"It feels good to be recognized for something that is truly a passion of mine," Johnson said.
"It shows me that others find value in the work as well. Diversity and Inclusion is a part of the quality of life. Quality of life is lost when diversity and inclusion are not supported. Diversity and inclusion attract and retain people. Diversity inspires creativity and innovation. Embracing both concepts can truly uplift and bring communities together," she said.
This year 11 individuals and 15 organizations were recognized. This marks the fourth year that the award was given out.
Nominations are done online as well as by phone and email. People can nominate themselves or be nominated by others.
Leave a Comment
About the Contributors
Aileen Rueda-DaCosta, Writer
Aileen Rueda-DaCosta is a writer for The Sunflower.
Tanat Maichan, Photographer
Tanat Maichan (Tat) is a photographer for The Sunflower. Tat is a junior majoring in aerospace engineering with a minor in mathematics. He is from Bangkok,...