Veteran major leaguer Mike Pelfrey hits the books
Mike Pelfrey, a 12-year veteran of the MLB, is back at Wichita State finishing his degree.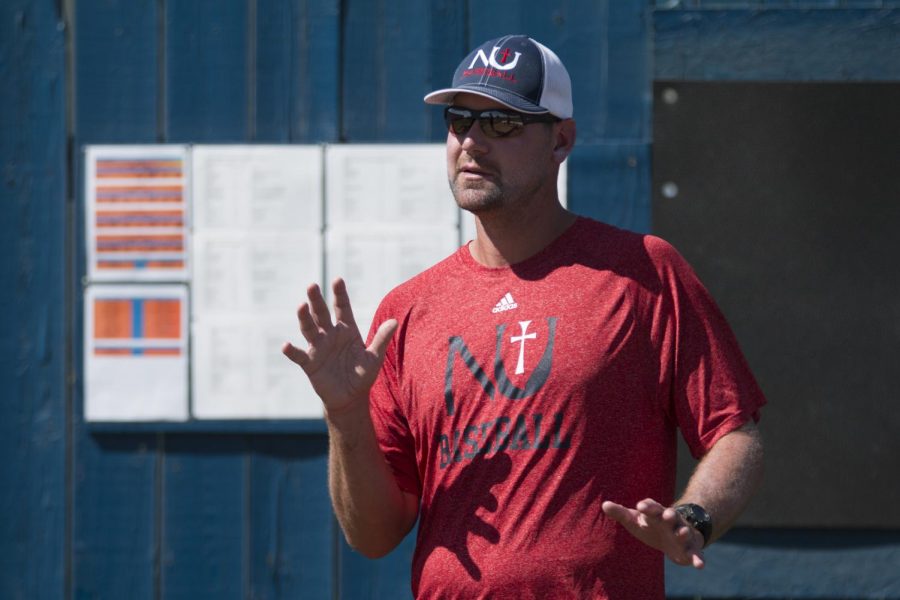 Mike Pelfrey can't get the moment out of his head.
Chris Young, an outfielder for the Boston Red Sox, walked up to the plate at Fenway Park. Pelfrey stood on the mound and watched as Young loomed over the plate, waiting for Pelfrey to throw one inside.
Pelfrey, a left-handed pitcher for the Chicago White Sox, had a history of tormenting right-handed hitters with his sinking fastball. Young begged for it inside, and Pelfrey delivered.
Young sent the first pitch over the Green Monster in left-field for a solo home run. Pelfrey was numb.
"Never in my career had anybody done that to me," Pelfrey said.
In the bottom of the fifth inning, the White Sox intentionally walked Andrew Benintendi to get another shot at Young. Again, Young wanted it inside. Pelfrey delivered a mid-90s sinking fastball inside, and on the first pitch, Young blasted a second home run over the Green Monster.
"
That night, I went back to my hotel room and cried. That was the turning point when I said, 'I need to go, I need to get out.'"
— Mike Pelfrey
"That night, I went back to my hotel room and cried," Pelfrey said. "That was the turning point when I said, 'I need to go, I need to get out.'
"I knew that this was it."
Young went 3-3 in five innings against Pelfrey that night, tacking on a double.
"I have an expectation of how good I need to be," Pelfrey said. "I'm a competitor. I have a certain threshold I want to hit, and if I'm always falling short, I'm miserable."
At 33, Pelfrey retired from Major League Baseball.
Pelfrey, a 12-year veteran of the MLB, is now a senior at Wichita State. He's finishing up the bachelor's degree in sport management that he started more than a decade ago.
"I'm the oldest kid in my classes," he said.
He wants to finish his degree so he can focus on his second career, coaching Division I college baseball. Most programs require their coaches to have a degree.
"I wanted to make sure if that was ever an obstacle, I'd have it taken care of," Pelfrey said.
The majors
Major League Baseball started in 1869. In the history of the MLB, 1,200 players have stayed in the league 10 or more years. Mike Pelfrey is one of them.
"I was given a gift and I tried to make the most of it," Pelfrey said. "I was blessed to be able to do it as long as I did."
In 2009 with the New York Mets, Pelfrey emerged as one of the premiere pitchers in the league.
He had mastered the split finger change-up that off-season, and his game jumped to the next level. He had 10 wins and two losses a week before the All-Star break. His ERA was around a 2.7 at the time. In his mind, he was a lock for the All-Star game.
Pelfrey was short-changed of a spot in the All-Star lineup. The MLB gave Tim Lincecum, the reigning Cy Young recipient, the starting spot in the All-Star game. Young had just six wins in 11 starts at that point, and a worse ERA than Pelfrey.
"It pissed me off," Pelfrey said. "I understand the politics of it.
"Do you want to watch Mike Pelfrey or do you want to watch Tim Lincecum? You want to watch Tim Lincecum."
"I told myself there'd be another opportunity," Pelfrey said. "Well, there wasn't."
Lincecum won the Cy Young again that season. Pelfrey, meanwhile, experienced what he calls the "worst five-start stretch in the history of baseball" to start the second half of the season. He "had more baserunners than outs" and he didn't make it out of the fifth inning in any of the five starts.
"Boy, was it ugly," Pelfrey said. "Nothing was working."
The Mets considered sending him down to the minors. Pelfrey rebounded the following season with a career-best 15 wins and nine losses, one save, and a 3.66 ERA.
Tommy John
Injuries weren't a part of Pelfrey's baseball history. In high school and college, nothing kept him out of the bullpen.
In the 2012 season, Pelfrey felt some "tightness" in his forearm. The trainers told him it was likely tendonitis, but a cautionary MRI revealed he had torn a ligament and would require Tommy John surgery. He worried he'd never return to the major leagues.
"I had never had baseball taken away from me before," Pelfrey said.
He didn't travel with the Mets for much of that season, and for two months, he watched every game from his couch at home.
"I had dealt with adversity, but nothing like that," Pelfrey said.
Nine-and-a-half months later, Pelfrey returned to pitching. Eleven months after his surgery, he was pitching in Spring Training games.
"They tell you if you're in the big leagues and you return to the big leagues, you're a success," Pelfrey said. "I don't necessarily agree with the statistics."
His fastball, Pelfrey said, was never the same.
Chipper knew the tip
People often ask Mike Pelfrey who the toughest hitter he ever faced was. His quick answer is Hall of Famer Chipper Jones.
"It's like he knew everything that was coming," Pelfrey said.
He gave the answer at a Minnesota Twins fan fest event a few summers ago and teammate Ryan Dozier started laughing.
"What's funny?" Pelfrey asked.
"I got a story for you," Dozier replied.
Earlier that offseason, Dozier and Jones were out hunting. Jones revealed to Dozier that Pelfrey had a way of tipping off his pitch. Pelfrey would stick out his tongue for a fastball, and keep it in on a change-up. Jones knew every pitch that was coming.
Pelfrey was in the bullpen for the last game in Turner Field before the stadium closed in 2016. The Braves organization brought in some of the team's greats for a ceremony, and Jones was among the honorees. Pelfrey shouted out to Jones from the left-field bullpen, "Hey man, you knew everything that was coming?"
"Who told you that?" Jones said.
"Dozier," Pelfrey replied.
"I wasn't supposed to know," Pelfrey said. "In the end, he would've hit just about anything I threw whether I tipped him off or not. He was that good."
Draft night
Mike Pelfrey was taken the ninth pick by the New York Mets in the 2005 MLB Draft.
Draft night wasn't anything like it is now. Back then, there weren't the same restrictions and salary caps on given draft slots. Teams could offer salaries to their first round picks, and negotiations dominated some of the top spots.
Pelfrey entered the draft as arguably the best pitcher in college baseball.
The Kansas City Royals, with the second pick in the draft, called Pelfrey and his agent. They had $4 million to offer — short of the $5.5 million Pelfrey's agent knew his client was worth, and declined the offer. The Royals drafted outfielder Alex Gordon with the pick instead.
The Seattle Mariners called with the third pick and $3.2 million to offer. Still not enough. It wasn't until the ninth pick when the Mets phoned in the right offer at $5.5 million.
"I was the third pitcher taken in that draft," Pelfrey said. "I don't know that any of us has All-Star appearances, but the three other guys [Justin Upton (No. 1), Ryan Zimmerman (No. 4), and Troy Tulowitzki (No. 7)] have like 100 of them."
The draft class was stacked with position players, including Ryan Braun and Andrew McCutchen.
"Looking back, later in my career, I wanted to play in Kansas City," Pelfrey said. "I called a couple of times and they said they were interested but I'd have to wait a little longer."
The Royals called last year and invited Pelfrey to training camp. He declined the invitation.
"Mentally and physically, I was done," Pelfrey said. "Any other year, I would've loved to go."
No other choice
Mike Pelfrey used to go to Wichita State baseball games as a child.
Baseball was king under the direction of Gene Stephenson, the second winningest coach in NCAA baseball history. Games would sell out almost every night.
"This place was larger than life," Pelfrey said. "Coming here as a kid, I remember thinking these guys were like eight feet tall."
In high school, Pelfrey would rush out of Wichita Heights practices to go watch the Shockers.
"I always wanted to be here," he said.
When the decision came for Pelfrey to consider college, there was no other choice.
"I was the easiest recruit Wichita State has ever had," he said.
The first day of the early signing period that year, Pelfrey walked into the office of WSU pitching coach Brent Kemnitz and said, "this is the only place I want to be." Pelfrey signed a letter of intent in Stephenson's office hours later.
Pelfrey was drafted out of high school. Kemnitz worried he'd never see the 18-year-old set foot on the campus.
"We weren't sure he would go to college," Kemnitz said. "He was projected to be a big-time draft pick and sign out of high school."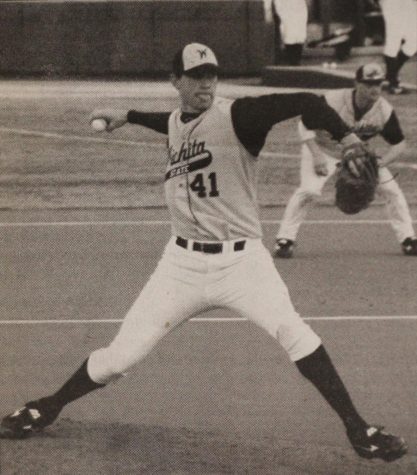 Pelfrey slid too late in the draft.
"I remember telling him in my office when he slid in the draft, I said 'this is a blessing in disguise,'" Kemnitz said. "This is the best thing that's ever happened to you because you're going to grow up mentally and you're going to grow up physically."
Kemnitz remembers Pelfrey rolling his eyes. Pelfrey said to himself, "I don't want to go to college."
Kemnitz assured him that three years from then, he'd be the best player in college baseball and his stock would rise greatly in the draft.
"Brent (Kemnitz) always tells me that it's a blessing in disguise that I came here, and I agree," Pelfrey said. "This might be the best decision I ever made."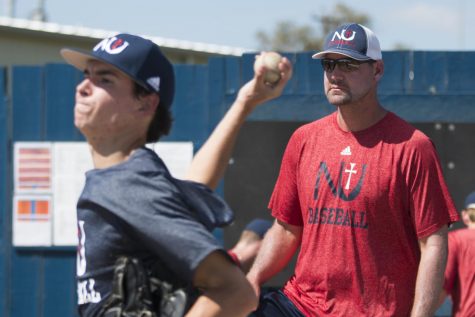 Second career
Mike Pelfrey needed to walk away from baseball. Games are on TV now and he doesn't watch them. But his love for baseball hasn't died.
Pelfrey is the assistant pitching coach at Newman University, a Division-II school in Wichita.
"This is what I know, this is what I love," Pelfrey said.
Pelfrey believes he stayed in the majors for 12 years because he was a "clubhouse guy." He'd mentor newcomers as they worked their way through the system into the majors.
In Minnesota, a young pitcher was late to practice. Rick Anderson, the pitching coach, motioned to Pelfrey, "you got him."
"You don't want me to take care of it, you take care of it," Anderson said. "This is your problem."
Kemnitz, who coached college baseball for 38 years, said Pelfrey is destined for coaching.
"
He's such a down-to-earth, personable guy who genuinely cares for people."
— Brent Kemnitz
"He's such a down-to-earth, personable guy who genuinely cares for people," Kemnitz said. "It's so refreshing to be around him."
Outside of Newman, Pelfrey coaches his 9-year-old son's baseball team.
"It's fun for me because he loves it," Pelfrey said.
Just like dad at 9 years old, he says, "Dad, I'm going to play in the big leagues."
"Sure, man," Pelfrey replies.
"I was the same way as a kid," Pelfrey said. Pelfrey will often remind his son of the few opportunities there are to play in the major leagues, but it's hard for his son to understand when dad played on TV in stadiums filled with 40,000 people.
"I'm not helping him understand that," Pelfrey said.
Pelfrey's career in the MLB didn't end how he envisioned. His physical decline after Tommy John surgery came quicker than he expected. He never got into the All-Star game, but at the end of the day, he said, his accomplishments are far greater than he could have imagined.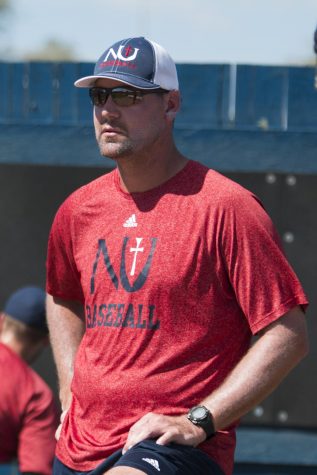 About the Contributors
Evan Pflugradt, Sports Editor
Evan Pflugradt is the former Sports Editor of The Sunflower.

Pflugradt past served as the publication's Editor in Chief, Opinion Editor and a reporter....
Selena Favela, Photographer
Selena Favela is a photographer for The Sunflower.

She was the photo editor for The Sunflower her junior year. Favela is currently a senior majoring...