Nearly two months later, Beta Theta Pi still on temporary suspension
Beta Theta Pi fraternity is still on temporary suspension pending the outcome of an investigation into unknown charges from an incident that occurred in late August.
The incident being investigated happened August 24, and little detail beyond rumors has been confirmed since. Beta's temporary suspension began the next day, freezing "all organizational activities" and social events until the investigation's conclusion.
Two fraternity members who are not in Beta and who requested to not be identified in a news story — one a former fraternity president and the other a member of Student Government Association — said the student conduct office concluded the investigation recently and that Beta was appealing their unknown charges and punishment.
Aaron Austin, associate vice president for student affairs, would not confirm or deny that Beta was appealing a punishment issued from the investigation, but talked about the process surrounding appeals and explained how it may prolong an investigation.
"There's not a way to say when this will all be done," Austin said.
It has been more than 50 days since the Beta investigation began.
"It's not because people aren't taking it seriously or dragging their feet," Austin said. "We're giving everyone an opportunity to present their information, and making sure we're having a process that is fair."
An organization has five days after charges and sanctions are issued to make an appeal. The timeline to a conclusion after an appeal can vary.  
An appeal can result in no change to an investigation's charges or punishment, but has the potential to "put [the case] up for review" if there's a procedural error or new information, Austin said.
Beta Theta Pi's house was almost empty Wednesday afternoon, but a handful of fraternity brothers were inside the frat. When asked to speak about the investigation, three brothers said "no" in unison.
"No comment, man," one brother said.
"You would have to talk to Lane," another brother said, referring to Beta President Lane Smith. "But he has two jobs, so . . . we're not allowed to talk about it."
"Maybe try later."
The Sunflower followed up with Smith over email but did not receive a reply Wednesday.
Beta Theta Pi's national headquarters was contacted for comment multiple times over the last week, but no calls or messages were returned. The headquarters provided The Sunflower this statement in late August:
"We were deeply disappointed to learn that our chapter is facing charges from the university. We have remained in close contact with school officials and support their investigation into any potential wrongdoing. Further action may be taken pending the outcome. Until then, we have advised our members at Wichita State to fully abide by the terms of their temporary suspension."
Aaron Austin said the university hopes to conclude the investigation by the end of October.
Leave a Comment
About the Writer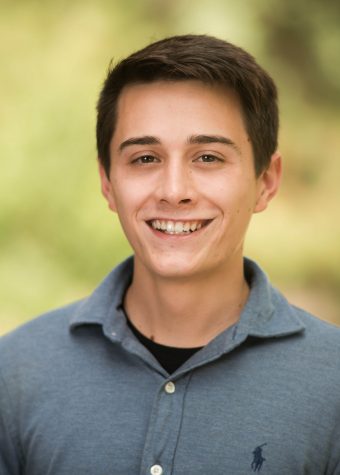 Andrew Linnabary, Former digital managing editor
Andrew Linnabary was the 2018-2019 Digital Managing Editor of The Sunflower. He studied journalism and minored in English. Linnabary is from Wichita, Kansas.