Title IX forum first step in campaign; coordinator calls it 'mission-critical'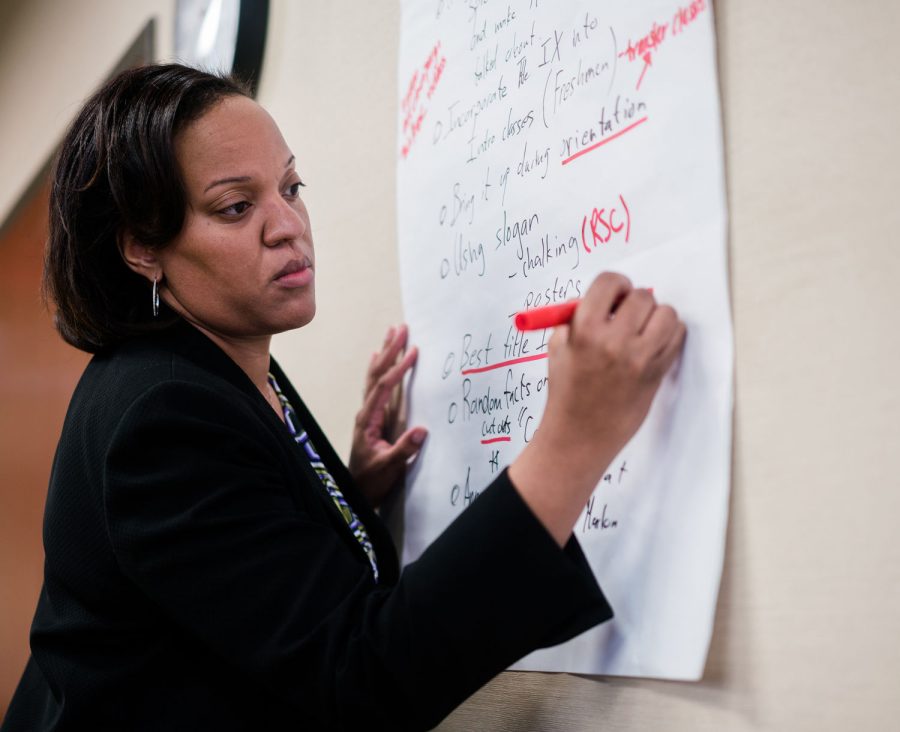 Title IX coordinator Natasha Stephens held a student forum Tuesday at the Rhatigan Student Center to introduce herself to students, talk about what her office does and answer questions.
A small group of students, faculty and staff attended the forum, but Student Government Association expects that to change in the future.
"As we look at moving forward I expect the turnout to increase," said Student Body President Joseph Shepard. "I think Dr. Stephens and her team did a great job of spreading the word to student organizations about the event and the impact it will have on their futures. As we continue to expand on the importance of this event the turn out will grow."
Title IX, part of the Office of Equal Employment Opportunity, covers sex and gender-based violence, harassment and discrimination for Wichita State faculty, staff and students.
Title IX violations include sexual misconduct, sexual harassment, relationship violence and stalking.
"The university has adopted policies that incorporate behaviors that fall under Title IX and behaviors that fall under the Violence Against Women Act into the same policy, as some, but not all of those behaviors overlap," Stephens said. "[Title IX] also provides protections for pregnant and parenting students and aims to ensure gender equity in all university educational programs and activities."
Stephens, who became Title IX coordinator in February, said she is focused on increasing campus awareness and education regarding Title IX issues.  
"It is mission-critical to have consistent messaging across campus," Stephens said. "And the forum was one of many opportunities for our community to engage in dialogue about the messaging that should be used and the needs of our community related to Title IX."
Stephens said the student forum was the first step in a larger process of increasing awareness on campus and informing students. The next step, Stephens said, will be what she calls the "Title IX Campaign."
The Title IX Campaign refers to the messaging and media that will be used across campus for education and awareness purposes, Stephens said. She invites students to design the messaging — the "new face of Title IX" —for the campaign for print and online materials.
"The Title IX Campaign is an opportunity for the campus community to be involved in creating a proactive campus wide message taking a stand against any acts of sexual violence or harassment," Stephens said.
Stephens requested student-designed email submissions be sent to [email protected] by April 15.
With the recent controversy following Wade Robinson,  former vice president of Student Affairs, suing the university and President Bardo for alleged Title IX violations, Stephens said the campus forum was not held in response to any particular incident or issue and that WSU is "continuously working to ensure that members of our community are aware of both their rights and their responsibilities."
A second Title IX student forum will be held at 6 to 7:30 p.m. April 26 in the Warner Room of the Rhatigan Student Center.
"I believe students want to know how Title IX impacts them," Shepard said. "Dr. Stephens has proven herself in this short time to be trustworthy and relatable. Not only does Student Government Association believe any and all complaints will be investigated thoroughly, but in a professional and ethical manner, too."
About the Writer
Chance Swaim, Former Editor in Chief
Chance Swaim was the Editor in Chief of The Sunflower from fall 2017 to spring 2018.

Swaim was a graduate student in the English Department working...