Campus closes Tuesday in advance of threatening severe weather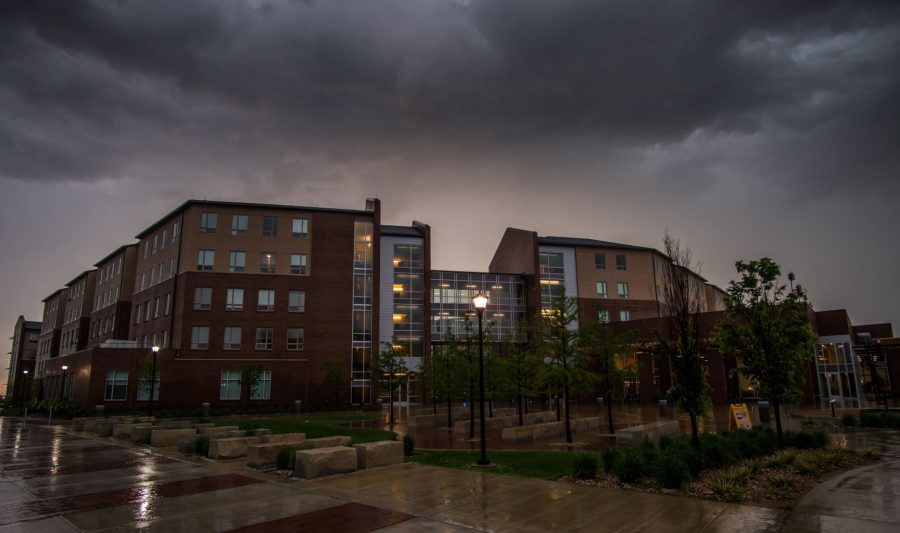 Clouds rolled in over the skies of Wichita State on Tuesday, and students, faculty and staff rolled out.  
The university closed at noon Tuesday in preparation for severe thunderstorms and the threat of tornadoes. 
At 3:30 p.m. rain gravitated to the campus area, and in the oncoming hours it progressed to severe thunderstorms with two-inch hail reported. 
Lou Heldman, vice president for Strategic Communications, said campus police and administrators monitored the weather closely early Tuesday morning. 
"We started serious discussions about closing Tuesday morning when we were getting reports of pretty dire forecasts," he said. 
Administrators were presented with a webinar with the National Weather Service at 11:30 a.m. before making public their decision shortly after noon. 
"We announced the closing five minutes after noon," Heldman said. "We wanted to make sure, even though we weren't able to have it out by exactly noon, that we could get the word out before 12:15 (p.m.) classes started." 
Other surrounding area campuses followed suit and closed their campuses shortly after WSU. Heldman said the decision to close at noon was based on forecasts calling for severe weather as early as 1 p.m. 
"In some ways we may have acted too cautiously, but Kansas weather is anything but a precise science," Heldman said. 
Heldman said they monitored property damage to the university, but kept their focus on safety. 
"We didn't want to take any risk with our students, faculty and staff," Heldman said. "We have students who drive in from Hutchinson and even farther away; we wanted to make sure people coming from a distance stayed where they were, and gave appropriate time for others to get home."
Wichita resident eyewitnesses reported larger than golf ball-sized hail. Some city streets were flooded. 
The university's physical plant reported no damage to campus property other than minor cleanup to a few basements with water leaks, which they reported is typical with large amounts of rain.
"Our decision proved to be the right decision this time," Heldman said Wednesday.